Update On The 2016 San Diego Comic Fest - August 2015 Meeting
Mood:
party time!
Topic: Comic Cons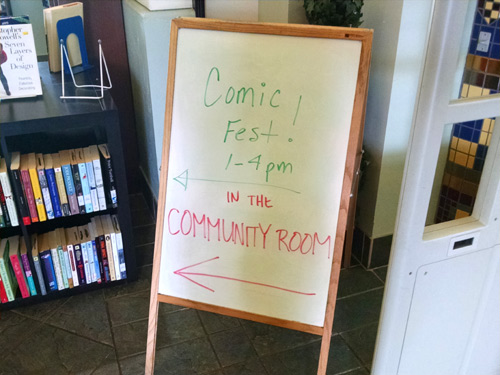 TODAY'S FEATURE IS BLOG #4044 - Yesterday I attended the August 2015 San Diego Comic Fest Volunteers Meeting at the Serra Mesa Library in San Diego, along with twenty-three other volunteers. Not all volunteers were able to meet this meeting, but Mike Towry, (founder of San Diego Comic Fest), brought us all up to date on what had happened since the last Volunteers Meeting.
I'm blogging about this meeting so I can bring you up to date also, as well as posting it on the San Diego Comic Fest Facebook Fan Page, which I've been administrator of for the past four years.
The Volunteers Meeting is held once a month at different locations. It is best to check the Fan Page for news of the next meeting.
Here is what was discussed at the August Meeting:
It is only six months till the 2016 San Diego Comic Fest! Even though the next Fest is next year, we only have six months left before it starts! The 2016 Comic Fest runs during Presidents Day Weekend, February 12 - 15th. That would be Friday Preview Night, Saturday, Sunday & Monday, which is a holiday.
San Diego Comic Fest had tables at: San Diego Comic-Con International, WesterCon, OzCon, and will have a table at Gaslight Gathering in September.
Those of you that saw Joe Clokey at Comic-Con will be pleased to know he is coming to our 2016 Comic Fest. Joe is the son of Gumby creator, Art Clokey. Gumby is celebrating his 60th Anniversary th is year.
The Cafe at the 2016 Comic Fest will be celebrating the 100th anniversary of the birth of Forry Ackerman.
It was announced that we will have Jay Allen Sanford as a guest at the 2016 Comic Fest. Jay is known for his work at Revolutionary Comics, Pacific Comics, Carnal Comics & as a columnist / cartoonist at the San Diego Reader.
Scott Shaw! plus six or so professional comic book artists are looking in to illustrate the 2016 badges for Comic Fest. Those of you that went to San Diego Comic Con in the early years will remember those styles of badges!
T-Shirts - Yes there will be a 2016 Comic Fest t-shirt. Only one style / illustration. Limited to probably only 150 of them.
Look for an announcement of a one day even in San Diego this October, which is when the San Diego Comic Fest was usually held. Due to Town & Country being bought out, and the East Side scheduled to be demolished, we will not be having our Comic Fest this October, but instead in February of 2016.
That's it for this month's report!
For more info in the days / weeks to follow... Be sure to 'Like' the Facebook Fan Page for the San Diego Comic Fest!
For photos from the August Volunteer Meeting please see this photo album at my Facebook Fan Page!
~ Michael
---
---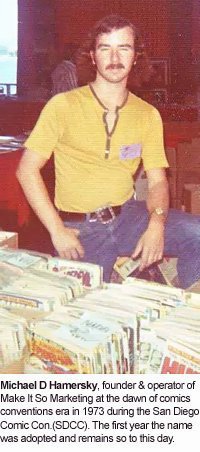 NOTE FROM Michael D Hamersky On Comics: My thanks again to all of YOU reading this blog and our archived blog posts, now over 4,000 total posts in number! I do appreciate your continued reading and support of this Blog!
BTW, You can 'follow' this blog by clicking the 'Follow' Button at this NetworkedBlogs app link! Thanks to ALL of YOU that have already clicked that button! And for those of YOU that haven't yet... I would appreciate it if YOU would!!!
Note: My online 'Local' Comic Book Shop (LCBS), carries many different genres of comics, magazines, graphic novels, and comic con promotional items. Possibly even copies of the item(s) that was mentioned here today...! If I have it, you'll find under the BIG TOP of Comics, at Comic Books Circus.com!
Web Page Note: This blog post is written per the IE Browser standards. Chrome, Safari, Netscape, Firefox and the other browsers serve the page up slightly differently, sorry about that! The screen display resolution is best seen at the setting of 1024 x 768 on your laptop or desktop computer. Note: Your computer's resoulution may be set differently, but the above resolution is the most commonly used resolution at the time of this blog post.
NOTE: All images and characters within this blog post are copyright and trademark their respective owners.
Comics Creators: If you are breaking into, or already work in the comic book industry or other pop culture productions, you are welcome to email or mail us press releases, news items, and updates that you feel would be of interest to my blog readers. Including YOUR own works! To mail printed items to me for possible review, just contact me.

Also, if you are a Facebook member, I would have liked you to send me a 'Friend Request'. However, I have reached the maximum limit of 5,000 Facebook Friends and Fan pages already, so I've added a New 'Facebook Fan Page' so that even more of YOU can 'Like' what I am doing, and be interactive with me and others there. Here is the link to that 'Facebook Fan Page':
Michael D Hamersky On Comics
! Please click the 'Like' button on that page!
---------------


In Addition, I started a YouTube Channel just before the 2011 Comic-Con International, where I am slowly uploading videos from conventions or other events that we attend that are also pop culture related. You are invited to 'subscribe' to that channel also! As found at
'HamerskyOnComics'
!
---
Posted by makeitsomarketing at 8:40 AM PDT
Updated: Monday, August 10, 2015 9:14 AM PDT