It's A Happy 13th Anniversary Greeting To Michael D Hamersky From eBay!
Mood:
a-ok
Topic: eBay Info
13 Years

As An eBay Seller...

With A Letter From eBay!

Start Date Was January 20th of 1999!





eBay Seller IDs have been:

********@hotmail.com & make_it_so_marketing during those 13 years!
TODAY'S FEATURE IS BLOG #3589 - On Sunday afternoon I received an email from eBay congratulating me on my 13 years of being an eBayer!
The main reason I joined back on January 20th of 1999 was that I wanted to test the sales market for comic books that I had in storage, and was only selling via mail order. You see, I had stopped setting up as a comic books dealer after the big crash of the mid 1990s when comic book publishers flooded the sales markets with 'collectible variant covers', rebooted titles with new #1 issues, and other such nonsense. So I had some good comics left over from those earlier set up at cons days pre the crash, and decided to try selling them online via eBay.
Which I have to admit here... I'm glad that I made that decision to do so!
Sure, it has been an up and down 13 years on eBay, attempting to adapt to all of their required changes... Many of them coming month after month, back to back at times. Thank goodness those policies have stopped! Nowadays we have some time to adapt to changes, and plan ahead.
And yes, even though I was a relatively early adopter, I still had to change my eBay seller ID when eBay decided that email addresses couldn't be used as a seller ID. Thus the change on December 23rd of 2003 to the seller name: make_it_so_marketing, which was my wife's new incorporated business name. It made total sense to sell under that new ID name, so gradually the advertising and feedbacks would state something similiar to: "Thanks for letting us Make It So for You!' or other similar slogans!
I would have to state that there were two main hi-lights during these 13 years as an eBayer:
1) Would be attending the eBay Live 2005 convention in San Jose. It was a great convention, and really opened my eyes as to what could be done with this sales avenue. Plus eBay knew how to throw a party! One photo of that week's conference is shown at the top right of this blog post!
2) My decision to start a blog via the eBay program on June 7th of 2006, which ended up with me winning a $100 prize for doing so! I soon realized that for me to to link to non-eBay urls that I had to start a non-eBay blog, which is what you are reading now. Which was doubly smart, as eBay closed down 'their' blogging platform during Halloween of 2009!
Anyways, I'm pleased to receive some recognition from eBay as being an eBayer for 13 years now, and hope to continue with them for additional years!
And yes, my ComicBooksCircus.com domain name will still re-direct to my eBay comic book shop, although I am opening up new sales avenues in 2012!
Also, although I am not as socially active as I used to be on eBay, due to their closing down of the blogs platform, and that the 'neighborhoods' was an idea that didn't take off, I'm still semi active on the remaining two groups that I'm a member of there. I do post photos about eBay topics at my special eBay Topics photo album at my Facebook Fan Page, as seen here!
~Michael D Hamersky On Comics!
---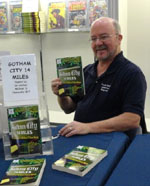 NOTE FROM Michael D Hamersky On Comics: My thanks again to all of YOU reading this blog and our archived blog posts, now at 3,589 total posts in number! I do appreciate your continued reading and support of this Blog!
BTW, You can 'follow' this blog by clicking the 'Follow' Button at this NetworkedBlogs app link! We currently have over 2,679 'Followers'! Thanks to ALL of YOU that have already clicked that button! And for those of YOU that haven't yet... I would appreciate it if YOU would!!!
Note: My online 'Local' Comic Book Shop (LCBS), carries many different genres of comics, magazines, graphic novels, and comic con promotional items. Possibly even copies of the item(s) that was mentioned here today...! If I have it, you'll find under the BIG TOP of Comics, at Comic Books Circus.com, including the book 'Gotham City 14 Miles' that I am shown holding to the left. I'm 1 of 14 essayists in that book! !
Web Page Note: This blog post is written per the IE Browser standards. Chrome, Safari, Netscape, Firefox and the other browsers serve the page up slightly differently, sorry about that! The screen display resolution is best seen at the setting of 1024 x 768 on your laptop or desktop computer. Note: Your computer's resoulution may be set differently, but the above resolution is the most commonly used resolution at the time of this blog post.
NOTE: All images and characters within this blog post are copyright and trademark their respective owners.
Comics Creators: If you are breaking into, or already work in the comic book industry or other pop culture productions, you are welcome to email or mail us press releases, news items, and updates that you feel would be of interest to our blog readers. Including YOUR own works! To mail printed items to us for possible review, send to: Make It So Marketing Inc., PO Box 130653, Carlsbad, CA 92013

Also, if you are a Facebook member, I would have liked you to send me a 'Friend Request'. However, I have reached the maximum limit of 5,000 Facebook Friends and Fan pages already, so I've added a New 'Facebook Fan Page' so that even more of YOU can 'Like' what I am doing, and be interactive with me and others there. Here is the link to that 'Facebook Fan Page':
Michael D Hamersky On Comics
! Please click the 'Like' button on that page!
---------------


In Addition, I started a YouTube Channel just before the 2011 Comic-Con International, where I am slowly uploading videos from conventions or other events that we attend that are also pop culture related. You are invited to 'subscribe' to that channel also! As found at
'HamerskyOnComics'
!
---
Posted by makeitsomarketing at 12:01 AM PST
Updated: Monday, January 23, 2012 6:37 AM PST