Private Snafu!
Mood:
accident prone
Topic: Comic Book History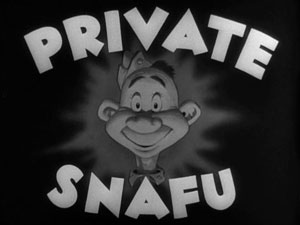 TODAY'S FEATURE IS BLOG #4051 - I've been watching the film series 'Why We Fight' on the Turner Classic Movies Channel. In between the films have been a series of cartoons produced during WWII titled: Private Snafu.
I did a little checking on the background of this feature cartoon series and came up with these facts:
You see.. Private Snafu was actually the brainstorm of Hollywood director Frank Capra. If that name is familar to you, it is probably because you have seen the films It's A Wonderful Life or Mr. Smith Goes To Washington.
Capra was running the Armed Forces' First Motion Picture Unit after the USA entered the war. He came up with an idea to use an animated cartoon character as a vehichle for teaching lessons to the army troops.
Since many of the GI's were very young, and possibly naïve in the ways of war and the world, he thought a cartoon would be the best way to get the lessons out to the guys.
Actually, cartoon shorts were still very popular in movie theaters back then. So the cartoons could be attached to the Army Navy Screen Magazine newsreels that were sent overseas.

Would you believe that it was Ted "Dr. Seuss" Geisel that led the animation section in the Army Unit? The idea was put out to bid, and several studios including Disney bid on the project.
However the initial project was won by the Leon Schlesinger studio. That studio was the producer of the Looney Tunes and Merry Melodies series that were distributed by Warner Brothers.
Schlesinger's studio included the following who worked on the Private Snafu project: directors Friz Freleng, Chuck Jones, Frank Tashlin, and Bob Clampett; music director Carl Stalling; and voice artist Mel Blanc.
The cartoons were not censored and included some racy bits in them. The points the cartoons carried were made to the GIs during the cartoon series.
You don't have to wait to see the cartoons when they run on TCM again. You can see them at this link on YouTube, as they are out of copyright.
For more on Private Snafu, please see this Wikipedia entry.
My thanks to TCM for running these cartoons inbetween the 'Why We Fight' films!
~ Michael D Hamersky
---
---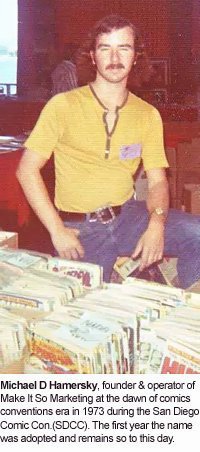 NOTE FROM Michael D Hamersky On Comics: My thanks again to all of YOU reading this blog and our archived blog posts, now over 4,000 total posts in number! I do appreciate your continued reading and support of this Blog!
BTW, You can 'follow' this blog by clicking the 'Follow' Button at this NetworkedBlogs app link! Thanks to ALL of YOU that have already clicked that button! And for those of YOU that haven't yet... I would appreciate it if YOU would!!!
Note: My online 'Local' Comic Book Shop (LCBS), carries many different genres of comics, magazines, graphic novels, and comic con promotional items. Possibly even copies of the item(s) that was mentioned here today...! If I have it, you'll find under the BIG TOP of Comics, at Comic Books Circus.com!
Web Page Note: This blog post is written per the IE Browser standards. Chrome, Safari, Netscape, Firefox and the other browsers serve the page up slightly differently, sorry about that! The screen display resolution is best seen at the setting of 1024 x 768 on your laptop or desktop computer. Note: Your computer's resoulution may be set differently, but the above resolution is the most commonly used resolution at the time of this blog post.
NOTE: All images and characters within this blog post are copyright and trademark their respective owners.
Comics Creators: If you are breaking into, or already work in the comic book industry or other pop culture productions, you are welcome to email or mail us press releases, news items, and updates that you feel would be of interest to my blog readers. Including YOUR own works! To mail printed items to me for possible review, just contact me.

Also, if you are a Facebook member, I would have liked you to send me a 'Friend Request'. However, I have reached the maximum limit of 5,000 Facebook Friends and Fan pages already, so I've added a New 'Facebook Fan Page' so that even more of YOU can 'Like' what I am doing, and be interactive with me and others there. Here is the link to that 'Facebook Fan Page':
Michael D Hamersky On Comics
! Please click the 'Like' button on that page!
---------------


In Addition, I started a YouTube Channel just before the 2011 Comic-Con International, where I am slowly uploading videos from conventions or other events that we attend that are also pop culture related. You are invited to 'subscribe' to that channel also! As found at
'HamerskyOnComics'
!
---
Posted by makeitsomarketing at 10:50 AM PDT
Updated: Thursday, September 3, 2015 11:41 AM PDT