Fifty Years Ago In The Town Of San Diego...
Mood:
a-ok
Topic: Other Cons

TODAY'S FEATURE IS BLOG #4050 - Yes... 50 Years Ago this weekend came The Beatles to San Diego!
They came for one night only during their tour of America back in 1965!
The place the concert was at was the San Diego High School's Balboa Stadium!
I was still up in Kodiak, Alaska where my Navy Dad was stationed, so I missed out on this event. But then again I was only 13 at the time, so the odds of me attending would have been plenty slim.
The Beatles were pretty big in Kodiak, as I remember singing the Beatles songs on the school bus from the Navy Base to the Catholic School in the town of Kodiak. (St. Mary's.)
The concert was NOT a sellout on this tour, as it was a surprise event, squeezed in before their scheduled event in Los Angeles at the Hollywood Bowl on August 29th & 30th.
The schedule was called the 'North American Summer Tour'. There were a few sellouts on the tour, but at San Diego only 17,013 of the 27,014 available tickets were bought.
The Beatles earned $50,135.17 for this performance, just a little over the $50,000 they were guaranteed in advance.
The stadium therefore wasn't full, but for San Diego that was a huge crowd back in those days.
There wasn't another concert at San Diego in the future, as The Beatles stopped touring in 1966. They ceased to be a band as of 1970 as well...
In addition to The Beatles, the opening acts were Cannibal and The Headhunters, Brenda Holloway, Sounds Incorporated, and King Curtis. Ever hear of them?!
BTW, most of the Balboa Stadium was torn down in 1979, so you can't even go back to where the Beatles performed!
Oh,and you want to know what the backstage food and accouterments were? How about: two cases of soda, two tubs of Kentucky Fried Chicken, three portable TV sets, four cots and sets of clean sheets, five 1 gallon bottle of water and 24 assorted sandwiches! Total cost $33.06!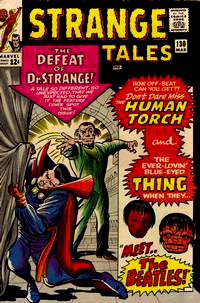 Oh, and what does this have to do with comic books?
Well, the Beatles were featured in several comic books over the years, as seen at this link.
One of my favorites were when The Thing & The Human Torch met the Beatles as seen on the Strange Tales cover for #130 published March of 1965!
And to think... It was 50 Years Ago This Very Weekend that the Beatles played in the Town of San Diego!
For those of you near San Diego... On September 1st at 12:50 pm there will be: 'The 50th Anniversary' of the Beatles 1965 Balboa Stadium Concert at the Saville Theatre, San Diego City College, at 1450 C Street, Downtown San Diego. Admission is Free for the students and the public!
~ Michael D Hamersky
---
---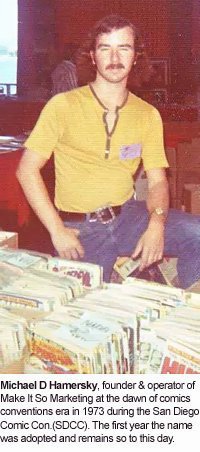 NOTE FROM Michael D Hamersky On Comics: My thanks again to all of YOU reading this blog and our archived blog posts, now over 4,000 total posts in number! I do appreciate your continued reading and support of this Blog!
BTW, You can 'follow' this blog by clicking the 'Follow' Button at this NetworkedBlogs app link! Thanks to ALL of YOU that have already clicked that button! And for those of YOU that haven't yet... I would appreciate it if YOU would!!!
Note: My online 'Local' Comic Book Shop (LCBS), carries many different genres of comics, magazines, graphic novels, and comic con promotional items. Possibly even copies of the item(s) that was mentioned here today...! If I have it, you'll find under the BIG TOP of Comics, at Comic Books Circus.com!
Web Page Note: This blog post is written per the IE Browser standards. Chrome, Safari, Netscape, Firefox and the other browsers serve the page up slightly differently, sorry about that! The screen display resolution is best seen at the setting of 1024 x 768 on your laptop or desktop computer. Note: Your computer's resoulution may be set differently, but the above resolution is the most commonly used resolution at the time of this blog post.
NOTE: All images and characters within this blog post are copyright and trademark their respective owners.
Comics Creators: If you are breaking into, or already work in the comic book industry or other pop culture productions, you are welcome to email or mail us press releases, news items, and updates that you feel would be of interest to my blog readers. Including YOUR own works! To mail printed items to me for possible review, just contact me.

Also, if you are a Facebook member, I would have liked you to send me a 'Friend Request'. However, I have reached the maximum limit of 5,000 Facebook Friends and Fan pages already, so I've added a New 'Facebook Fan Page' so that even more of YOU can 'Like' what I am doing, and be interactive with me and others there. Here is the link to that 'Facebook Fan Page':
Michael D Hamersky On Comics
! Please click the 'Like' button on that page!
---------------


In Addition, I started a YouTube Channel just before the 2011 Comic-Con International, where I am slowly uploading videos from conventions or other events that we attend that are also pop culture related. You are invited to 'subscribe' to that channel also! As found at
'HamerskyOnComics'
!
---
Posted by makeitsomarketing at 12:15 PM PDT
Updated: Saturday, August 29, 2015 12:26 PM PDT