Yvonne Craig As Seen At Wizard World Anaheim!
Mood:
a-ok
Topic: Comic Cons



Above: Yvonne Craig Holding Her Book 'From Ballet To The Batcave and Beyond' at Her Autograph Booth!

To The Top Left: Michael D Hamersky and Yvonne Craig!

To the Bottom Left: The Wizard World Comic Con Anaheim Logo - The Con Ran From April 16 - 17 -18, 2010.
TODAY'S FEATURE - Blog #3112:
Last week I blogged about who was going to be at the Wizard World Anaheim Comic Con in Orange County, California; both media guests and comics creators...

Well, as I mentioned on Monday's blog...we are back from that show, and the fourth blog in a series that I want to post here is pretty timely after last night's announcement on my Facebook member and Group Pages!

That's because Yvonne Craig, who is well known for her role in the 1960's Batman TV Show, is the Feature of today's blog!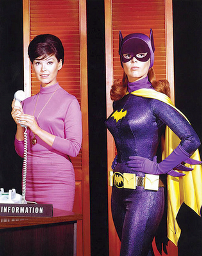 The role that Yvonne played was actually a dual role, that of Barbara Gordon and her alter ego 'Batgirl', as seen to the left!
Batgirl was added in the third season of the TV Series. For more on the series itself, please see this Wikipedia entry by clicking this link.
The original series ran on the ABC Network from January 12, 1966 – March 14, 1968. There were 120 episodes aired during the three seasons that the show was broadcast.
Of course most 'mainstream' people are aware that there are comic books, graphic novels, TV Shows both live action and animated, plus Feature Films that have featured Batman.
Batgirl herself has had 27 different comic book titles, ranging from one-shots to one title that ran for 73 issues from April of 2000 to April of 2006, as seen in this link in the listings provided by the GCD a.k.a. Grand Comics Database!
But I wonder if they know that Yvonne Craig, (Batgirl herself), has a book that was printed a little while back that was titled 'From Ballet To The Batcave And Beyond'?!
I posted a photo of Yvonne holding the book at the top right of this blog post, but the photo to the left is a closer look at the front cover.
If YOU would like an autographed copy of this book, all YOU have to do is use this link to http://www.YvonneCraig.com to purchase a copy!
While you are there, check out the other links on the site. Great Fun for fans of Yvonne's other appearances as well!
Which BTW, reminds me that Yvonne is an accomplished actress in other roles besides Batgirl on the Batman TV Show. Even though that is all I've blogged about so far, LOL!
I recall seeing Yvonne in earlier appearances in TV Westerns. As long time blog readers know, I grew up during the period when TV Westerns ruled the airwaves as well as comic books! I must have had most of those comic books based on TV Westerns during one point or the other during my lifetime!
Yvonne was in 'Tales of Wells Fargo', 'Bronco', 'Laramie', 'Wagon Train', 'The Big Valley' and 'Death Valley Days' just to name a few!
Plus being a long time fan of Elvis Presley...I definitely remember her roles in 'Kissin' Cousins', and 'It Happened At the World's Fair'!
For a complete list of Yvonne's appearances both on TV and in Film, please see this IMDB page.
For those of You that couldn't attend this convention, I'll be blogging about more media guests and comics creators in the days to come...
If You can't wait for my posts, you can check out more of who was there at Wizard World Anaheim by joining their Facebook Fan Page right here for one, AND / OR You can go direct to their web site to see who else appeared there at: Wizard World Anaheim.
My special thanks to Yvonne Craig for taking the time to pose for photos for this blog post and another one that I'll be posting down the line on her films with Elvis. Running out of room in this blog post, LOL! Besides, this post was more about her days on the Batman TV Show! Which reminds me...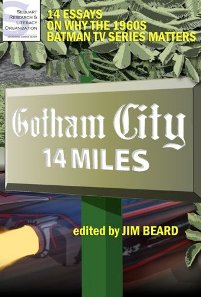 AND Now to post in my Blog the BIG Announcement that I made last night at my Facebook member and Group Pages:
"Michael D Hamersky is happy to announce tonight, (after hinting for a while), that the book he has contributed to will be released in October of this year! "Gotham City 14 Miles" is an anthology of critical essays about the 1960s "Batman" TV show! The book is being published by Sequart and is edited by Jim Beard! I'll keep you posted ...as it gets closer to release! Here's a link to the New Fan Page: http://bit.ly/GOTHAMCity14Miles!"
So that's what I have been hinting at for several months now in this blog, and my Facebook Group Page (a.k.a. http://www.Hamersky.com! As you can tell... I'm pretty excited about seeing this book being scheduled for print. My thanks to Jim Beard for asking me to be one of the essayists in his book!
AND My thanks again to all of YOU reading this blog and our archived blog posts, now over the 3,100 total posts in number!
~ Michael D Hamersky @ ComicBookCollectorsBlog.com

Note: Our online comic book store was still 'open' for business during this past weekend, as this was only a three day con, and we have caught up with shipping orders as of Tuesday the 20th. BTW, Batman Comics, Detective Comics and other DC Comics that have featured Batgirl, can be found in our online store at:
http://www.comicbookscircus.com/
---
"Hammering Out the Web For You Since May 12th, 1998!"

Note: If you are breaking into, or already work in the comic book industry or other pop culture productions, you are welcome to email us press releases, news items, and updates that you feel would be of interest to our blog readers. Including YOUR own works!

To mail printed items to us for possible review, send to:

Make It So Marketing Inc.
PO Box 130653
Carlsbad, CA 92013

Check Out More Of Our Own Endeavors:

Yeah, that's me in the photo shown to the left, taken at the 1973 San Diego Comic Con!

I first set up as a 'dealer' at the 1972 SDCC at the El Cortez Hotel. So I've been around comic conventions for a little while, LOL! Tina and I now have an on-line exhibitor table at the first "virtual" comic con titled the "Facebook Comic Con" (FBCC)!

You can view our table and interact with us there on Facebook by clicking this link.

So if YOU are a Facebook member, please 'join' our Facebook Comic Con - Make It So Marketing exhibitor table for updates, specials, links to this blog, and other wall comments that we post every day!




Also, if you are a Facebook member and would like to join my Facebook Network, feel free to send a 'friend request' to 'Michael D Hamersky'.

-------------------

Talking about comics: if YOU are a comics creator, (writer, penciler, inker, colorist, letterer, etc.), OR even a Comics / Magazine Publisher, feel free to contact me regarding YOUR works for a possible mention / review!

I've made a special blog post about: "How To Best Submit YOUR Publication For Possible Review!" for those creators / publishers that would like to possibly have their publications mentioned or reviewed. Just click on the link provided in this paragraph!

~Michael @ ComicBookCollectorsBlog.com

WEB PAGE NOTE: This blog post is written for the IE Browser standards. Chrome, Safarai, Netscape, Firefox and the others serve the page up differently. The screen display resolution is best seen at the setting of 1024 x 768.

NOTE; All images and characters within this blog post are copyright and trademark their respective owners.
Posted by makeitsomarketing at 12:01 AM PDT
Updated: Thursday, April 22, 2010 6:33 AM PDT