SHELTER - A Trees & Hills Anthology!
Mood:
caffeinated
Topic: Comic Books - New



Above: SHELTER - A Trees & Hills Anthology.

To The Top Left: The Trees & Hills Distro Flyer.

To The Bottom Left: Daniel William Barlow.

Below: The Trees And Hills Banner!

TODAY'S FEATURE:
This is a review on 'SHELTER' - A Trees & Hills Anthology...
Matt Levin, about whom I blogged about HERE, sent me this publication for possible mention / review in my Blog.
So, what's this publication about? I grabbed this excerpt from the Trees and Hills Comics Group Web Site:!
5.5" x 8.5", 56 pgs. Following on from SEEDS, we present another anthology of comics about a basic need: SHELTER. From personal meanings of home, to foreclosures, to cooperatively-owned trailer parks, and beyond, this is a collection for any home. 25% of all proceeds from SHELTER go to local shelter organizations.
So again, the above shows that this is also a different type of publication.
So, was this also a FUN READ like 'SEEDS' was? (Click here for my review blog on SEEDS.)
Well, this publication reminded more of the 'Underground Comix' that I've read in the past. Which always has its' fans and those that don't quite 'get' it. Again, this is an anthology publication, so this is a mixture of story telling and artwork.
Some of the features in this issue that really jumped out at me were:
A Boy And His Robot by Jesse Durona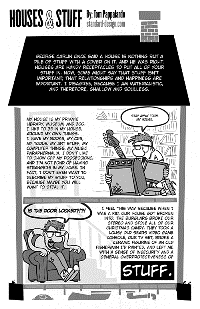 Houses & Stuff by Tom Pappalardo
Three Stories by Matt Young
I Set You Free by Marek Bennett
Home by Daniel Barlow and Colin Tedford
Gimmie Shelter by Matt Levin
Nebulous Prime by Bob Oxman & Cayetano Garza
As with 'SEEDS', this is definitely a 'message' publication. Wether or not you 'get the message' or even care for the 'message', this publication has entertainment value in it as well as educational info. I for one enjoyed seeing what these creators did with their features that were presented in this publication.
For more info on this publication and others that Trees & Hills sells, please see their web site at:
My thanks to Matt Levin for bringing this publication to my attention. Plus, my thanks to Daniel William Barlow for additional information on the group and his photo to run with this blog post!
AND...My thanks again to all of YOU reading this blog and our archived blog posts, now almost 3,100 posts in number!!
~ Michael D Hamersky @ ComicBookCollectorsBlog.com

Note: Comic books, graphic novels, and publications like the one shown above, can be found at our own web site for sale at:
http://www.comicbookscircus.com/
---
"Hammering Out the Web For You Since May 12th, 1998!"

Note: If you are breaking into, or already work in the comic book industry or other pop culture productions, you are welcome to email us press releases, news items, and updates that you feel would be of interest to our blog readers. Including YOUR own works!

To mail printed items to us for possible review, send to:

Make It So Marketing Inc.
PO Box 130653
Carlsbad, CA 92013

Check Out More Of Our Own Endeavors:

We also have an on-line exhibitor table at the virtual Facebook Comic Con (FBCC)! You can view the table and interact there by clicking this link.

So if YOU are a Facebook member, please 'join' our Facebook Comic Con - Make It So Marketing exhibitor table for updates, specials, and other wall comments that we post every day!




Also, if you are a Facebook member and would like to join my Facebook Network, feel free to send a 'friend request' to 'Michael D Hamersky'.

-------------------

Talking about comics: if YOU are a comics creator, (writer, penciler, inker, colorist, letterer, etc.), OR even a Comics / Magazine Publisher, feel free to contact me regarding YOUR works for a possible mention / review!

I've made a special blog post about: "How To Best Submit YOUR Publication For Possible Review!" for those creators / publishers that would like to possibly have their publications mentioned or reviewed. Just click on the link provided in this paragraph!

~Michael @

ComicBookCollectorsBlog.com
Posted by makeitsomarketing at 12:01 AM PDT
Updated: Wednesday, March 31, 2010 5:04 AM PDT