My Take On: The 2013 WonderCon In Anaheim, California - Part 2
Mood:
a-ok
Topic: Comic Cons
TODAY'S FEATURE IS BLOG #3822 - It is Tuesday morning... The second day after the End of the 2013 WonderCon that was held at the Anaheim, California, Convention Center!
There will be three blogs on 'Our Take' on this convention... Yesterday was 'My Take' Part 1 at blog #3821, today is Part 2, and after that will be 'Tina's Take' on the Con.
Here's my thoughts on the Con's panels that I or Tina and I attended:
Friday: (Note: Photos from these panels can be found in the Friday Photo Album. The videos will be uploaded in the days to follow at my YouTube Channel: HamerskyOnComics)
12:30 PM - The Latino Comics Roundtable - The first panel I attended at 2013 WonderCon, and a good one to start off with! I know all of the panelists from meeting them at earlier cons. They included Javier Hernandez, Grasiela Rodriguez, Jose Cabrera, and Rafael Navarro. The moderator was Ricardo Padilla. Rating: Near Mint Minus (9.2).
1:30 PM - Insights Into Indie Publishing - I knew most of the panelists here. They were of the group 'The Antidote Trust'. Some good insights were given out during this hour. Dale Wilson, Dani Dixon, and Robert Roach were among the panelists I knew. Rating: Very Fine / Near Mint (9.0).
5:30 PM - Indie Comics Marketing and PR 101 - A good hour presented by Chip Mosher, Jeremy Atkins, Dirk Wood, and Mel Caylo. Rating: Very Fine Plus (8.5).
6:30 PM - Star Trek: Enterprise Bridge Restoration - Tina and I saw the first part of this panel. I enjoyed hearing the history and seeing the photos of the Bridge. A decent panel with Huston Huddleston and Brian Uiga. Rating Very Fine (8.0).
6:30 PM - Not Guilty by Reason of Zombification - We came in late on this panel, as I wanted to see what this panel was about... And Tina loves 'The Walking Dead' on TV. Pretty cute presentation with a very good slide show. Rating: Very Fine / Near Mint (9.0).
Saturday (Note: Photos from these panels can be found in the Saturday Photo Album. The videos will be uploaded in the days to follow at my YouTube Channel: HamerskyOnComics)
10:30 AM - Living the Vikings - A panel on the History TV Network. Tina and I don't watch this show... but it looked interesting, especially after receiving a flyer on this panel as we walked in to the convention center. Be sure to check out the photos in my Saturday Photo Album if you are already a fan of the show! Rating: Very Fine / Near Mint (9.0).
11:30 AM - Spotlight on Jim Lee - This panel was the one before the one we came to see, and wanted to be close up in the rows. I do respect Jim Lee, which goes back to his early Image Comics days, when he personally came out to the line of those wanting autographs and quickly signing one comic book each for those waiting in line. Jim arrived late for this panel, and answered questions as he illustrated. Good 'panel'! Rating: Near Mint Minus (9.2).
12:30 PM - Falling Skies - The panel that Tina and I both wanted to see, which ran at the same time that 'Revolution Special Video Presentation panel ran at the Arena. Tina and I have a better feeling for Falling Skies, and were rewarded by seeing and hearing a few of the minor stars of the show. Rating: Near Mint Minus (9.2).
2:00 PM - Spotlight on Steranko - Yes... Jim Steranko! I have only seem him briefly at San Diego Comic Con International a few times, where he is mobbed by fans. I was sitting in the front row of this panel and kicked back. Photos only, as no video taping was allowed. Rating: Very Fine Plus (8.5).
4:30 PM - TV Guide Magazine's Fan Favorites Showrunners - I sat through this one for Tina, as she enjoys these types of panels... Some good parts, but I don't watch all the shows these Showrunners are involved in. Rating: Fine (6.0).
6:00 PM - The New Faces of Self-Publishing - Moderated by Kiel Phegley. An okay panel, but I don't know if the audience got what they thought they were going to get at the panel. Rating: Fine Plus (6.5).
7:00 PM - Under The Dome - An upcoming TV Show with a Sneak Peak & Q&A. I'm not a Stephen King fan, but this show looks like it could be very good! It is a CBS Summer Series, so be on the lookout for it for 12 episodes this Summer! Rating: Very Fine / Near Mint (9.0).
Sunday (Note: Photos from these panels can be found in the Sunday Photo Album, (to be uploaded). The videos will be uploaded in the days to follow at my YouTube Channel: HamerskyOnComics)
11:30 AM - Warner Archives: The Saturday Morning Extravaganza - Really good panel moderated by Jerry Beck! The panelists brought film clips from old Saturday Morning Cartoon Shows! I really enjoyed seeing them! So did Tina! Rating: Near Mint (9.4).
12:00 PM - Nerdist Industries - We only came to this to be ready to jump into better seats at the next panel. But... Tina knew this guy headlining the panel! It was Chris Hardwick, host of AMC's Talking Dead show! I even enjoyed listening to this guy, even though I don't watch Walking Dead or Talking Dead! Rating: Very Fine Plus (8.5).
1:00 PM - Arrow Special Presentation and Q&A - (photo shown at top right of this blog post!). This was the panel we both had to see on Sunday! And we were rewarded with seeing the major stars of the show! Check my photo album, (when it is uploaded), and my YouTube Channel. Rating: Near Mint (9.4).
3:30 PM - The Business and Hobby of Collecting Comics - Yes... This is the Panel that I was on as a panelist! Thanks to Greg Koudoulian for inviting me to be a panelist! I've already uploaded three of the videos that Tina shot of this panel, with more to be uploaded at my YouTube Channel. A pretty good turnout for the last panel of the day, and with that last day being on Easter Sunday! Rating: Near Mint Minus (9.2).
Well..... That's it on the panels that I attended. Tina attended some other panels by herself, but I'll let her talk about those and what else she liked or didn't like in her own review blog of the WonderCon 2013.
Be back tomorrow for blog #3823 for 'Tina's Take' on WonderCon 2013!
Until then... I'll be posting the photos that I took at WonderCon at my Facebook Fan Page: Michael D Hamersky On Comics! There will be at least four photo albums uploaded, which may take a while.
Plus I will be uploading the videos that Tina and I shot as well. Those will also be uploaded to my Facebook Fan Page, as well as at my YouTube Channel, HamerskyOnComics.

~ Michael
---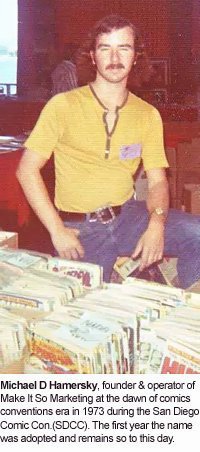 NOTE FROM Michael D Hamersky On Comics: My thanks again to all of YOU reading this blog and our archived blog posts, now at 3,822 total posts in number! I do appreciate your continued reading and support of this Blog!
BTW, You can 'follow' this blog by clicking the 'Follow' Button at this NetworkedBlogs app link! Thanks to ALL of YOU that have already clicked that button! And for those of YOU that haven't yet... I would appreciate it if YOU would!!!
Note: My online 'Local' Comic Book Shop (LCBS), carries many different genres of comics, magazines, graphic novels, and comic con promotional items. Possibly even copies of the item(s) that was mentioned here today...! If I have it, you'll find under the BIG TOP of Comics, at Comic Books Circus.com!
Web Page Note: This blog post is written per the IE Browser standards. Chrome, Safari, Netscape, Firefox and the other browsers serve the page up slightly differently, sorry about that! The screen display resolution is best seen at the setting of 1024 x 768 on your laptop or desktop computer. Note: Your computer's resoulution may be set differently, but the above resolution is the most commonly used resolution at the time of this blog post.
NOTE: All images and characters within this blog post are copyright and trademark their respective owners.
Comics Creators: If you are breaking into, or already work in the comic book industry or other pop culture productions, you are welcome to email or mail us press releases, news items, and updates that you feel would be of interest to our blog readers. Including YOUR own works! To mail printed items to us for possible review, send to: Make It So Marketing Inc., PO Box 130653, Carlsbad, CA 92013

Also, if you are a Facebook member, I would have liked you to send me a 'Friend Request'. However, I have reached the maximum limit of 5,000 Facebook Friends and Fan pages already, so I've added a New 'Facebook Fan Page' so that even more of YOU can 'Like' what I am doing, and be interactive with me and others there. Here is the link to that 'Facebook Fan Page':
Michael D Hamersky On Comics
! Please click the 'Like' button on that page!
---------------


In Addition, I started a YouTube Channel just before the 2011 Comic-Con International, where I am slowly uploading videos from conventions or other events that we attend that are also pop culture related. You are invited to 'subscribe' to that channel also! As found at
'HamerskyOnComics'
!
---
Posted by makeitsomarketing at 12:01 AM PDT
Updated: Tuesday, April 2, 2013 8:50 AM PDT