My Take On... The 2015 Souvenir Program Book of the Comic-Con International
Mood:
caffeinated
Topic: Comic Cons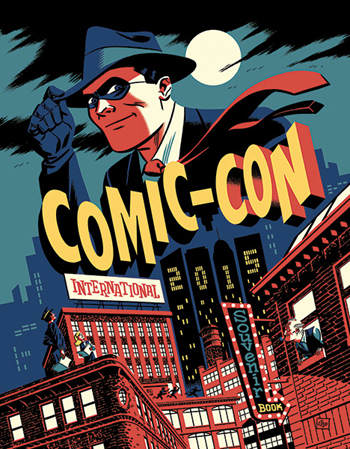 TODAY'S FEATURE IS BLOG #4034 - I've mentioned already that I attended all four days of the 2015 San Diego Comic Con International in this Blog. (As seen at blog #4031.)
I also mentioned that the Comic-Con gave away a souvenir book, an events guide and a quick guide.
This blog will review the 'Souvenir' book only.
I had seen the cover artwork at the San Diego Public Library, when I went to see the 'Art of Comic-Con International' exhibit. (As seen in this blog post, #4029.)
I immediately put the book away to read after the end of the Comic-Con, as the events guide and the quick guide were the items I needed to navigate the convention itself.
Now that I have read the book, I'm ready to review blog it here.
First of all, the cover... The reason The Spirit is on the cover is because 2015 is the 75th Annniversary of this character. The Spirit was first published by Will Eisner in 1940. Will passed away a few years ago, (in 2005), so Michael Cho was chosen to do the cover. I was always impressed when seeing see Will at Comic-Con over the years. Which is why I chose to read some of 'Spirit' reprints. For those of you that like 'The Spirit', the cover should be enough to warrant picking up a copy for your collection.
Skipping a couple of pages on the inside... You would come to the Contents page. The titles of the articles are presented along with the page numbers where they could be found on the inside.
The next important page, (after skipping a few ad pages), is the credits page. There are a lot of people that worked on this souvenir book, as well as the Comic-Con. They all seem to be listed on this credits page.
Then the President's Message is shown as well as the 'Welcome to Comic-Con' write up by David Glanzer. It is good to read this as you want to know what is being touted for the 2015 Comic-Con.
The first section is the '2015 Special Guests' section. Starting on page 7 and running through page 23 with a few ad pages inbetween. I saw several of these 'special guests' at the Comic-Con, and will be blogging about them in the near future. In the meantime you could check out the photo albums I took of Thursday, Friday, Saturday and Sunday events. I did miss seeing Stan Lee at his panel, as the line was too long for the hall, and a lot of people were turned away and could not get in.
The next section was 'The Craft of Comics', where seven top professionals talk aboout how they edit, write, draw, color, letter, and design comics. The pages are kind of 'heavy' reading, and run from page 27 through 41.
Next I'm going to talk about articles that were of interest to me while reading this book. That would not include all the articles...
Pages 44 thru 48 was on '100 Years of King Features Syndicate', by Brian Walker. This was a well researched article. I found it to be a worthwhile read.
Pages 50 thru 54 was on the 'Birth of The Spirit' by Paul Levitz. Also a very good article on the origin of this character. A must read!
Pages 60 thru 64 was 'Will Eisner, The Spirit and Me' by Denis Kitchen. Denis reprinted many of The Spirit original stories. In this article he talks about first meeting Will, and what became of that meeting. I had read this account before in a prior magazine, but it is of interest to those that would like to know more about that friendship.
Oh, and there are several pages of artwork submitted by outside artists, ranging from locals in the San Diego area, to outside of the USA. Good interpretations for the most part. Each article would have a few pieces of artwork shown after the article.
Pages 76 thru 78 was 'Confessions of a Robin and Catwoman (and Occasional Joker) Editor - by Jordan B Gorfinkel, as told to A.J. Frost. Yes a short article on these Batman characters.
I'm skipping a few articles and getting down to pages 124 - 127. "Like a Bolt of Lightning: SHAZAM! The History of the Original Captain Marvel. To me in the 1960s, 'Captain Marvel' was the character in 'Marvel Super-Heroes' comic book. I didn't know about this original Captain Marvel published by Fawcett Comics. You see, the Fawcett character ceased being published in 1953, the year after I was born. I didn't see any of those comics until I became a comic book dealer. The only other Captain Marvel I knew about was published by M.F. Enterprises from 1966-67. So this article by Mark Lucas could be of interest to you also.
Pages 130 thru 134 is an excellent article titled 'The Interrupted History Behind Captain Marvel's 75th Anniversary', by RT.C. Harvey. Very good. You get this book, be sure to check it out!
Pages 148 thru 150 had 'Oh, the Inhumanity!, about the 50th Anniversary of the Inhumans. As the Fantastic Four was my favorite comic book series growing up, I was involved with the Inhumans from the get go. Charles Novinskie does a good job remembering the Inhumans in this article.
Pages 160 thru 165 is 'Steranko and the Origin of S.H.I.E.L.D. by Douglas Wolk. I remember not liking the fact that this series kicked out by Torch series in the Strange Tales comic book back in 1965. But with artwork by Jack Kirby, I couldn't help but continue to buy the series. I always thought that Jim Steranko added a lot ot this series. This article tells quite a bit about the history of the series, and the value of Steranko to taking the series to a higher point. For those of you that love Steranko art, page 164 has his inking to Jack Kirby tryout pages for this series. Not to be missed!
Pages 172 thru 176 has '50 Years of T.H.U.N.D.E.R.' by Michael Uslan and Robert Klein. Those two were 14 years of age when Tower Comics started those comic books. I remember back in 1965 that Tower had poor distribution in Kodiak Island, Alaska where I was living on the Navy base, and poor distribution in South San Diego / Imperial Beach where I was living in 1969. Tower printed comics from 1965 to 1969. This is a good article by these two. Be sure to read it!
Pages 178 thru 179 had 'Wally Wood: The Road to T.H.U.N.D.E.R. by J David Spurlock. A good simple one page article on Wally.
The rest of the pages were on more newer comics, and comics companies.
Then came the Will Eisner Awards nominations for 2015 & the recipients for the 2014 Awards. Good reading for those interested in the 'Oscars' of comics.
The final pages, 'In Memoriam', Remembering Those We Lost In The Last Year', was a column I read in each year's souvenir book. As I don't see all those named as passing within the year. It is good that there are those remember each of these folks with an article and a photo of those that passed on...
Whew! That's it! Another Souvenir Book read and semi-reviewed here in my blog.
For those of you that didn not have a chance to pick one up at Comic-Con, I have several that I will be listing for sale at my online comic book shop, ComicBooksCircus.com. Check it out for the 2015 Book, as well as previous years.
~ Michael
---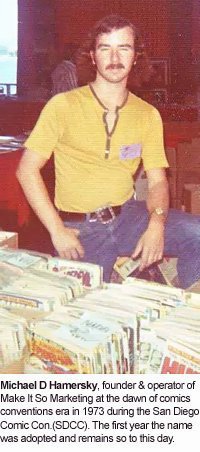 NOTE FROM Michael D Hamersky On Comics: My thanks again to all of YOU reading this blog and our archived blog posts, now over 4,000 total posts in number! I do appreciate your continued reading and support of this Blog!
BTW, You can 'follow' this blog by clicking the 'Follow' Button at this NetworkedBlogs app link! Thanks to ALL of YOU that have already clicked that button! And for those of YOU that haven't yet... I would appreciate it if YOU would!!!
Note: My online 'Local' Comic Book Shop (LCBS), carries many different genres of comics, magazines, graphic novels, and comic con promotional items. Possibly even copies of the item(s) that was mentioned here today...! If I have it, you'll find under the BIG TOP of Comics, at Comic Books Circus.com!
Web Page Note: This blog post is written per the IE Browser standards. Chrome, Safari, Netscape, Firefox and the other browsers serve the page up slightly differently, sorry about that! The screen display resolution is best seen at the setting of 1024 x 768 on your laptop or desktop computer. Note: Your computer's resoulution may be set differently, but the above resolution is the most commonly used resolution at the time of this blog post.
NOTE: All images and characters within this blog post are copyright and trademark their respective owners.
Comics Creators: If you are breaking into, or already work in the comic book industry or other pop culture productions, you are welcome to email or mail us press releases, news items, and updates that you feel would be of interest to my blog readers. Including YOUR own works! To mail printed items to me for possible review, just contact me.

Also, if you are a Facebook member, I would have liked you to send me a 'Friend Request'. However, I have reached the maximum limit of 5,000 Facebook Friends and Fan pages already, so I've added a New 'Facebook Fan Page' so that even more of YOU can 'Like' what I am doing, and be interactive with me and others there. Here is the link to that 'Facebook Fan Page':
Michael D Hamersky On Comics
! Please click the 'Like' button on that page!
---------------


In Addition, I started a YouTube Channel just before the 2011 Comic-Con International, where I am slowly uploading videos from conventions or other events that we attend that are also pop culture related. You are invited to 'subscribe' to that channel also! As found at
'HamerskyOnComics'
!
---
Posted by makeitsomarketing at 3:11 PM PDT
Updated: Saturday, July 18, 2015 5:04 PM PDT