My Take On... The 2015 Ant-Man Film
Mood:
a-ok
Topic: Comic Book Movies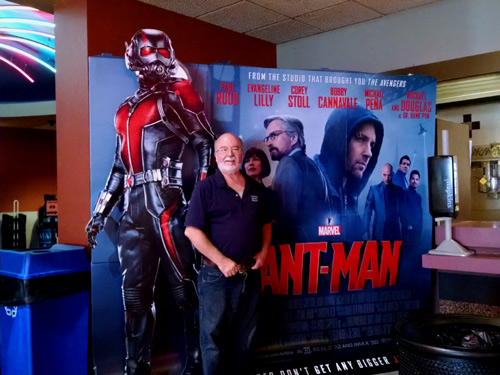 TODAY'S FEATURE IS BLOG #4035 - I am back from viewing the 2015 Ant-Man film!
I've waited to see this ever since it was announced at the 2006 San Diego Comic Con International.
Man, that sure seems a long time ago! As the 2015 San Diego Comic Con just ended less than a couple of weeks ago...
I've waited with baited breath to see this film, as I am a fan of the original Ant-Man, Hank Pym.
I missed the 'Man in the Ant Hill' story in Tales To Astonish #29 back in January of 1962. I started after Hank Pym came back in a superhero outfit as Ant-Man. That series started in issue #35 of Tales To Astonish. He remained as Ant-Man until issue #49 when he became Giant-Man.
I still followed Hank Pyam and Janet Van Dyne (as the Wasp!) until they were replaced by the Sub-Mariner in issue #70 in August of 1965.
So you see, I know Ant-Man / Giant-Man. I followed the adventures of Hank Pym for years after that. I didn't much like what Marvel writers did to him...
There was a much later story where Scott Lang became Ant-Man. That was just okay for me. It was nice to see 'Ant-Man' again, but it just wasn't the same for me.
So I kept seeing updates on the Ant-Man film. Then finally, years later... There were commercials on TV about the Ant-Man film that was coming.
The commercials looked kind of good. But still... I wasn't for sure.
Hank Pym was there in the commercials... But as a much older man. But then again, I've aged a bit since 1962 myself.
Well today I had time to take in the film. I went to the earliest showing, and it wasn't crowded.
After twenty minutes of upcoming movie previews... the Film started.
There was my Ant-Man! Old film of a small person could be seen. Ant-Man!
Okay, good start for me...
Then the story kicked in. Turned out that my interest in the film grew & grew... I was impressed with the story line. I really was impressed with Hank Pym's role in the film. This screenplay was well written! Which was surprising after the years of development in the script. See the Wikipedia entry for the film's background. Please Note: Spoiler Alert on the Wikipedia entry. It basically tells all about the film as well as the development of the film.
I enjoyed how Yellowjacket was included in the film. Hank Pym had become Yellowjacket in an Avengers story many years ago. Nice touch!
It was good to see Hope Van Dyne in the film. She was the daughter of Hank Pym and Janet Van Dyne. Plus her interacting with Scott Lang was good to see as well.
So as you can see from the above... I really enjoyed seeing this film! Enough to give it a Near Mint (NM) 9.4 out of a 10.0 comic book grade.
You can safely take your non-comics friends to see this film. The script is very well written, and the casting of the characters was excellent. It was not over the top like the Avengers 2 film was.
My thanks to all that were involved with this film. It was worth going to the movies to see this film!
~ Michael
P.S. There are over 2,400 Ant-Man stories. Click here to see where you can find them.
---
---
NOTE FROM Michael D Hamersky On Comics: My thanks again to all of YOU reading this blog and our archived blog posts, now over 4,000 total posts in number! I do appreciate your continued reading and support of this Blog!
BTW, You can 'follow' this blog by clicking the 'Follow' Button at this NetworkedBlogs app link! Thanks to ALL of YOU that have already clicked that button! And for those of YOU that haven't yet... I would appreciate it if YOU would!!!
Note: My online 'Local' Comic Book Shop (LCBS), carries many different genres of comics, magazines, graphic novels, and comic con promotional items. Possibly even copies of the item(s) that was mentioned here today...! If I have it, you'll find under the BIG TOP of Comics, at Comic Books Circus.com!
Web Page Note: This blog post is written per the IE Browser standards. Chrome, Safari, Netscape, Firefox and the other browsers serve the page up slightly differently, sorry about that! The screen display resolution is best seen at the setting of 1024 x 768 on your laptop or desktop computer. Note: Your computer's resoulution may be set differently, but the above resolution is the most commonly used resolution at the time of this blog post.
NOTE: All images and characters within this blog post are copyright and trademark their respective owners.
Comics Creators: If you are breaking into, or already work in the comic book industry or other pop culture productions, you are welcome to email or mail us press releases, news items, and updates that you feel would be of interest to my blog readers. Including YOUR own works! To mail printed items to me for possible review, just contact me.

Also, if you are a Facebook member, I would have liked you to send me a 'Friend Request'. However, I have reached the maximum limit of 5,000 Facebook Friends and Fan pages already, so I've added a New 'Facebook Fan Page' so that even more of YOU can 'Like' what I am doing, and be interactive with me and others there. Here is the link to that 'Facebook Fan Page':
Michael D Hamersky On Comics
! Please click the 'Like' button on that page!
---------------


In Addition, I started a YouTube Channel just before the 2011 Comic-Con International, where I am slowly uploading videos from conventions or other events that we attend that are also pop culture related. You are invited to 'subscribe' to that channel also! As found at
'HamerskyOnComics'
!
---
Posted by makeitsomarketing at 2:53 PM PDT
Updated: Sunday, July 19, 2015 3:24 PM PDT