My 'Take' On: Crying Macho Man Issue No. 4
Mood:
caffeinated
Topic: Comic Books - New



-

Above Photo: Jose Cabrera at the Small Press section during the 2010 SDCC!

-

At the Top Left: A Closeup of the Front Cover to Crying Macho Man No. 4!

-

At the Bottom Left: The Logo for the Comic Con International: San Diego - a.k.a. San Diego Comic Con 2010.
TODAY'S FEATURE - Blog #3228:
Today's post is about yet another publication that I 'found' at the recent SDCCI.
This time I was back in the Small Press Section of the Comic-Con, going down the aisles and saw this striking banner, as shown at the top right photo. Again, for those of YOU that are setting up at a comic con, whether in a Small Press or Artists Alley Table...Having a eye catching banner is great advertising!
Jose and I talked for a while, and after looking at his publications I chose the No 4 issue to read and possibly review.
Here is what the the creator of Crying Macho Man says about his cartoon's origin:
"Crying Macho Man was born on the mean streets of New York City and has been bringing you the funny on a weekly basis for the last 5 years. Wow, now that's a lot of cartoons. We're talking hundreds of strips that were born out of love and sweat.
This is about the time I start to list the prestigious awards Crying Macho Man the cartoon strip has won over the years and how successful and rich I've become as it's creator. But I'm sorry to disappoint you. The cartoon biz is a tough cookie to crack. Newspapers, that were once the main vehicle for the funny's have consistently hacked away the main thing I bought the paper for. The Funny Pages!
The interent seemed to bring the distribution of cartoons on a level playing field, giving budding artists like myself the opportunity to conquer this fickle media. But after 5 years of working the web, I've made about enough money to pay for a tank of gas and dinner for the missus and me. 5 YEARS YO! But I don't want this to be a bitch fest. It has brought something much more valuable. FRIENDS WHO LIKE TO DRAW CARTOONS! And I don't just mean fair weather friends either. I've met some of the best people on the planet. And cartoon peeps are such a dedicated bunch. Their love of the craft is infectuous. I seriously believe I would have dropped out the game if it weren't for their support and enthusiasm.
So here stands Crying Macho Man holding his own after 5 years, passionately getting up in the morning and dipping his proverbial pen in the bottomless inkwell of funny.
Thanks for giving me the chance to make you laugh or at least try!"

Fair enough...Here is 'My Take' on the 4th issue of Crying Macho Man:
Front Cover - After a long week of superheroes at the Comic-Con, I was looking forward to seeing something other than superheroes fare in the Small Press Section. Seeing Jose hold this publication, I could tell it wasn't that genre. It looks inviting enough to open the page to check out the inside cover...
Which I did. The inside cover kind of surprised me, by having nine other issues pictured from 'Cartoon Flophouse'. So if I liked this sort of humour, I would be sure to take a look at what else had been published so far. Good marketing!
The first page - Not a 'Splash Page' - It wold appear that the pages in this comic book magazine are from his web comic for the most part? The first page is a one page cartoon strip with six panels. The joke sets the stage for the next pages...
More multi-panel one page cartoon stories are shown. Plus one panel pages...which break up the standard format.
I find myself laughing at some of the cartoons. It is entertaining at that...
What follows next is a 9 page cartoon story. Not bad... And then another one panel cartoon page, with a parody on Wolverine.
More one panel parody pages follow, with 'Super Duper Man', and what are shown to be 'Batman' and 'Ghost Rider'. Again, the mix of pages keeps this publication from being routine. I liked the mix and the jokes. A good break from superheroes, even though some do make it to the interior pages!
The inside front cover was the Ka-Blam! printers ad. Which I see a lot...Another good print job from Ka-Blam! Oh, and the interior pages are black & white, with color covers outside and inside.
The back cover is just a little over the top...which is good that I didn't look at it before reading the interior pages. I'll let you see that one for yourselves...
I found this comic book magazine to be entertaining and worth the cover price for this type of humor.
My comic book grade for this publication is a VERY FINE / NEAR MINT, (VF/NM) 9.0 on a 10.0 grading scale.
Here's a little bit more on the creator, with a 'bio' that I found on his blog:
"Jose was born and raised in New York City in the upper part of Manhattan. His community was predominately Dominican and throughout his early school years he was surrounded by friends who loved to draw. His love for art got him accepted to La Guardia H.S. of Music and Art near Lincoln Center were he was exposed to the world of fine art. After graduating from High School, he went to Baltimore and attended the Maryland Institute College of Art. He studied everything from photography to environmental design and got a huge spoonful of Art History. Some of his influences include Henry Moore, Amedeo Modigliani, Lucian Freud, Giacometti, Paul Rand, Ansel Adams, Robert Mapplethorpe, Andy Warhol, R. Crumb, John Romita Jr., Sal Buscema, John Byrne, Jack Davis and the list goes on. This gave him the inspiration and the cojones to create Crying Macho Man."

Crying Macho Man has a Facebook Fan Page, which can be found here.
Crying Macho Man has its own web site, as found here.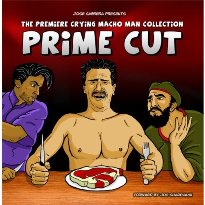 We don't have any xtra copies of this publication for sale. Thus, I'm suggesting that if YOU would like to read more of this cartoon series, here's a link to another quality online site: The Premiere Crying Macho Man Collection: Prime Cut
- that has at least one copy for sale at the time of this blog posting!
---------------------------
Thanks again, Jose Cabrera, for sharing your time with me at the recent San Diego Comic Con International!
PLUS: My thanks again to all of YOU reading this blog and our archived blog posts, now over 3,225 total posts in number! I do appreciate your continued reading and support of this Blog!
~ Michael D Hamersky @ ComicBookCollectorsBlog.com

Note: Our online comic book shop carries many different genres of comics, magazines, graphic novels, and comic con promotional items at the link seen below.
http://www.comicbookscircus.com/
---
"Hammering Out the Web For You Since May 12th, 1998!"

Note: If you are breaking into, or already work in the comic book industry or other pop culture productions, you are welcome to email us press releases, news items, and updates that you feel would be of interest to our blog readers. Including YOUR own works!

To mail printed items to us for possible review, send to:

Make It So Marketing Inc.
PO Box 130653
Carlsbad, CA 92013

ComicBooksCircus.com - It's Under The Big Top Of Comics! Click the Above Circus Tent to See Our Current Listings!

My thanks to those of YOU that have read today's blog post! I do appreciate that!

For those of you that didn't know me before today... I first set up as a 'dealer' at the 1972 San Diego West Coast Comic Con (SDCC) at the El Cortez Hotel. So I've been around comic conventions for a little while, LOL!

My wife Tina and I now have an on-line exhibitor (dealer) table at the first "virtual" comic con titled the "Facebook Comic Con" (FBCC)! Plus I have a chapter in a new book coming out in December of 2010, that is pictured above, "Gotham City 14 Miles"!

You can view our dealer table and interact with us there on Facebook by clicking this link, which takes you to our table named: 'Facebook Comic Con | Make It So Marketing'.

So if YOU are a Facebook member, please 'join' our Facebook Comic Con - Make It So Marketing exhibitor table for updates, specials, links to this blog, and other wall comments that we post every day!


Also, if you are a Facebook member and would like to also join my Facebook Network, feel free to send a 'friend request' to 'Michael D Hamersky'. Please Note: I have reached the maximum of 5,000 Facebook Friends and Fan pages already, so it might be a while before I am able to accept your request. Just send a message along with the invite that you saw my Blog!

-------------------

Talking about comics: if YOU are a comics creator, (writer, penciler, inker, colorist, letterer, etc.), OR even a Comics / Magazine Publisher, feel free to contact me regarding YOUR works for a possible mention / review!

I've made a special blog post about: "How To Best Submit YOUR Publication For Possible Review!" for those creators / publishers that would like to possibly have their publications mentioned or reviewed. Just click on the link provided in this paragraph!

~Michael @ ComicBookCollectorsBlog.com

WEB PAGE NOTE: This blog post is written for the IE Browser standards. Chrome, Safarai, Netscape, Firefox and the others serve the page up differently, sorry about that!

The screen display resolution is best seen at the setting of 1024 x 768 on your laptop or desktop computer.

NOTE: All images and characters within this blog post are copyright and trademark their respective owners.
Posted by makeitsomarketing at 12:01 AM PDT
Updated: Friday, September 3, 2010 6:27 AM PDT