My Take On: Avörya: One Shot
Mood:
caffeinated
Topic: Comic Books - New
TODAY'S FEATURE IS BLOG #3839 - Recently I received a package in the mail from Jericho Projects. In it were four comic books. One was a 'one-shot publication', and the other were three out of four issues of a mini-series.
The One Shot was the first one I chose to open. And I was quite surprised! I had no idea that this was a 'fumetti' style comic book! I couldn't tell it from the front cover, (see top left photo), and had not read any publicity on this comic book. So I proceeded to start reading it... (page 7 is shown at the top right).

Before I go into 'My Take' on the comic, I want to present what the publisher says about this comic book:
Introducing...Avörya! Now at indyplanet.com in a One shot all cosplay story!
Written and Illustrated by Adrian 'Asia' Petty, Stacy Petty

Standard Comic
Full Color
Page Count: 24
POD

Hard working wife Lynn Smith dies and finds that her life is just beginning after meeting the mysterious woman, Jalene.

This is the story of the protector angel, Avörya, and her mission of being a protector angel.

Which doesn't really say much without seeing / reading the comic book itself.
As I was saying... I figured I would read the 'one shot' comic first. And was totally surprised after turning the front cover.
What the publisher calls 'cosplay story' is actually 'fumetti'. Here's the link to what 'fumetti' is.
Okay... Back? Well, I found myself turning page after page, and enjoying what I was seeing and reading. I didn't know the background of the characters or the storyline, but it was enjoyable to read anyways. Besides, it was just a 'one shot' anyways, right?
So besides the photo-novel inside, there was the inside front cover which was the credits page, and then the inside back cover, which was a letter from the publisher, Adrian 'Asia' Petty. With a list of links about Jericho Projects, Inc.
The inside back cover also had the history of this comic book, which made good background reading.
Which by the way covered the fact that Adrian had not yet finished the fourth issue of the mini-series that I referred to at the beginning of this blog. The three comic book issues that came with this one-shot. At least as of February of 2013.
Adrian also mentioned that he... "did not want a photographed cover and decided to enlist the help of his friend, Marcel Zero, to create a cover". Although the cover is fine on its own, it hides the fact that this is a 'fumetti' / 'cosplay' comic book. That would kind of throw me when looking for something to read and then discovering what the interior pages looked like after viewing the cover.
My gut feeling is that the comic book one shot should have had a photo cover. So that the reader would not be surprised when opening to the splash page. I found the comic book to be very readable and enjoyed the format. The only negative, for me that is, is the illustrated front cover. But again, that front cover would have been fine if the interior pages were also illustrated.
For that reason I'm giving this a Very Fine / Very Fine Plus (VF/VF+) 8.25 out of a possible 10.0 comic book grading scale.
You have several links to check out for this comic book and company. Here they are:
Jericho Projects Inc Facebook Fan Page
IndyPlanet web site to purchase the comic book
My thanks to Adrian / Stacy for bringing this comic book to my attention!
~ Michael
---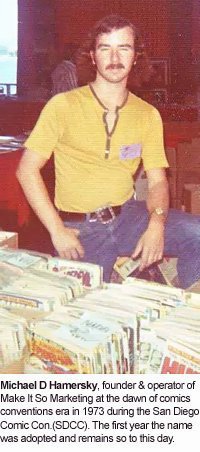 NOTE FROM Michael D Hamersky On Comics: My thanks again to all of YOU reading this blog and our archived blog posts, now at 3,839 total posts in number! I do appreciate your continued reading and support of this Blog!
BTW, You can 'follow' this blog by clicking the 'Follow' Button at this NetworkedBlogs app link! Thanks to ALL of YOU that have already clicked that button! And for those of YOU that haven't yet... I would appreciate it if YOU would!!!
Note: My online 'Local' Comic Book Shop (LCBS), carries many different genres of comics, magazines, graphic novels, and comic con promotional items. Possibly even copies of the item(s) that was mentioned here today...! If I have it, you'll find under the BIG TOP of Comics, at Comic Books Circus.com!
Web Page Note: This blog post is written per the IE Browser standards. Chrome, Safari, Netscape, Firefox and the other browsers serve the page up slightly differently, sorry about that! The screen display resolution is best seen at the setting of 1024 x 768 on your laptop or desktop computer. Note: Your computer's resoulution may be set differently, but the above resolution is the most commonly used resolution at the time of this blog post.
NOTE: All images and characters within this blog post are copyright and trademark their respective owners.
Comics Creators: If you are breaking into, or already work in the comic book industry or other pop culture productions, you are welcome to email or mail us press releases, news items, and updates that you feel would be of interest to our blog readers. Including YOUR own works! To mail printed items to us for possible review, send to: Make It So Marketing Inc., PO Box 130653, Carlsbad, CA 92013

Also, if you are a Facebook member, I would have liked you to send me a 'Friend Request'. However, I have reached the maximum limit of 5,000 Facebook Friends and Fan pages already, so I've added a New 'Facebook Fan Page' so that even more of YOU can 'Like' what I am doing, and be interactive with me and others there. Here is the link to that 'Facebook Fan Page':
Michael D Hamersky On Comics
! Please click the 'Like' button on that page!
---------------


In Addition, I started a YouTube Channel just before the 2011 Comic-Con International, where I am slowly uploading videos from conventions or other events that we attend that are also pop culture related. You are invited to 'subscribe' to that channel also! As found at
'HamerskyOnComics'
!
---
Posted by makeitsomarketing at 12:01 AM PDT
Updated: Wednesday, April 24, 2013 7:05 AM PDT