My Take On: OZ The Great and Powerful Film (2013)
Mood:
caffeinated
Topic: Comic Book Movies
TODAY'S FEATURE IS BLOG #3809 - Today's blog is on the newly released film, 'OZ the Great and Powerful' that is probably playing at a theater near you right nowl
My weekend plans changed earlier this morning, so I went to our local theater mid morning, and the following will be my review of the film.
First though, here is the Wikipedia entry to the film. Be careful when reading that entry, if you don't want to see any 'spoilers' on the film!
Please Also Note: This film is a sort of 'prequel' to the 1939 film.
Fine... Now here's My Take:
First of all, I really do enjoy good OZ comic books and films, as seen in previous blog entries. As stated before, I read most of the Wizard of Oz books when I was in grade school / high school. So I am familar with the Oz Universe.
So, I was a little disappointed to read before I left to see the film, that this Oz film had nothing to do with the 1939 Wizard of Oz film. Yet it did fit into the Oz Universe. So I decided to check it out.
I'm glad I did! Here's why:
The beginning minutes of the film were in black & white, just like the 1939 film. This film was also in a 'box-like format'. Then it went to color when the main character, 'Oz', flew into the land of Oz. Plus the screen expanded to the full length of the screen. Very good sequencing of the film in those minutes, in my estimation.
I was wondering how the character of Oz was going to be portrayed in the film, especially as this was a 'Disney' film. It is rated PG though, which is how some of the background topics were able to be placed into the film.
Yes, the character of Oz is played by someone who was 'third choice' to play the film, James Franco. Would you believe that Robert Downey Jr. was asked first? And then Johnny Depp... Who I couldn't believe would be considered as the 'Wizard of Oz'... James Franco is an actor I like, and have seen him in several films. I like him in the films that I have seen him in. I liked him as the 'Wizard of Oz' as well.
I should also mentioned that Frank Morgan, who played the Wizard in the 1939 film, was also 'third choice'. He took the role after Ed Wynn and W.C. Fields turned it down.
The evolution of Mila Kunis who played Theodora in the opening scene in the Land of Oz was a very strong role. Especially as the film plays on and she turns into something else, which I won't mention here.
Her sister, Rachel Weisz who plays Evanora, the Wicked Witch of the East, had a strong beginning in the film, but weakened toward the end of the film.
Michelle Williams, who plays Glinda, the Good Witch of the South, was strongly played. Her role enlarged as the film progressed. I also enjoyed seeing her favorite mode of transportation, a clear bubble, used in this film.
Finley, who was a CGI flying monkey, was vividly voiced by Zack Braff. Excellently voiced I should say. His actions in the film brought several laughing moments for the audience in the theater. I really enjoyed this character in the film.
The colors and imagination of the surroundings in the Land of Oz were wonderful to see on the Big Screen. Especially after the black & white scene in Kansas at the beginning of the film!
I would have to say that at 130 minutes the film was maybe just a tad long... But I had to sit through 15 minutes of movie previews before the feature film was even started!
So I would have to give kudos to the film's director, Sam Raimi, for directing an enjoyable film!
I believe that the film was widely accepted at the theater I attended, as there was a lot of clapping at 'The End', which wouldn't be if the film wasn't liked. The audience was kids and grownups, and was almost totally full in attendance.
After viewing this film, I would have to give it a VERY FINE / NEAR MINT (VF/NM) 9.0 out of a possible 10.0 comic book grading scale. I would also suggest it be one that you see at The Big Screen if you have any interest in the 'Land of Oz' books / comics / other films.
~ Michael
---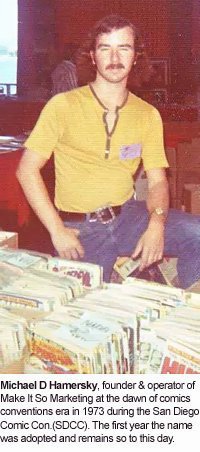 NOTE FROM Michael D Hamersky On Comics: My thanks again to all of YOU reading this blog and our archived blog posts, now at 3,809 total posts in number! I do appreciate your continued reading and support of this Blog!
BTW, You can 'follow' this blog by clicking the 'Follow' Button at this NetworkedBlogs app link! Thanks to ALL of YOU that have already clicked that button! And for those of YOU that haven't yet... I would appreciate it if YOU would!!!
Note: My online 'Local' Comic Book Shop (LCBS), carries many different genres of comics, magazines, graphic novels, and comic con promotional items. Possibly even copies of the item(s) that was mentioned here today...! If I have it, you'll find under the BIG TOP of Comics, at Comic Books Circus.com!
Web Page Note: This blog post is written per the IE Browser standards. Chrome, Safari, Netscape, Firefox and the other browsers serve the page up slightly differently, sorry about that! The screen display resolution is best seen at the setting of 1024 x 768 on your laptop or desktop computer. Note: Your computer's resoulution may be set differently, but the above resolution is the most commonly used resolution at the time of this blog post.
NOTE: All images and characters within this blog post are copyright and trademark their respective owners.
Comics Creators: If you are breaking into, or already work in the comic book industry or other pop culture productions, you are welcome to email or mail us press releases, news items, and updates that you feel would be of interest to our blog readers. Including YOUR own works! To mail printed items to us for possible review, send to: Make It So Marketing Inc., PO Box 130653, Carlsbad, CA 92013

Also, if you are a Facebook member, I would have liked you to send me a 'Friend Request'. However, I have reached the maximum limit of 5,000 Facebook Friends and Fan pages already, so I've added a New 'Facebook Fan Page' so that even more of YOU can 'Like' what I am doing, and be interactive with me and others there. Here is the link to that 'Facebook Fan Page':
Michael D Hamersky On Comics
! Please click the 'Like' button on that page!
---------------


In Addition, I started a YouTube Channel just before the 2011 Comic-Con International, where I am slowly uploading videos from conventions or other events that we attend that are also pop culture related. You are invited to 'subscribe' to that channel also! As found at
'HamerskyOnComics'
!
---
Posted by makeitsomarketing at 12:01 AM PST
Updated: Saturday, March 9, 2013 2:33 PM PST