My Take On: Iron Man 3 On The Big Screen!
Mood:
a-ok
Topic: Comic Book Movies
TODAY'S FEATURE IS BLOG #3846 - I've just come back from viewing Iron Man 3 on the Big Screen with my wife, Tina LoSasso.
This blog post is 'My Take' on the film. Please check back tomorrow to read Tina's 'Take' on the film.
Before I start, here are 'My Takes' on Iron Man 1 (8.5) & Iron Man 2 (9.2).
So... What did I think of the film?
I've got to say... This film was like a drama to me... Which is good! The storyline was well written, and there was a lot of 'Tony Stark' on film, instead of Iron Man. Plus a lot of Pepper Potts! Which also was good.
There weren't as many characters in this 3rd film of the Iron Man Trilogy. Which was also good!
However, the ending of the film was just a little 'comic booky' for my tastes. And yes, I am a comic book collector! So I know 'comic booky', LOL.
Yet the storyline for the most part was very well written & directed. I liked this film because for 3/4 of the film there was a 'human touch' to it.
It could also be the actors that brought more to this film. Here's my grade on the actors:.
Robert Downey Jr. as Tony Stark / Iron Man - A Near Mint (NM) 9.4. Robert is Tony for sure! Plus his interaction with the kid in Tennessee was very well played.
Gwyneth Paltrow as Pepper Potts - A Near Mint (NM) 9.4 also! At last she got more film time, and played it very well.
Don Cheadle as James Rhodes / (War Machine) Iron Patriot - Very Fine / Near Mint 9VF/NM) 9.0 - Was pretty good in this film.
Ben Kingsley as the Mandarin - Near Mint Minus (NM-) 9.2 - Very well played, especially with the twist!
Guy Pearce as Aldrich Killian - Very Fine Plus (VF+) 8.5 - Good role for Guy, except the ending part, which was written a little too comic booky. I realize that it isn't the actor's fault, but it affected my grading of the role.
Rebecca Hall as Dr. Maya Hansen - Very Fine Plus (VF+) 8.5 - Pretty good acting for a minor role!
Jon Favreau as Happy Hogan: - Very Fine (VF) 8.0 - Happy gets hurt early in the film, and is out of it... Too bad, as Jon was good as Happy in the earlier two films.
Ty Simpkins as Harley - Near Mint Minus (NM-) 9.2 - This kid got a role a lot of kids would love to have had in the film. And he pulls it off! Good job!
Paul Bettany reprises his role from previous films as JARVIS, Stark's AI system - Very Fine / Near Mint (VF/NM) 9.0 - JARVIS is still hanging in there!
Stan Lee makes a cameo appearance as a beauty pageant judge. Very Fine Plus (VF+) 8.5 - Too small of a cameo for Stan the Man Lee!
I would have to say that this film rounds out the Iron Man Trilogy very well. I for one, along with the rest of the audience in the theater enjoyed this film! And almost all of them stayed for the final scene at the end of the credits!
My comic book grade for this comic book movie is a Near Mint Minus (NM-) 9.2. The film was well played until just near the end when it became just a little too 'comic booky' for me. Yet I will still buy the DVD when it comes out, because it is a good movie, and worth seeing again! So yes, check this film out on the Big Screen near you!
If you want to know more about the film, you could read the Wikipedia entry for the film. But be aware, there are a LOT of 'SPOILER ALERTS' in that entry!
~ Michael
---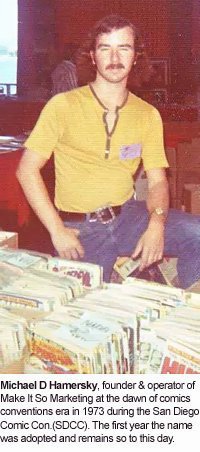 NOTE FROM Michael D Hamersky On Comics: My thanks again to all of YOU reading this blog and our archived blog posts, now at 3,846 total posts in number! I do appreciate your continued reading and support of this Blog!
BTW, You can 'follow' this blog by clicking the 'Follow' Button at this NetworkedBlogs app link! Thanks to ALL of YOU that have already clicked that button! And for those of YOU that haven't yet... I would appreciate it if YOU would!!!
Note: My online 'Local' Comic Book Shop (LCBS), carries many different genres of comics, magazines, graphic novels, and comic con promotional items. Possibly even copies of the item(s) that was mentioned here today...! If I have it, you'll find under the BIG TOP of Comics, at Comic Books Circus.com!
Web Page Note: This blog post is written per the IE Browser standards. Chrome, Safari, Netscape, Firefox and the other browsers serve the page up slightly differently, sorry about that! The screen display resolution is best seen at the setting of 1024 x 768 on your laptop or desktop computer. Note: Your computer's resoulution may be set differently, but the above resolution is the most commonly used resolution at the time of this blog post.
NOTE: All images and characters within this blog post are copyright and trademark their respective owners.
Comics Creators: If you are breaking into, or already work in the comic book industry or other pop culture productions, you are welcome to email or mail us press releases, news items, and updates that you feel would be of interest to our blog readers. Including YOUR own works! To mail printed items to us for possible review, send to: Make It So Marketing Inc., PO Box 130653, Carlsbad, CA 92013

Also, if you are a Facebook member, I would have liked you to send me a 'Friend Request'. However, I have reached the maximum limit of 5,000 Facebook Friends and Fan pages already, so I've added a New 'Facebook Fan Page' so that even more of YOU can 'Like' what I am doing, and be interactive with me and others there. Here is the link to that 'Facebook Fan Page':
Michael D Hamersky On Comics
! Please click the 'Like' button on that page!
---------------


In Addition, I started a YouTube Channel just before the 2011 Comic-Con International, where I am slowly uploading videos from conventions or other events that we attend that are also pop culture related. You are invited to 'subscribe' to that channel also! As found at
'HamerskyOnComics'
!
---
Posted by makeitsomarketing at 12:01 AM PDT
Updated: Friday, May 3, 2013 4:51 PM PDT