My Take On: Midnight Tiger #1 The KickStarter Exclusive
Mood:
caffeinated
Topic: Comic Books - New
| | | | | |
| --- | --- | --- | --- | --- |
| Midnight Tiger #1! | | Ray-Anthony Height Showing Me A Copy of Midnight Tiger #1 (the KickStarter Exclusive Edition) at the 2013 LBCC EXPO! | | |
TODAY'S FEATURE IS BLOG #3858 - This review blog is on Ray-Anthony Height's comic book that was funded via a KickStarter program back in October of 2012.
I've met Ray-Anthony a few years ago at a comic con, and then saw him in succeeding years at other Southern California comic conventions. He went on to work for Marvel Comics, and other comic book companies. This comic book, Midnight Tiger #1 is his first self published comic book, which he gave me at the recent 2013 Long Beach Comic Con Expo for possible review purposes.
So what is the comic book about? Here's the promo for it via the KickStarter project:
The story revolves around young high school senior Gavin Shaw, a disillusioned teen living in the crime infested city of Red Circle who's lost faith in the heroes he admired growing up. After attempting to save the life of the gravely injured hero known as Lionsblood while on his way home from school, Gavin finds himself waking up in a hospital bed days later with amazing new super human abilities and smack dab in the middle of a 15 year old secret that could unravel the fabric of the superhero community. Gavin is determined not to let that secret destroy his city.

Overall Theme: If you've ever felt that deep disheartened sensation that tells you that there is something BETTER out there waiting for you, but you feel trapped in the place you are and don't know why. If you've turned to look at a loved one and they seem to have given up on their hopes and dreams and you would do anything to inspire them to keep striving for their personal greatness, but don't know how. MIDNIGHT TIGER's overall theme deals with those very feelings. At its core, it is a character driven series that is part coming of age story and part hero's journey. A fun teenage superhero action-adventure told in the Silver Age style of comics that chronicles a young hero's rediscovery of his childhood dreams and his determination to help the people of his city rediscover theirs. MIDNIGHT TIGER will examine the idea that in order to truly save a life, sometimes you have to inspire people to live.
The Creative Team: Creator/Artist/Plots - Ray-Anthony Height (Fear Itself: Fearsome Four, Shadowland: Power Man)
Writer - DeWayne Feenstra

Colors - Paul John Little

Letters - Charles Pritchett
Okay... So what's My Take on this comic book?
Front Cover - A nice slick front cover of the Midnight Tiger, but I can't make out who or what the character is in the foreground...
Inside Front Cover - The Credits Page. A well produced page with all of the necessary ingredients.
Splash Page - The 1st page is NOT used as a 'splash page'.
Interior Pages - The artwork is great as usual, being a fan of Ray-Anthony's work. The storyline by Ray-Anthony & DeWayne Feenstra is a pretty good intro to the character. The 22 page story is well paced. I'm concerned from reading the KickStarter project that this is just the first of a nine issue story arc though.
Behind The Scenes - Since this was a KickStarter Special Issue, there is a special section instead of ad pages. First there are 'A Few Words From Our Creator / Penciler', which I found to be interesting.
Then there is 'A Few Words From Our Writer' page by DeWayne Feenstra.
Then the following five pages are the names of those that contributed to this KickStarter Project, which I believe was 234 backers!
The last interior page was a 'Concept Design & Origin' page on the Midnight Tiger, a nice additional touch.The ad page from Write Height Media.com.
The Back Cover - Is a 'Meet Gavin Shaw' intro, which is an okay use of the back cover to help guide a potential buyer into purchasing the comic book.
I found this comic book to be in what I would call a 'Silver Age Format', which being 'Old School' myself... I quite enjoyed! My only concern was the front cover with the unidentifiable character in the foreground, and that this would be a nine story arc, (nine issues), which I only found mentioned in the KickStarter project.
So what's my grade for this comic book? Well... I'm giving it a Very Fine / Near Mint (VF/NM) 9.0 out of a possible 10.0 comic book grading scale.
You can purchase a copy of this comic book at Write Height Media.
For more on Ray-Anthony see the following links:
Write Height Media Facebook Fan Page
Midnight Tiger Facebook Fan Page
My thanks to Ray-Anthony Height for bringing this comic book to my attention at the LBCC Expo!
~ Michael
---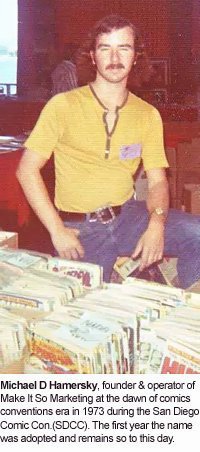 NOTE FROM Michael D Hamersky On Comics: My thanks again to all of YOU reading this blog and our archived blog posts, now at 3,858 total posts in number! I do appreciate your continued reading and support of this Blog!
BTW, You can 'follow' this blog by clicking the 'Follow' Button at this NetworkedBlogs app link! Thanks to ALL of YOU that have already clicked that button! And for those of YOU that haven't yet... I would appreciate it if YOU would!!!
Note: My online 'Local' Comic Book Shop (LCBS), carries many different genres of comics, magazines, graphic novels, and comic con promotional items. Possibly even copies of the item(s) that was mentioned here today...! If I have it, you'll find under the BIG TOP of Comics, at Comic Books Circus.com!
Web Page Note: This blog post is written per the IE Browser standards. Chrome, Safari, Netscape, Firefox and the other browsers serve the page up slightly differently, sorry about that! The screen display resolution is best seen at the setting of 1024 x 768 on your laptop or desktop computer. Note: Your computer's resoulution may be set differently, but the above resolution is the most commonly used resolution at the time of this blog post.
NOTE: All images and characters within this blog post are copyright and trademark their respective owners.
Comics Creators: If you are breaking into, or already work in the comic book industry or other pop culture productions, you are welcome to email or mail us press releases, news items, and updates that you feel would be of interest to our blog readers. Including YOUR own works! To mail printed items to us for possible review, send to: Make It So Marketing Inc., PO Box 130653, Carlsbad, CA 92013

Also, if you are a Facebook member, I would have liked you to send me a 'Friend Request'. However, I have reached the maximum limit of 5,000 Facebook Friends and Fan pages already, so I've added a New 'Facebook Fan Page' so that even more of YOU can 'Like' what I am doing, and be interactive with me and others there. Here is the link to that 'Facebook Fan Page':
Michael D Hamersky On Comics
! Please click the 'Like' button on that page!
---------------


In Addition, I started a YouTube Channel just before the 2011 Comic-Con International, where I am slowly uploading videos from conventions or other events that we attend that are also pop culture related. You are invited to 'subscribe' to that channel also! As found at
'HamerskyOnComics'
!
---
Posted by makeitsomarketing at 12:01 AM PDT
Updated: Thursday, May 16, 2013 7:04 AM PDT