Our Take On: Captain America - The First Avenger! 2011 Film
Mood:
a-ok
Topic: Comic Book Movies
Our Take On:

Captain America - The First Avenger!

By Tina LoSaso, Vinnie & Michael D Hamersky!

-

Above Top Photo: The Captain America: The First Avenger film poster that we saw on the outside of the theater we attended!

Left column top photo: The Comic Book that started it all! Captain America Comics from March of 1941, by Joe Simon & Jack Kirby, from Timely (Marvel Comics)!
TODAY'S FEATURE - Blog #3473:
Please Note: This is the comic book film that I have been most looking forward to seeing... It was the fact that it opened last Friday during the 2011 San Diego Comic Con International that came kept us from catching it when it first opened. I waited till my youngest son, Vinnie, joined us this weekend to see it together.
Here's the reviews from Vinnie (young comic book reader), Tina (mainstream film goer), & myself (long time comic book dealer & reader):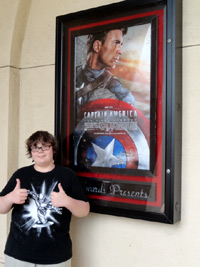 Vinnie: I just came out of a mid-afternoon viewing of the Marvel movie, "Captain America". While it's still fresh in my head, I am writing down what I thought of it. Before I continue, I'm just going to say that I have had no prior knowledge of the hero or any phenomena to do with him. I just know that he is a well known Marvel hero from World War II. I also recognize his costume, but most people, even if they are not involved with comics, can recognize it too.
But anyways, what I really liked about this movie was the fact that there was a strong force of friendship, trust, and care between everyone on the "good team". They always took on everything as a team, worked hard to make sure everyone was alright, and never left anyone back. I also liked the fact that they chose the "little guy", Steve Rogers, to control such power, and the fact that they explained it. To sum up what the doctor in charge of the DNA controlling team, the one who chose Steve, would be that a man with much power won't feel strengthened and won't acknowledge the newfound power. However, the little guy, not having much power on his own, would very much realize it, and respect it carefully. I find that to be true, kind of like, "you don't know what you're missing until it's gone". In this case, the strong man wouldn't know what he has, and therefore won't respect it.
The character roles were played very well, and I feel that each character fit perfectly, in terms of the movie's storyline. I do not know if the characters exactly matched with the character roles in the comic, but not knowing anything from it, they made it feel like that's what it would match up to be in the comics.
The action was very cool, and the fighting style he used was tremendous. I love how he only had a pistol and his shield, and his will to fight. The way he could also use his shield as defense, AND offense was just crazy! Bashing people left and right, maybe tossing it at someones chest to knock them straight down to the ground. It was just all very awesome to watch, and it added so much adventure to the already adventurous movie.
The special effects and stunts were also one of my favorite parts of the movie. Whenever he was taking over a Hydra base, it was usually slowed down so you could see exactly how he was bashing all the baddies. This also helped me to realize that he was using his shield as a throwing weapon, as I previously explained. The stunts performed were also crazy, like many jumps to escape death, while jumping over a giant pit to another small catwalk where explosions were blasting underneath. It was just a cool experience to see something not seen everyday, whether or not it was faked, but that's another story.
I really enjoyed this movie, and I found it to be quite enjoyable, even for someone who isn't an "avid fan" of the hero. I give the movie "Captain America: The First Avenger" a Near Mint Minus (NM-), a 9.2 out of a 10.0 grade scale.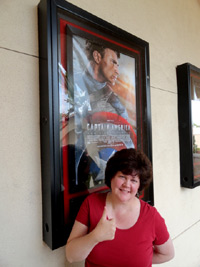 Tina: Captain America: The First Avenger
In a summer when "Super 8" and "Cowboys & Aliens" are being touted as movie throwbacks (and rightfully so), "Captain Americ" steals the crown with the most old-fashioned, romanticized view of America. Set in WWII, "Cappie" is an old-fashioned yarn celebrating America values. Even the military brass, who think super soldier Steve Rogers should serve his country touting war bonds, are portrayed as well-meaning but misguided. Why, the only bad guys in the movie are THE bad guys Nazis and the only thing worst than a Nazi, Red Skull.
The look, the feel, the mood of the film is pleasantly retro from the music to the lipstick to lack of cursing and overt violence. This is a movie you can take the family to. Yes, people die, but this is war time. Chris Evans handles the action adequately, but never rises to star status. There are plenty of emotional moments, but no worries, thanks to Evans; you'll never need a tissue. The story is long on origin, but once the action kicks in, it's rip roaring fun. Be sure to sit through the credits, you'll be treated to a wartime ditty, The Star-Spangled Man, and a bonus scene. Comic Book Rating: VERY FINE / NEAR MINT (VF/NM) 9.0 out of a possible 10.0 grading scale.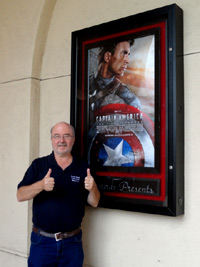 Michael: I have told my son before that I would prefer not to have any comics, graphic novels, DVDs, or comic book films that we read or view to be graded higher than a NEAR MINT (NM) 9.4, because otherwise, what could be graded higher?!
Well, today, I'm going to grade this comic book movie higher... How high? See the end of my portion of this blog...!
Where to start?
Well, I didn't give this film much in the way of wanting to see it, when it was first announced... When I viewed the first trailer... I was hooked!
This Captain America was going to be set in the World War II time period, when Cap was 'best' IMO! Whether by folks like the creators Joe Simon & Jack Kirby, or by later creators like Stan Lee & Allen Bellman, etc. Or even in the mid 1960s when it was Stan Lee & Jack Kirby doing the series! The World War II era was THE period for Cap for me.
So no wonder that I found this film to be so amazing!
From the very opening scene in the future... to the next scene in the past, the screenwriters had this Steve Rogers / Captain America / Bucky Barnes thing down pat... Yeah, it wasn't entirely true to the original comic book title, but then again what is when Hollywood takes it and runs with it?!
I found that the pre-Cap Steve Rogers to be perfect... Even if placing Chris Evans' head on another person's body. Perfect atmosphere to gain sympathy for Steve, who wanted nothing more than to serve his country. What patriotism!
The storyline dwelt long enough on the origin of Captain America, to tell the story and move on to dealing with the Nazis & Hydra.
This Red Skull wasn't outlandish like the one in the 'Captain America' movie from 1990. Here's a link to that one so you can see what they attempted to do, and failed to do so.
From the origin to the rest of the story... This 2011 film didn't stop once it started with the 'action'. I don't want to post any 'spoilers', which would be easy to find at this Wikipedia entry for the film, but I do want to say this...
If you are a fan of the Captain America that was brought back in the 1960s by Stan & Jack, this film is for YOU!
And speaking of Stan, several people in the theater loved the way Stan's cameo was used in this film, including myself!
The actors for Steve Rogers / Captain America / Peggy Carter / Bucky Barnes/ Johann Schmidt / Red Skull / Col. Chester Phillips were outstanding IMO, and fit their roles nicely. Kudos to the casting department!
Again, I want to mention that the screenwriters did an outstanding job!
The direction and the production values of this film, made it one where I had little interest in it, other than it being a Marvel Superhero Movie I should see, to one that sparked my interest when seeing the first trailer come out, to being enthralled in my seat at our local Big Screen this afternoon!
After all that... I've got to say that this was a comic book movie done right!
So much so that I'm lifting my grading scale from no more than a NEAR MINT (NM) 9.4 to a NEAR MINT / MINT (NM/M) 9.8 out of a possible 10.0! You gotta see this one at the Big Screen near you! 'Nuff Said!
In conclusion.... Thanks, Tina & Vinnie, for your guest comments today, that's a 9.2 + 9.0 + 9.8 = average of 9.333 !
~Michael D Hamersky
---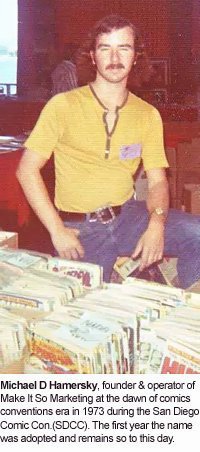 NOTE FROM THE BLOGGER:
My thanks again to all of YOU reading this blog and our archived blog posts, now at 3,473 total posts in number! I do appreciate your continued reading and support of this Blog!
BTW, You can 'follow' this blog by clicking the 'Follow' Button at this NetworkedBlogs app link! We currently have over 2,498 'Followers'! Thanks to ALL of YOU that have already clicked that button!
And for those of YOU that haven't yet... I would appreciate it if YOU would!!!
~ Michael D Hamersky
Note: My online 'Local' Comic Book Shop (LCBS), carries many different genres of comics, magazines, graphic novels, and comic con promotional items. Possibly even copies of the item(s) that was mentioned here today...!
If I have it... You can find it 'Under The Big Top Of Comics' at:
http://www.ComicBooksCircus.com/
Web Page Note: This blog post is written for the IE Browser standards. Chrome, Safari, Netscape, Firefox and the other browsers serve the page up differently, sorry about that!
The screen display resolution is best seen at the setting of 1024 x 768 on your laptop or desktop computer. Note: As of Monday, June 27th, 2011, I'll be using my new laptop, where the default resolution is 'higher', so there may be some temporary glitches until I am used to the new resolution.
NOTE: All images and characters within this blog post are copyright and trademark their respective owners.

Comics Creators: If you are breaking into, or already work in the comic book industry or other pop culture productions, you are welcome to email or mail us press releases, news items, and updates that you feel would be of interest to our blog readers. Including YOUR own works!
To mail printed items to us for possible review, send to:
Make It So Marketing Inc., PO Box 130653, Carlsbad, CA 92013

Also, if you are a Facebook member, I would have liked you to send me a 'Friend Request'. However, I have reached the maximum limit of 5,000 Facebook Friends and Fan pages already, so I've added a New 'Facebook Fan Page' so that even more of YOU can 'Like' what I am doing, and be interactive with me and others there. Here is the link to that 'Facebook Fan Page': Michael D Hamersky On Comics! Please click the 'Like' button on that page!
---
Posted by makeitsomarketing at 4:57 PM PDT
Updated: Saturday, July 30, 2011 7:18 PM PDT