South of the Border With Disney!
Mood:
caffeinated
Topic: Comic Book History



--------------

South of the Border With Disney!

---------------

Walt Disney and the Good Neighbor Program 1941-1948

-

Above Photo: The Front Cover of the Book: South of the Border With Disney - Walt Disney and the Good Neighbor Program, 1941 - 1948 - by J.B. Kaufman!

At the Top Left: The Front Cover to the Dell Four Color #71 Comic Book from May of 1945 - Part of the Project Discussed in the Book!

At the Bottom Left: This 1941 Photo was taken in Argentina. Walt Disney's group had been invited by local gauchos to an authentic Argentine barbecue. Walt is shown posing for the photo in full gaucho costume, looking every bit the part of an Argentine cowboy!
TODAY'S FEATURE - Blog #3186:
This blog is perfect to run just before the upcoming San Diego Comic Con International, that is only 12 days away!
That's because the San Diego Convention Center itself is only 18 miles North of the Border with Mexico!
Plus, the Comic Con International is a destination that a lot of artists come up from the South American countries each year to attend! I know, I've met several during the past years!
And finally, the Disney influence is very well represented on the exhibit floors and in the program halls each year at the San Diego Convention Center.
However, I doubt if many of the con goers know of the period of time that this book, 'South of the Border with Disney' covers.
Heck, I only knew a little bit of this period, because of the top left photo of the Dell Four Color Comic Book #71. That was a 'one-shot comic book', penciled by Walt Kelly for Disney, and published in conjunction with Dell Publishing in 1945.
That one-shot could be considered as a 'promotional' comic book for the Disney film, 'The Three Caballeros'. It is a adaptation of most of the film, with some omissions and then also some new material. The comic book is representative of what the book 'South of the Border with Disney' tells of what was produced during the time period of 1941 - 1948.
So what's with the book?
Well, quite honestly, it is a very 'heavy' read, in both number of pages and content. I found it to be very interesting, with text, photos, and appendices. Actually too much for me for a casual reading less than two weeks before the Biggest Comic-Con for us of the year!
So, I read as much as I could, and realized that this book is a true treasure for Disney Fans! Which is why I am blogging on just a little bit of it this morning.
Here's what the promo blurb says the book is about:
Millions of viewers have enjoyed Saludos Amigos and The Three Caballeros without realizing that these Disney films were produced for a specific diplomatic purpose: as part of an initiative to foster a spirit of friendly hemispheric unity by countering Nazi propaganda efforts in South America, so that all the Americas might stand together against the Axis powers.
This effort, the Good Neighbor program, was initiated and guided by Nelson Rockefeller as head of the Coordinator of Inter-American Affairs (CIAA), a new government post created by President Roosevelt in 1940.
Beginning with the extraordinary research trip Disney undertook in 1941, leading a team comprising his top animators, artists, and writers from Mexico to Chile, renowned animation historian J. B. Kaufman reveals the story behind Disney's contribution to Rockefeller's program.
Based on extraordinarily comprehensive archival research and richly illustrated with many images never before published, South of the Border with Disney is a fascinating study of an all-but-forgotten aspect of the American war effort that will inform and delight Disney fans, animation lovers, and World War II buffs everywhere.
So you can see it covers a LOT in those seven years of the project!
Again, I myself just read the intro and the parts of the book that interested me. It is a very detailed history of the time period, and amazed me on how much coverage there was.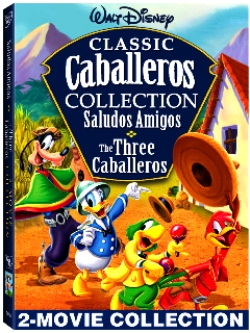 The photos of the period, the illustrations for the films and publications and posters for the films was just amazing to see. It is good to see that several films from this time period are coming out on DVD, as seen by the DVD to the left.
Again, I'm surprised at how much there was in this book. It definitely needs more than a couple of sittings to read through all of this, even for an avid reader! J.B. Kaufman definitely did a great job on compiling this book to be very readable on what could have been a 'dry' subject, but it is such an in-depth look into the period that you would need to come back and come back again to peruse all of it!
Here is the info you would need to purchase the book:
Hardcover: 336 pages
Publisher: Disney Editions (October 20, 2009)
Language: English
ISBN-10: 1423111931
ISBN-13: 978-1423111931
Product Dimensions: 10.2 x 8.3 x 1.1 inches
As for a 'grade' for this hard cover book...Well, I would give it a Near Mint (NM) 9.4 out of a 10.0 Comic Book Grading Scale, even though it isn't a comic book.
BTW, for those of YOU that are into Disney information, there is also a Facebook Fan Page for the Walt Disney Family Museum. You can't post any new wall comments on this Fan Page, but you can comment on the posts that they show on their wall. So it is semi-interactive.
That's it for this blog post...This was the topic that I was going to be blogging about yesterday, before I got sidetracked with a special comic book signing that is happening at the same Comic Con International: San Diego!
My thanks again to all of YOU reading this blog and our archived blog posts, now over the 3,185 total posts in number!
~ Michael D Hamersky @ ComicBookCollectorsBlog.com

Note: Our online comic book store carries many different genres of comics, magazines, graphic novels, and comic con promotional items at:
http://www.comicbookscircus.com/
---
"Hammering Out the Web For You Since May 12th, 1998!"

Note: If you are breaking into, or already work in the comic book industry or other pop culture productions, you are welcome to email us press releases, news items, and updates that you feel would be of interest to our blog readers. Including YOUR own works!

To mail printed items to us for possible review, send to:

Make It So Marketing Inc.
PO Box 130653
Carlsbad, CA 92013

ComicBooksCircus.com - It's Under The Big Top Of Comics! Click the Above Circus Tent to See Our Current Listings of items for Sale!

My thanks to those of YOU that have read today's blog post! I do appreciate that!

Plus thanks to my Facebook Friend, Norma Xenawannabe for designing the above poster!

For those of you that didn't know me before today...I first set up as a 'dealer' at the 1972 San Diego West Coast Comic Con (SDCC) at the El Cortez Hotel. So I've been around comic conventions for a little while, LOL!

My wife Tina and I now have an on-line exhibitor (dealer) table at the first "virtual" comic con titled the "Facebook Comic Con" (FBCC)!

You can view our dealer table and interact with us there on Facebook by clicking this link, which takes you to our table named: 'Facebook Comic Con | Make It So Marketing'.

So if YOU are a Facebook member, please 'join' our Facebook Comic Con - Make It So Marketing exhibitor table for updates, specials, links to this blog, and other wall comments that we post every day!


Also, if you are a Facebook member and would like to also join my Facebook Network, feel free to send a 'friend request' to 'Michael D Hamersky'. I am reaching the maximum of 5,000 Facebook Friends soon, and I don't want YOU to be left out!

-------------------

Talking about comics: if YOU are a comics creator, (writer, penciler, inker, colorist, letterer, etc.), OR even a Comics / Magazine Publisher, feel free to contact me regarding YOUR works for a possible mention / review!

I've made a special blog post about: "How To Best Submit YOUR Publication For Possible Review!" for those creators / publishers that would like to possibly have their publications mentioned or reviewed. Just click on the link provided in this paragraph!

~Michael @ ComicBookCollectorsBlog.com

WEB PAGE NOTE: This blog post is written for the IE Browser standards. Chrome, Safarai, Netscape, Firefox and the others serve the page up differently, sorry about that!

The screen display resolution is best seen at the setting of 1024 x 768 on your laptop or desktop computer.

NOTE: All images and characters within this blog post are copyright and trademark their respective owners.
Posted by makeitsomarketing at 5:05 AM PDT
Updated: Friday, July 9, 2010 6:41 AM PDT