Part 4 Of The Pre San Diego Comic-Con International Check Off List!
Mood:
a-ok
Topic: Comic Cons



--------------

Above Photo: Michael D Hamersky shown above celebrating his Birthday at the 2009 SDCC. This will be the 3rd Con in a row that is scheduled during his B-Day!

At the Top Left: Tina LoSasso & Michael at the Stargate Exhibit @ SDCCI 2009!

At the Bottom Left: The Logo for the Comic Con International: San Diego - a.k.a. San Diego Comic Con 2010.
TODAY'S FEATURE - Blog #3192:
Now it's only 5 days away until the 2010 Comic-Con International: San Diego, (a.k.a. SDCC), opens its doors for Preview Night!
As stated in this blog series in Part 1, Part 2, AND Part 3, Tina & I will be there for all 5 days and 4 nights. Tina has been going since 2001 when we were engaged. That was also the year that Hollywood 'discovered' Comic-Con. For those of you that didn't know...I first set up as a comic book dealer back at the El Cortez Hotel in 1972 when the SDCC was at that venue. So we both have different expectations and outlooks about this comic convention.
This pre-con check off list, which is now in its' 4th Part today, is what we will be preparing with between now and when leave to drive down to the San Diego Convention Center. We are lucky that the Comic-Con is only 35 miles South of us here in Carlsbad, California at this time.
I will NOT be recapping here today what was already blogged about in the earlier three blogs. So please read them via the links already provided above.
------------
Now for Part 4's topic - Program Hi-Lites that hold interest for Me:
I already posted in Part 3 on the 'perennials' - programs / panels that I HAVE to see at least part of EACH year.
Now due to 'popular demand' here are the programs / panels that I want to see that are either brand new for this year, or the panel gets changed every year so there isn't any true continuity other than the name of the program.
Please Note: these are due to my own tastes which run more toward comics & comics retailing, not the 'pop culture' aspect of this con, which is what my wife, Tina, normally attends. Also, I know in advance that I will NOT be able to attend all of these, but I must have a 'back up plan' if I am not able to get into Hall H or Ballroom 20, or some of the much smaller rooms that if popular would be SRO or the doors closed!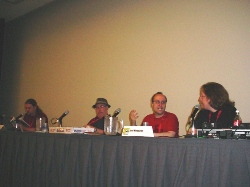 Thursday's Hi-Lites for Me:
Tripwire Magazine
Comics Arts Conference Session #3: Siegel and Shuster
Spotlight on Tom Palmer
Stan Lee at Sails Pavilion - Autographs
Overstreet Comic book Price Guide Turns 40
Spotlight on Jenette Kahn
Spotlight on Howard Cruse
TV Guide Magazine: A Quantum Leap Retrospective
DC Comics' 75th Anniversary
Indie Comics Marketing 101
The Antidote Trust's Indie Comics
Superhero Kung Fun Extravaganza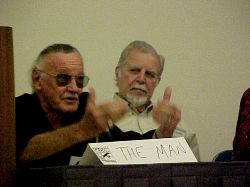 Friday's Hi-Lites For Me:
Neal Adams & Stan Lee: They Spoke Out
Retailing in the Digital Age
Spotlight on Paul Levitz:
Remembering Frank Frazetta and Al Williamson
A Tribute to Ken Krueger
Spotlight on Stan Lee
Spotlight on the Adams Family: Neal, Jason, Joel & Josh
Falling Skies
Shout! Factory: Roger Corman
Branching Out: The National Comic Book Store Franchise
TV Guide Magazine: the 2010 Hot List
Will Eisner Comic Industry Awards
SyFy Friday Night Screening: EUReKA & Haven
Worst Cartoons Ever
Saturday Hi-Lites for Me:
Chuck Screening and Q&A
The Black Panel 2010
The Event: World-Premiere Pilot Screening and Q&A
Quick Draw
Behind the Scenes with Joe Ruby & Ken Spears and more
V Screening and Q&A
Helen Slater at Sails Pavilion for autographs
Fringe Screening and Q&A
Warehouse 13 and EUReKA
Oddball Comics
Remembering Shel Dorf
Bill Everett: From Sub-Mariner to Daredevil
Marvel Studios: Thor and Captain America films
Human Target Screening and Q&A
Remembering Dick Giordano
With Great Power: The Stan Lee Story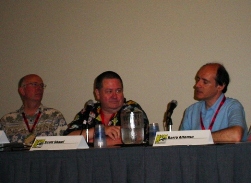 Sunday's Hi-Lites for Me:
Jack Kirby Tribute
ABC's Castle: Nathan Fillion & Stana Katic
Spotlight on Dennis O'Neil
The Digital Age of Comics
NOTE: The above are what I consider to be the 'hi-lites' for ME to see for the 2010 Comic-Con. The want to see list is actually longer, with other programs / panels / signings that I would have interest in, but are a backup program in case I can't make the ones above. There is just too much to see, PLUS I want to walk the exhibitor floor as well.
The list I made of programs in Part 3 are the ones I believe that a 1st timer should attempt to attend at least some of. The ones listed here today in Part 4 are my own personal taste and background. I do realize how hard it is to attend everything a person would want to see with all of the choices there are to choose from.
This could be the END of this mini-blog series about the Pre Con Check Off List for the SDCC...Unless Tina wishes to share her 'pop culture choices' of programs she wants to see, with the blog readers...If she has time to do so before we have to close down the business on next Wednesday. Again Tina is not a comic book fan(atic), she prefers to see the 'Hollywood' programs over the 'Comics' related panels that I attend!
Or..If I want to do a Part 5 of what creators tables to see in Artists Alley. Last year I went stopped briefly at all 200 tables for possible blog topics. As of this morning, I have not yet outlined who is there. I'd like to see them all, at least briefly...
Or...What Small Press booths I will be checking out for possible blog topics also. I know of a few already that have invited me to stop at their booths for review copies for my blog.
I'll have to see how my schedule goes over the weekend...After all, it's only 5 days away till Preview Night...for which we leave for at Noontime PST!
That's it for today...My thanks again to all of YOU reading this blog and our archived blog posts, now over the 3,190 total posts in number!
~ Michael D Hamersky @ ComicBookCollectorsBlog.com

Note: Our online comic book store carries many different genres of comics, magazines, graphic novels, and comic con promotional items at:
http://www.comicbookscircus.com/
---
"Hammering Out the Web For You Since May 12th, 1998!"

Note: If you are breaking into, or already work in the comic book industry or other pop culture productions, you are welcome to email us press releases, news items, and updates that you feel would be of interest to our blog readers. Including YOUR own works!

To mail printed items to us for possible review, send to:

Make It So Marketing Inc.
PO Box 130653
Carlsbad, CA 92013

ComicBooksCircus.com - It's Under The Big Top Of Comics! Click the Above Circus Tent to See Our Current Listings!

My thanks to those of YOU that have read today's blog post! I do appreciate that!

For those of you that didn't know me before today... I first set up as a 'dealer' at the 1972 San Diego West Coast Comic Con (SDCC) at the El Cortez Hotel. So I've been around comic conventions for a little while, LOL!

My wife Tina and I now have an on-line exhibitor (dealer) table at the first "virtual" comic con titled the "Facebook Comic Con" (FBCC)!

You can view our dealer table and interact with us there on Facebook by clicking this link, which takes you to our table named: 'Facebook Comic Con | Make It So Marketing'.

So if YOU are a Facebook member, please 'join' our Facebook Comic Con - Make It So Marketing exhibitor table for updates, specials, links to this blog, and other wall comments that we post every day!


Also, if you are a Facebook member and would like to also join my Facebook Network, feel free to send a 'friend request' to 'Michael D Hamersky'. I am reaching the maximum of 5,000 Facebook Friends soon, and I don't want YOU to be left out!

-------------------

Talking about comics: if YOU are a comics creator, (writer, penciler, inker, colorist, letterer, etc.), OR even a Comics / Magazine Publisher, feel free to contact me regarding YOUR works for a possible mention / review!

I've made a special blog post about: "How To Best Submit YOUR Publication For Possible Review!" for those creators / publishers that would like to possibly have their publications mentioned or reviewed. Just click on the link provided in this paragraph!

~Michael @ ComicBookCollectorsBlog.com

WEB PAGE NOTE: This blog post is written for the IE Browser standards. Chrome, Safarai, Netscape, Firefox and the others serve the page up differently, sorry about that!

The screen display resolution is best seen at the setting of 1024 x 768 on your laptop or desktop computer.

NOTE: All images and characters within this blog post are copyright and trademark their respective owners.
Posted by makeitsomarketing at 8:02 AM PDT
Updated: Friday, July 16, 2010 10:34 AM PDT