Tina's Take On: Comic-Con And The Business Of Pop Culture by Rob Salkowitz
Mood:
caffeinated
Topic: Comic Cons
TODAY'S FEATURE IS BLOG #3676 - Book Review: Comic-Con and the Business of Pop Culture - by Rob Salkowitz / (July 2012, McGraw-Hill)



Just in time for Comic-Con, Futurist Rob Salkowitz takes on the world's wildest trade show to explore what it can tell us about the future of the entertainment industry, and business in general, from marketing, distribution, customer service, and merchandising. It's a fascinating read for both businesspeople and comic book/pop culture fans alike.

As a woman who has attended Comic-Con every year since 2001, I found Salkowitz's history of the Con, dissection of fans, and insights into the professional attendees to be interesting. However, it may be a little bit too much information for the strictly business reader. Yet, if you have even a passing interest in pop culture - and the author explains how much of TV and movie content is based on comics or has comics-related tie-ins - you are sure to find the stories and case histories to be intriguing.

Where Salkowitz really excels is in his detailed explanations of the trends in the comic book and pop culture industries. His knowledge of how Comic-Con grew into the insane behemoth that it is today, the ever-changing state of digital comics, the sorry state of distribution and retail stores, and what it might take to save them, is all fascinating reading for fans and contains important lessons for business owners and marketers in any industry.

The author has a kindly attitude toward even the zaniest of fans, outspoken artists, controversial publishing decisions, and yes, even Twilight fans. Salkowitz posits that the anti-Twilight feelings of Comic-Coners is an outsider/insider conflict and under-achieving boys vs. girls thing. Well, I'm a girl and I can't stand them either - it's the high-pitched screaming, mostly.

Salkowitz teaches digital media at the University of Washington Graduate School of Communication so it's no wonder that he is able to make sense of the burgeoning world of digital comics and its impact on the industry. His discussions of webcomics, distribution and transmedia will be of great interest to any business person looking to make sense of the impact of technology on their business.

His four future alternatives of Comic-Con are intriguing: in one Comic-Con is at Disneyland and includes a day pass at the new Disneyland Comics Kingdom! In another scenario, the Con has shrunk to pre-Hall H days. It all depends on how the industry has responded to the challenges of digital technology, developing transmedia, fan involvement, and "the amplification of individual creative voices." As a futurist, this is where Salkowitz really shines. What's amazing is that he envisions this alternate futures as very near -- 2017.

I wouldn't be a Comic-Con fan if I didn't grumble about a few of Salkowitz's points - to me, graphic novels aren't 'alternative', tv comedy panels have no place at the Con, and (again) I hate Twilight, overall, Comic-Con and the Business of Pop Culture is a fascinating look inside a global entertainment phenomenon with fun facts, stories and trivia for fans, and important lessons for businesspeople of all stripes.

Whether you're going to Comic-Con or sadly, couldn't get tickets, you'll enjoy Comic-Con and the Business of Pop Culture.

Rating: Very Fine (VF) 8.0 out of a possible 10.0 comic book grading scale.
~ Tina LoSasso
(Note from Michael: Here is where you can purchase a copy of this book: Comic-Con and the Business of Pop Culture: What the World's Wildest Trade Show Can Tell Us About the Future of Entertainment
.)
(Plus an additional Note: Rob also has a Facebook Fan Page for this book that you can find at this link!)
---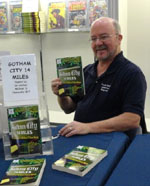 NOTE FROM Michael D Hamersky On Comics: My thanks again to all of YOU reading this blog and our archived blog posts, now at 3,676 total posts in number! I do appreciate your continued reading and support of this Blog!
BTW, You can 'follow' this blog by clicking the 'Follow' Button at this NetworkedBlogs app link! We currently have over 2,757 'Followers'! Thanks to ALL of YOU that have already clicked that button! And for those of YOU that haven't yet... I would appreciate it if YOU would!!!
Note: My online 'Loca8' Comic Book Shop (LCBS), carries many different genres of comics, magazines, graphic novels, and comic con promotional items. Possibly even copies of the item(s) that was mentioned here today...! If I have it, you'll find under the BIG TOP of Comics, at Comic Books Circus.com, including the book 'Gotham City 14 Miles' that I am shown holding to the left. I'm 1 of 14 essayists in that book! !
Web Page Note: This blog post is written per the IE Browser standards. Chrome, Safari, Netscape, Firefox and the other browsers serve the page up slightly differently, sorry about that! The screen display resolution is best seen at the setting of 1024 x 768 on your laptop or desktop computer. Note: Your computer's resoulution may be set differently, but the above resolution is the most commonly used resolution at the time of this blog post.
NOTE: All images and characters within this blog post are copyright and trademark their respective owners.
Comics Creators: If you are breaking into, or already work in the comic book industry or other pop culture productions, you are welcome to email or mail us press releases, news items, and updates that you feel would be of interest to our blog readers. Including YOUR own works! To mail printed items to us for possible review, send to: Make It So Marketing Inc., PO Box 130653, Carlsbad, CA 92013

Also, if you are a Facebook member, I would have liked you to send me a 'Friend Request'. However, I have reached the maximum limit of 5,000 Facebook Friends and Fan pages already, so I've added a New 'Facebook Fan Page' so that even more of YOU can 'Like' what I am doing, and be interactive with me and others there. Here is the link to that 'Facebook Fan Page':
Michael D Hamersky On Comics
! Please click the 'Like' button on that page!
---------------


In Addition, I started a YouTube Channel just before the 2011 Comic-Con International, where I am slowly uploading videos from conventions or other events that we attend that are also pop culture related. You are invited to 'subscribe' to that channel also! As found at
'HamerskyOnComics'
!
---
Posted by makeitsomarketing at 12:01 AM PDT
Updated: Monday, July 9, 2012 7:19 AM PDT