Reflecting On Don Heck...
Mood:
caffeinated
Now Playing: Reflections On Don Heck...
Topic: Comic Book Artists
TODAY'S FEATURE IS BLOG #3794 - I have been reading some back issues of Alter Ego, the magazine edited by Roy Thomas, and published by TwoMorrows Publishing this past week.
Which reminded me of my earlier years, when I first discovered comic books in the late 1950s and joined in on the Marvel Age of Comics in the early 1960s.
One of the comic book artists during this early time of my reading comic books was Don(ald) Heck. Yes, for those of you that are reading this blog post, several of you may not know the name or his works. I'm going to relay what I remember of those early days of my reading comic books.
You see, as evidenced by Don's credits at the Grand Comics Database, Don has over 2,200 credits to his name in comic books!
My earliest knowledge of Don's works was in the sci-fi tales pre Fantastic Four #1. Such as in Tales To Astonish #1 from January of 1959. Those would be usually 5 page stories. Nothing really that exciting to make Don's works stand out...
Then I saw the Ant-Man feature in Tales To Astonish! Jack Kirby had illustrated the first few issues, #35 - 40, but with issue #41 (in March of 1963), Don Heck took over the interior pages of the Ant-Man feature. That continued until issue #49 when Ant-Man changed into Giant-Man! Don continued with Giant-Man until issue #50, and then came back with issue #54 & #65.
I really enjoyed Don's artwork, (pencils & inks), on the Ant-Man strip. It seemed that his style was really suited for a minute super-hero!
Don also worked on the Invincible Iron Man which also started in March of 1963, when that featured was introduced in Tales of Suspense #39. Don inked the cover and did the interior pages for the Iron Man pages. He continued on the series, in TOS #39-40, 42-47, 50-72. I thought his work on the Iron Man feature was pretty good, although when he inked his pencils, it was kind of 'scratchy', as seen in the top right scan of this blog. (From Tales of Suspense #46.)
Then, Don seemed to be involved mostly with the Avengers... starting with issue #9 in October of 1964 and running through issue #15, then #17-40 cover dated May of 1967. He did other Avengers issues later. The Avengers work he did were not my favorites, possibly because of the writing?
Actually Don had started in comics in 1949 at Harvey Comics, where he remained until 1952 when he joined Allen Hardy (also a Harvey Comics employee), when he started Comic Media publishing. Don also did freelance assignments for comics publishers such as Quality Comics, Hillman Comics, and Toby Press. However, I wasn't familar with those works, just picking up on him in the pre-superhero days of what would become Marvel Comics.
I didn't know it at the time, but Don became an Atlas staff artist on September 1, 1954. Atlas Comics was the earlier name for Marvel Comics. However, Don and many other artists lost their work at Atlas Comics during the Implosion of 1957.
Don had come back to Atlas Comics in 1958-59 where he illustrated many sci-fi stories, and then the Ant-Man, Iron Man, and Avengers features came his way. Stan Lee had lost Joe Maneely due to his untimely death, and needed pages, so Don was one of the ones that Stan called back.
I lost track of Don about 1970, when he decided to work. for DC Comics, as work from Marvel was becoming scarce. He actually moved to DC Comics in 1977 doing several features there into the 1980s. As I wasn't reading DC Comics at that time, I missed his work on The Flash, Justice League of America, and Wonder Woman.
Talking about 1970... Jack Kirby, when he also left Marvel for DC, had Don ink several of his proposals for DC Comics! Matter of fact, it was said that Jack had wanted Steve Ditko, John Romita, and Don Heck do the illustrating of his New Gods / Fourth World concept for DC!
Before leaving Marvel for DC Comics, Don basically had drawn almost all of the Marvel main features, with the exception of the Fantastic Four.
I kind of forgot about Don in the 1970s -80s. There was so much going on in the world of comic books.
I'm kind of glad to be writing this now, and posting it in the special photo album I've started at my Facebook Fan Page, titled: "Comic Book Artists and Writers".
For more on Don Heck, I'd suggest the following:
Grand Comics Database on Don Heck.
~ Michael
---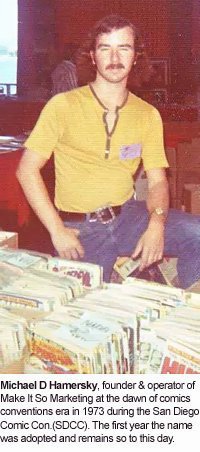 NOTE FROM Michael D Hamersky On Comics: My thanks again to all of YOU reading this blog and our archived blog posts, now at 3,794 total posts in number! I do appreciate your continued reading and support of this Blog!
BTW, You can 'follow' this blog by clicking the 'Follow' Button at this NetworkedBlogs app link! Thanks to ALL of YOU that have already clicked that button! And for those of YOU that haven't yet... I would appreciate it if YOU would!!!
Note: My online 'Local' Comic Book Shop (LCBS), carries many different genres of comics, magazines, graphic novels, and comic con promotional items. Possibly even copies of the item(s) that was mentioned here today...! If I have it, you'll find under the BIG TOP of Comics, at Comic Books Circus.com!
Web Page Note: This blog post is written per the IE Browser standards. Chrome, Safari, Netscape, Firefox and the other browsers serve the page up slightly differently, sorry about that! The screen display resolution is best seen at the setting of 1024 x 768 on your laptop or desktop computer. Note: Your computer's resoulution may be set differently, but the above resolution is the most commonly used resolution at the time of this blog post.
NOTE: All images and characters within this blog post are copyright and trademark their respective owners.
Comics Creators: If you are breaking into, or already work in the comic book industry or other pop culture productions, you are welcome to email or mail us press releases, news items, and updates that you feel would be of interest to our blog readers. Including YOUR own works! To mail printed items to us for possible review, send to: Make It So Marketing Inc., PO Box 130653, Carlsbad, CA 92013

Also, if you are a Facebook member, I would have liked you to send me a 'Friend Request'. However, I have reached the maximum limit of 5,000 Facebook Friends and Fan pages already, so I've added a New 'Facebook Fan Page' so that even more of YOU can 'Like' what I am doing, and be interactive with me and others there. Here is the link to that 'Facebook Fan Page':
Michael D Hamersky On Comics
! Please click the 'Like' button on that page!
---------------


In Addition, I started a YouTube Channel just before the 2011 Comic-Con International, where I am slowly uploading videos from conventions or other events that we attend that are also pop culture related. You are invited to 'subscribe' to that channel also! As found at
'HamerskyOnComics'
!
---
Posted by makeitsomarketing at 12:01 AM PST
Updated: Monday, February 18, 2013 6:54 AM PST