My 'Take' On: The August 2010 - Collector Con In Oceanside California
Mood:
caffeinated
Topic: Comic Cons
My 'Take' On:

Collector Con!

The August 22nd, 2010 - 1st Show!

Oceanside, California

Above Photos:

Top Photo: The poster that was shown at the ticket booth as well as at a few websites.

Bottom Photo: Deadpool was leaving as I was coming in at 10AM!




Above Photo: The banner for the 'Collector Con' the 1st Collectible Show And Entertainment Festival.

------------

Below First Photo: Ryan from Ryan's Comics in Murietta was there hosting the Yu-Gi-Oh! Tournaments at 11 AM, Noon & 2 PM on Saturday.

------------
TODAY'S FEATURE - Blog #3219:
The past few weeks I received a few emails inviting me to set up as a dealer at a brand new Collector Con in Oceanside, California...
I haven't set up at a 'live' show for a while, so I wasn't ready to accept the invitations at that time.
However, I did make a note on my calendar to check out the show this past Saturday. So this is a 'report' as to what I found at this 'Collector Con'. I am taking into consideration that it is a brand new show...
My first thought after googling the location was that it was at a swap meet location. And that it would be indoors. Possibly similar to the Rose Bowl Collectors Show that started last year?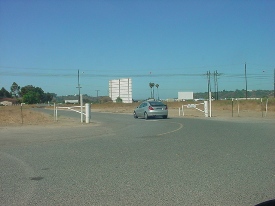 Driving there, I found that this Collector Con was at an abandoned drive-in theater that is now a swap meet location.
There weren't many cars or trucks turning into the side street, and at first I thought I had the wrong entrance...
I continued on into the drive, and found that there were several vehichles parked. This was approximately 10 AM on Saturday.
I know that swap meets are for early birds, but as this was a 'Collector Con', and brand new at that, I didn't want to arrive too early, allowing the promoters and the exhibitors time to get the opening day 'kinks' out of the way.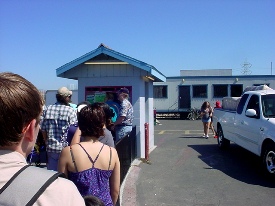 The line to get in to the area was a slow one...only one ticket seller. Although it only cost $1 to get into the main area, it took quite a while for the ticket seller to make change and distribute the ticket to get in.
While I was standing there with many others, 'Deadpool' came walking out of the exit gate, (as pictured at the above left), so it gave me hope that there was a good attendance. As it was already getting warm, I figured that the costumed character was cutting out for the day. Which was right, as I never him again...
I then realized that the 'Collector Con' area was separate from the rest of the swap meet, and possibly from the 'farmers market', although I never did go to that part of the old drive in location. The 'Collector Con' area was plainly marked, see the top right photo of this blog.
I immediately spotted Raven White of Retro Entertainment Services as I came through the entrance. He has a lot of collector-to-collector DVDs for sale, and I see him and Heather at almost every pop culutre and comic con that I attend. So immediately I thought that this show had some potential.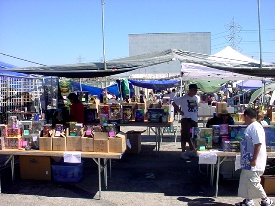 Other booths were set up, and I went in a systematic order through the aisles. Again, I had thought this would be 'under cover' in a hall of some sort, and it appears that a few vendors there thought the same thing, as several did not have tents with poles covering them or their goods for sale.
I got sunburned in just the four hours I was out there, so I'm sure that a few of the vendors did also...
Also to the left as I entered the 'Collector Con' area was the Yu-gi-Oh! Tournament area, sponsored by Ryan's Comics, as pictured near the top right of this blog. I had tried to meet him a few times a couple of Summers ago when he was first setting up his new shop in Murietta. So I thought it was strange that he was there, as Murietta is about 34 miles / 45 minutes away, and in Riverside County.
But then again, there was also a 'neighbor' of his that also had a booth there at 'Collector Con'. That would be 'Thou Shalt Game Entertainment' in Temecula, California. Which is 30 miles away.
So there were a few vendors from outside the immediate area that came to set up.
As well as Upton & Son who came from San Diego, and the before mentioned Raven White & Heather from the Escondido area. Oh, and Southern California Comics' Jon Bolerjak was also there with a booth representing the shop!
In addition to those vendors, there were also individual persons who were there to sell their personal collections such as Jason Harris, shown to the left, who I knew as the LCBS Manager at the old 'Comic Gallery' in Mira Mesa, which closed several years ago. Thanks again, Jason for the great deals on Saturday! And good luck on move!
That would be about it for the 'Collector Con' part of the show. I saw that there was the wrestling area which was placed far enough way from the vendor booths to keep the noise down.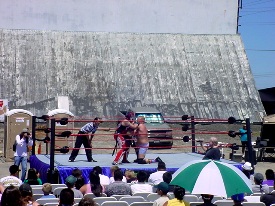 So I walked over there to see what was going on before walking the booths one more time to look for any deals.
There I met Deanna Carpinelli, mother of the Carpinelli Brothers, who were the promoters of 'Collector Con'. She explained that the 'Lucha Libre' Pro Wrestling was an additional charge, and I explained to her that I was there to blog about the 1st time show and that I was possibly interested in setting up a booth at a later date.
Thus I was able to take a couple of pics of the action, which also was under the sun, which by now was kind of hitting the asphalt of the surrounding area, and heating up the entire area.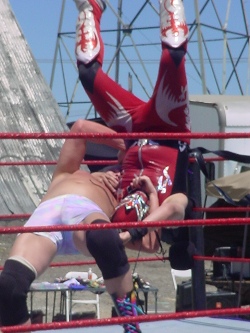 There was some action going on, but I was just there to check out what was also part of the promotional flyer's attractions.
I made a final pass of the booths that were still open, (it was almost 2PM), and made a few last minute purchases on the way out, while talking again to vendors and individuals that I had met on the way through the aisles.
There wasn't a real consensus as to how successful this 1st show was by those that were selling there.
The regular vendors who had shops of their own were glad for the exposure in San Diego North County, as there are very few shops in the North County serving the population.
Which is why I'm hoping that this 'Collector Con' will build in size. Comic Gallery closed its Escondio shop a couple of years ago, Grand Avenue Book Shop is gone, and there are only two LCBS near me in Carlsbad. Plus 1 1/2 in the Oceanside area itself. There's another in the Vista area, but it is more of a game shop than comics. They were also there matter of fact, at this Collector Con with a booth. .
So there is a need for this type of show in North County. However the location is in the low lying inland valley, which is probably why the old drive-in was named 'Valley Drive-In'!
If You are thinking of attending, bring sun-screen, and loose clothing, and a hat! There is a food vendor there if you stay longer than you thought you would!
I made some good purchases from the sellers on Saturday, possibly because I was back for the 2nd time, after scouting what was out there, and it was close to closing time, with a few booths already closing at 2PM.
So I would suggest that if your are in North County San Diego area, to check this 'Collector Con' out on September 25th when it is running again. As an attendee, until you scope it out for yourself. Again, there were a few individuals that were selling their own collections or duplicates, so this could be an avenue for you in the future if you live in the area.
I don't think we will be setting up there for a while, as we would have to rent a tent as well as a space, plus tables. So the set up cost for us would be more. Plus I no longer have a truck to carry the inventory, and set up equipment. Fabiano Carpinelli did tell me that they do rent the tents, and that we would have to set them up in the morning. There was the fact that the breakdown would be their people doing it though...
I'm not going to give this 1st show a comic book grade at this time. I'll wait and see after one or two more shows to do so...
Again, the next 'Collector Con' is September 25th of 2010. You can keep up to date with this show at their Facebook Fan Page.
My thanks to Fabiano Carpinelli for the information about the show when I first arrived, and to Deanna Carpinelli who was also informative near the end of the show for me!
AND My Thanks again to all of YOU reading this blog and our archived blog posts, now totalling over 3,215 posts in number!
~ Michael D Hamersky @ ComicBookCollectorsBlog.com

Note: Comic books like the ones discussed at the group meeting can be found for sale at our own online comic book store at:
http://www.comicbookscircus.com/
---
"Hammering Out the Web For You Since May 12th, 1998!"

Note: If you are breaking into, or already work in the comic book industry or other pop culture productions, you are welcome to email us press releases, news items, and updates that you feel would be of interest to our blog readers. Including YOUR own works!

To mail printed items to us for possible review, send to:

Make It So Marketing Inc.
PO Box 130653
Carlsbad, CA 92013

ComicBooksCircus.com - It's Under The Big Top Of Comics! Click the Above Circus Tent to See Our Current Listings!

Check Out More Of Our Own Endeavors:

Yeah, that's me in the photo shown to the left, taken at the 1973 San Diego Comic Con at the Sheraton Hotel at Harbor Island in San Diego!

I first set up as a 'dealer' at the 1972 SDCC at the El Cortez Hotel. So I've been around comic conventions for a little while, LOL! Tina and I now have an on-line exhibitor table at the first "virtual" comic con titled the "Facebook Comic Con" (FBCC)!

You can view our table and interact with us there on Facebook by clicking this link.

So if YOU are a Facebook member, please 'join' our Facebook Comic Con - Make It So Marketing exhibitor table for updates, specials, links to this blog, and other wall comments that we post every day!




Also, if you are a Facebook member and would like to join my Facebook Network, feel free to send a 'friend request' to 'Michael D Hamersky'.

-------------------

Talking about comics: if YOU are a comics creator, (writer, penciler, inker, colorist, letterer, etc.), OR even a Comics / Magazine Publisher, feel free to contact me regarding YOUR works for a possible mention / review!

I've made a special blog post about: "How To Best Submit YOUR Publication For Possible Review!" for those creators / publishers that would like to possibly have their publications mentioned or reviewed. Just click on the link provided in this paragraph!

~Michael @ ComicBookCollectorsBlog.com

WEB PAGE NOTE: This blog post is written for the IE Browser standards. Chrome, Safarai, Netscape, Firefox and the others serve the page up differently.

The screen display resolution is best seen at the setting of 1024 x 768.

NOTE; All images and characters within this blog post are copyright and trademark their respective owners.
Posted by makeitsomarketing at 12:01 AM PDT
Updated: Sunday, September 26, 2010 9:57 AM PDT