The 2010 Leo Carrillo Film Festival Started Last night!
Mood:
caffeinated
Topic: Other Cons
The 2010 Leo Carrillo Film Festival Started Last Night...

August 27th!

At The Leo Carrillo Ranch Historic Park In Carlsbad, California!

It's Running For Five Consecutive Friday Nights At: 6200 Flying LC Lane

Above Top Photo: Michael Won One of the Three Opportunity Drawings Last Night During Intermission!

-

At the Top Right: The Film Nights Preview Online Sign.

-

Second Right -

Thanks to Dick & Rev. Diana Swenson For Staking Out The Church Group's Area Claim!

-

Third Right: (L-R) Back Row - Tina, Michael, Diana, Front Row - Tina & Ron - Just a Few of the Early Arrivals!

-

Fourth Right - The Cabana Crew Getting Ready for the Crowd.

-

Bottom Right: The Andrews Sisters Were the Main Attraction in the Film Last Night Along With Carrillo Carrillo!

---

---

---
TODAY'S FEATURE - Blog #3224:
I was going to take a weekend off from blogging, but Tina and I had so much fun last night at the Opening Night of the 2010 Leo Carrillo Film Festival...That I just had to blog about it this morning before leaving to run errands!
Yes...As I blogged about on Thursday, (see here for full schedule in my earlier post), It's THAT TIME of Year Again!
Because I have taken on a project that is keeping me away from the home office during the day for a few weeks more, Tina and I were not able to arrive early and stake out a 'claim' to an area at the Ranch grounds for our little church group to sit upon.
So kudos to Dick and Rev. Diana Swenson of Crossroads Spiritual Center in Carlsbad, (pictured at top right of post), who arrived in time to save us all space in the main section of the film area! They arrived at 5:45 PM and it was already full for those who have high back chairs. Note: Only low back chairs are permitted up in front. So get there early if you don't have those size of chairs!
The rest of the church group came in as the evening wore on, before an episode of the Cisco Kid was shown. Some of the earlier arrivals are shown at the top right also.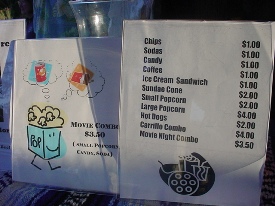 Tina packed us a bottle of wine and great sandwiches, so I only stopped at the Cabana to see what the Opportunity Drawing Prizes were. However, as you can see by the photo to the left, they have several good choices for a picnic dinner! Several of the other church members attending bought food items as the evening continued.
Tina and I had already decided not to play the Trivia Game that is usually played at these film dates, as we have won prizes repeatedly in the past, so thought we should give others a chance to win...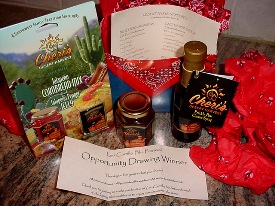 However since it was an 'opportunity' drawing, a game of chance, not knowledge of Leo Carrillo or his ranch, I bought 3 tickets to help support the Festival and 'gamble' just a bit. A 'litle voice' told me to do so, and I came away last night with one of the three opportunity prizes!
The photo to the top left of this post is me during the intermission with my prize, and to the left of this paragraph is what it comprised of for a better view after we arrived home. I had seen the three prizes, and lusted for the cornbread mix and goodies prize, which is what I ended up winning! Thanks to the folks that put this Cheri's Desert Harvest basket together! I'm going to enjoy it soon, probably this weekend with the syrup!
Anyways, for those of YOU that haven't been to this Film Festival, here's what happens:
Nostalgic entertainment under the stars at a real movie star retreat. Admission is free. Movies start promptly at sunset. Grounds open at 5 p.m. for picnics and tours. Complementary tour of the hacienda is offered one hour before sunset.
Guests should bring low-back chairs, blankets, and a flashlight. Warm clothes and appropriate shoes are recommended for uneven terrain throughout the park. An episode of "The Cisco Kid" precedes the film screening. Films are not rated. Parental discretion is advised. Closed captioning is not available unless otherwise indicated.
Now here's what the City of Carlsbad and the Friends of Leo Carrillo Ranch, Inc. showed last night as the first film in the 2010 Leo Carrillo Film Festival: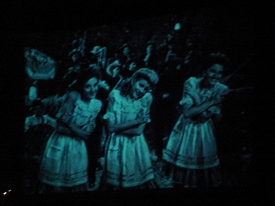 •Aug. 27 – Moonlight and Cactus (1944) run time: 60 minutes. Naval officer and owner of a western rancho comes home to find his rancho is being run by women, and to his surpsie, run well--with the exception of some mysterious cattle wranglers (Leo Carrillo). Featuring the Andrews Sisters. Starring: Leo Carrillo, the Andrews Sisters and Elyse Knox.
Myself, I found this film to be very 'Elvis-film-like', as instead of just saying their lines, everyone would break out into song...Just like in Elvis' films when the formula was repeated after 'Blue Hawaii' over and over. But then again, this film was during the War Years (1944) and folks needed a good song or two in their films!
(For those of you reading this, and thinking that it would be cool to attend next week's Film Festival here's what is scheduled for next week:
•Sept. 3 – City Streets (1938) run time: 65 minutes. The story of an orphan who finds support in a kindly storekeeper who loves her. To help her, the older man must deal with a well-intentioned welfare representative who is constantly interfering with their lives. Starring: Leo Carrillo, Edith Fellows and Tommy Bond.)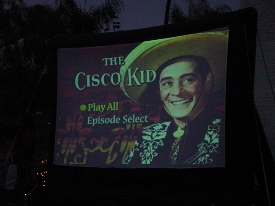 Of course, what would the Leo Carrillo Film Festival be without an episode of The Cisco Kid from the TV Series that had an original run from September 5, 1950 – March 22, 1956?!
As stated above, an epsiode from the TV Series is played first, then it's intermission time, and then on to the main feature...
FYI: At the start of this TV series, Leo was 70 years old and Duncan Renaldo was 46! BTW, Leo and Duncan are considered to be the first regular TV series Hispanic Stars, as Desi Arnaz Jr didn't start until the following year with his wife Lucille Ball with their show...Just a little bit of trivia for you today!
The episode last night had a really young looking actor that I couldn't remember his name until the ending credits ran. It was Denver Pyle as one of the bad guys! He actually played bad guys twice during the 1954 Cisco Kid TV Season. Younger blog readers will remember him as Uncle Jesse Duke on the Dukes of Hazzard TV Series.
And of course the ending of the episode had the usual "Ohhh, Ceesco!" by Pancho, with the rejoinder from Cisco Kid..."Oh, Pancho!". Tina was glad this season didn't start with the episode that had the elephant, as we have already seen it played twice there at the Film Festival in two different years.
Oh...This is the 6th Season of the Leo Carrillo Film Festival! And with the largest crowd there I have seen since we started attending...it's off to a great start!
Which is why I better post this here also. Yesterday, I was contacted by a Facebook Friend, Gerry Streff, an archivist with th the City of Carlsbad, who after seeing my Thursday blog post about this year's Film Season, sent me the following link. There will be a Special Exhibit that opens to the general public on the Friday Night of September 10th, which coincides with that night's Film Festival. You should plan accordingly and get there early to take this new exibit in, plus 'claim' your space to catch that night's Cisco Kid episode and the film that plays after intermission! Thanks, Gerry for the heads up on this!
So to finish up blogging about last night's Opening Night of the Film Festival...The audience was large in numbers, the staff working the event were friendly as always, and the Cisco Kid episode was a good one! Add to that the Opportunity Drawing Prizes given away at intermission, and the nostalgic main film that was shown...It was a Great Opening Night! Thanks again to all of those involved with having this Film Season kick off with a bang!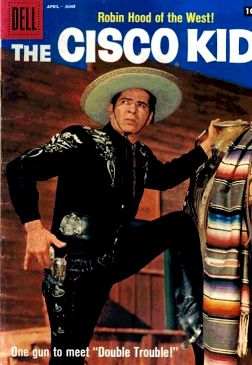 BTW, I blog about this Film Festival every year because there is a comic book connection as well!
There were 40 issues of the Cisco Kid comic book title from Dell Comics, starting in January of 1951 and ending with the Oct/Dec 1958 issue! Here's a link to all of those covers!
PLUS: Here's a link to the blog posts that we've blogged about in the past to show you what's at the Leo Carrillo Ranch, as well as what fun we had at the Leo Carrillo Film Festival in recent years: Click here for the link!
Thanks again to the City of Carlsbad, and to the LeoCarrilloRanch.org people, and the Friends Of CarrilloRanch.org folks for making the Ranch Docent Tours and the Film Festival possible this year!
Oh, and if YOU are attending and see Tina and myself there...Stop by and say hello! I'm usually wearing my straw hat and wearing one of my 'Comic Book Collectors Blog.com' indigo colored polo shirts to these events!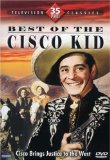 Oh...We don't have any Cisco Kid DVDs for sale, (we are keeping ours for our own collection!), but here's a link to one of the better Cisco Kid Collections! Best of The Cisco Kid (35 Episodes)
PLUS...My thanks again to all of YOU reading this blog and our archived blog posts, now over the 3,220 total posts in number! I do appreciate your continued reading and support of this Blog!
BTW, You can 'follow' this Blog by clicking the 'Follow' Button at this NetworkedBlogs app! I would appreciate that!
~ Michael D Hamersky @ ComicBookCollectorsBlog.com

Note: Our online comic book shop carries many different genres of comics, magazines, graphic novels, and comic con promotional items at the link seen below.
http://www.comicbookscircus.com/
---
"Hammering Out the Web For You Since May 12th, 1998!"

Note: If you are breaking into, or already work in the comic book industry or other pop culture productions, you are welcome to email us press releases, news items, and updates that you feel would be of interest to our blog readers. Including YOUR own works!

To mail printed items to us for possible review, send to:

Make It So Marketing Inc.
PO Box 130653
Carlsbad, CA 92013

ComicBooksCircus.com - It's Under The Big Top Of Comics! Click the Above Circus Tent to See Our Current Listings!

My thanks to those of YOU that have read today's blog post! I do appreciate that!

For those of you that didn't know me before today... I first set up as a 'dealer' at the 1972 San Diego West Coast Comic Con (SDCC) at the El Cortez Hotel. So I've been around comic conventions for a little while, LOL!

My wife Tina and I now have an on-line exhibitor (dealer) table at the first "virtual" comic con titled the "Facebook Comic Con" (FBCC)!

You can view our dealer table and interact with us there on Facebook by clicking this link, which takes you to our table named: 'Facebook Comic Con | Make It So Marketing'.

So if YOU are a Facebook member, please 'join' our Facebook Comic Con - Make It So Marketing exhibitor table for updates, specials, links to this blog, and other wall comments that we post every day!


Also, if you are a Facebook member and would like to also join my Facebook Network, feel free to send a 'friend request' to 'Michael D Hamersky'. I am reaching the maximum of 5,000 Facebook Friends soon, and I don't want YOU to be left out!

-------------------

Talking about comics: if YOU are a comics creator, (writer, penciler, inker, colorist, letterer, etc.), OR even a Comics / Magazine Publisher, feel free to contact me regarding YOUR works for a possible mention / review!

I've made a special blog post about: "How To Best Submit YOUR Publication For Possible Review!" for those creators / publishers that would like to possibly have their publications mentioned or reviewed. Just click on the link provided in this paragraph!

~Michael @ ComicBookCollectorsBlog.com

WEB PAGE NOTE: This blog post is written for the IE Browser standards. Chrome, Safarai, Netscape, Firefox and the others serve the page up differently, sorry about that!

The screen display resolution is best seen at the setting of 1024 x 768 on your laptop or desktop computer.

NOTE: All images and characters within this blog post are copyright and trademark their respective owners.
Posted by makeitsomarketing at 5:20 AM PDT
Updated: Sunday, August 29, 2010 8:21 AM PDT