The 2010 Leo Carrillo Film Festival Starts...August 27th!
Mood:
caffeinated
Topic: Other Cons
The 2010 Leo Carrillo Film Festival Starts...

August 27th!

At The Leo Carrillo Ranch Historic Park In Carlsbad, California!

Five Consecutive Friday Nights At: 6200 Flying LC Lane

Above Top Photo: The Placard at the Snack Shack showing Leo cooking at the BBQ Years Ago!

-

At the Top Right: It's Film Nights At The Rancho Again!

-

At the Middle Right: Vinnie, Michael, Tonya, Dale & Tina at One of the 2009 Film Nights!

At the Bottom Right: The Opening Credits of the Cisco Kid on the Big Screen At the Ranch!

---

---
TODAY'S FEATURE - Blog #3222:
Yes...It's THAT TIME of Year Again!
Tina and I are excited to plan our calendars around the upcoming Leo Carrillo Film Festival that starts August 27th in Carlsbad, California for five consecutive Friday Nights!
That's because being proud residents of Carlsbad ourselves...we know there's more here than just LegoLand for entertainment!
Here's what the City of Carlsbad and the Friends of Leo Carrillo Ranch, Inc. are showing this year, along with some helpful tips on how YOU can attend this fun film festival:
Five consecutive Friday evenings, beginning Aug. 27
Nostalgic entertainment under the stars at a real movie star retreat. Admission is free. Movies start promptly at sunset. Grounds open at 5 p.m. for picnics and tours. Complementary tour of the hacienda is offered one hour before sunset.
Guests should bring low-back chairs, blankets, and a flashlight. Warm clothes and appropriate shoes are recommended for uneven terrain throughout the park. An episode of "The Cisco Kid" precedes the film screening. Films are not rated. Parental discretion is advised. Closed captioning is not available unless otherwise indicated.

2010 Films Schedule
•Aug. 27 – Moonlight and Cactus (1944) run time: 60 minutes. Naval officer and owner of a western rancho comes home to find his rancho is being run by women, and to his surpsie, run well--with the exception of some mysterious cattle wranglers (Leo Carrillo). Featuring the Andrews Sisters. Starring: Leo Carrillo, the Andrews Sisters and Elyse Knox.
•Sept. 3 – City Streets (1938) run time: 65 minutes. The story of an orphan who finds support in a kindly storekeeper who loves her. To help her, the older man must deal with a well-intentioned welfare representative who is constantly interfering with their lives. Starring: Leo Carrillo, Edith Fellows and Tommy Bond.
•Sept. 10 – Sin Town (1942) run time: 73 minutes. After being conned himself into buying a bunch of dry oil wells, conman Duke decides to lead the town's businessmen in an effort to take the law into their own hands. When his plan backfires, Duke finds himself at the mercy of the town. Starring: Leo Carrillo, Constance Bennett, and Broderick Crawford.
•Sept. 17 – Lillian Russell (1940) run time; 127 minutes. Closed captioning will be available for this film. A musical biopic of the legendary 19th century musical comedy star. Discovered in 1880 by bandleader Tony Pastor (Leo Carrillo), Lillian Russell (Alice Faye) wastes no time rising to fame and fortune on the Broadway stage as well as attracting a flurry of eligible bachelors. Starring: Leo Carrillo, Alice Faye and Don Ameche.
•Sept. 24 – Honululu Lu (1940) run time: 70 minutes. Upon arriving in Hawaii with Don Esteban Cordoba (Leo Carrillo), Consuelo Cordoba (Lupe Velez) finds herslef in a risque nighclub and due to her involvement with a group of sailors has a chance to become a beauty queen. Starring: Leo Carrillo, Lupe Velez and Bruce Bennett.
With all that's going on with Tina's and my own personal work schedules, we are still attempting to to take in most of these evenings, like we have done for the past several seasons.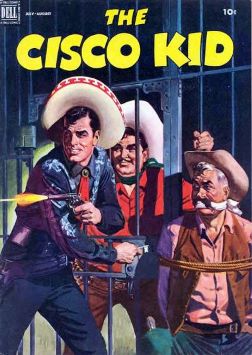 BTW, I blog about this Film Festival every year because there is a comic book connection as well! There were 40 issues of the Cisco Kid comic book title from Dell Comics, starting in January of 1951 and ending with the Oct/Dec 1958 issue! Here's a link to all of those covers!
Here's a link to the blog posts that we've blogged about in the past to show you what's at the Leo Carrillo Ranch, as well as what fun we had at the Leo Carrillo Film Festival in recent years: Click here for the link!
Thanks again to the City of Carlsbad and to the LeoCarrilloRanch.org people, and the FriendsOfCarrilloRanch.org folks for making the Ranch Docent Tours and the Film Festival possible this year!
Oh, and if YOU are attending and see Tina and myself there...Stop by and say hello!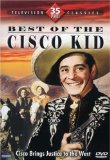 And if you can't make it to this Film Festival any of the 5 Friday Nights...We don't have any Cisco Kid DVDs for sale, (we are keeping ours for our own collection!), but here's a link to one of the better Cisco Kid Collections! Best of The Cisco Kid (35 Episodes)
!
PLUS...My thanks again to all of YOU reading this blog and our archived blog posts, now over the 3,220 total posts in number! I do appreciate your continued reading and support of this Blog!
BTW, You can 'follow' this Blog by clicking the 'Follow' Button at this NetworkedBlogs app! I would appreciate that!
~ Michael D Hamersky @ ComicBookCollectorsBlog.com

Note: Our online comic book shop carries many different genres of comics, magazines, graphic novels, and comic con promotional items at the link seen below.
http://www.comicbookscircus.com/
---
"Hammering Out the Web For You Since May 12th, 1998!"

Note: If you are breaking into, or already work in the comic book industry or other pop culture productions, you are welcome to email us press releases, news items, and updates that you feel would be of interest to our blog readers. Including YOUR own works!

To mail printed items to us for possible review, send to:

Make It So Marketing Inc.
PO Box 130653
Carlsbad, CA 92013

ComicBooksCircus.com - It's Under The Big Top Of Comics! Click the Above Circus Tent to See Our Current Listings!

My thanks to those of YOU that have read today's blog post! I do appreciate that!

For those of you that didn't know me before today... I first set up as a 'dealer' at the 1972 San Diego West Coast Comic Con (SDCC) at the El Cortez Hotel. So I've been around comic conventions for a little while, LOL!

My wife Tina and I now have an on-line exhibitor (dealer) table at the first "virtual" comic con titled the "Facebook Comic Con" (FBCC)!

You can view our dealer table and interact with us there on Facebook by clicking this link, which takes you to our table named: 'Facebook Comic Con | Make It So Marketing'.

So if YOU are a Facebook member, please 'join' our Facebook Comic Con - Make It So Marketing exhibitor table for updates, specials, links to this blog, and other wall comments that we post every day!


Also, if you are a Facebook member and would like to also join my Facebook Network, feel free to send a 'friend request' to 'Michael D Hamersky'. I am reaching the maximum of 5,000 Facebook Friends soon, and I don't want YOU to be left out!

-------------------

Talking about comics: if YOU are a comics creator, (writer, penciler, inker, colorist, letterer, etc.), OR even a Comics / Magazine Publisher, feel free to contact me regarding YOUR works for a possible mention / review!

I've made a special blog post about: "How To Best Submit YOUR Publication For Possible Review!" for those creators / publishers that would like to possibly have their publications mentioned or reviewed. Just click on the link provided in this paragraph!

~Michael @ ComicBookCollectorsBlog.com

WEB PAGE NOTE: This blog post is written for the IE Browser standards. Chrome, Safarai, Netscape, Firefox and the others serve the page up differently, sorry about that!

The screen display resolution is best seen at the setting of 1024 x 768 on your laptop or desktop computer.

NOTE: All images and characters within this blog post are copyright and trademark their respective owners.
Posted by makeitsomarketing at 12:01 AM PDT
Updated: Sunday, August 29, 2010 8:29 AM PDT