My Take On: Andie And The Alien Graphic Novel
Mood:
caffeinated
Topic: Comic Books - New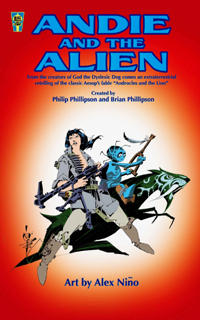 TODAY'S FEATURE IS BLOG #3691 - Well... Here's yet another comic book that I found recently from our five days at the 2012 Comic-Con International: San Diego, (aka San Diego Comic Con or SDCC).
That comic is actually a "graphic novel" that I found at the Bliss On Tap Publishing booth at Comic-Con.
Here's what this graphic novel is about per the publisher's promo:
"by Bliss on Tap Publishing
written & created by Brian Phillipson & Phil Phillipson
art by Alex Nino
color / 108 pages

From the creators of God the Dyslexic Dog comes an extraterrestrial retelling of the classic Aesop's fable "Androcles and the Lion"...

Over 500 years ago, an alien spaceship crashed in the undiscovered Americas.

The little alien was rescued by the local natives.

In return for saving him, the alien promised to protect the natives from foreign invaders by placing a force-field over the Americas -- preventing exploration and colonization of their land -- and altering the course of history as we know it forever.

500 years later, in a world without the United States of America, the Nazi's have just won World War II and rule absolutely.

Until one day, a captured British scientist named Andie, with the help of Albert Einstein (of course!), hatch a plan to rescue the alien and save the future from the Third Reich."
I'll start my review next...
Front Cover - I thought that this front cover was very fine, as the title was 'Andie And The Alien'. Little did I know what the interior pages were going to be like!
Inside Front Cover - A full page pinup of what appears to be Nazis... Nazis???
Splash Page - A simple illustration of what appears to be a child and the alien.
Interior Pages - Hey, this graphic novel really rocks! A great alternate version of world history, where the Americas are never developed by the European powers! And the 'Why' they aren't developed is kind of cool! I find the storyline to be fascinating, and the art by Alex... Well it is darn good! But wait... The storyline seems to wrap up a little 'too' quick, and then there are five full page pinup pages... What's up with that?
Inside Back Cover - Another illustration by Alex.
Back Cover - Alien spaceship and Nazi symbol on building... What's going on?!
My take on this graphic novel?
Well... Even though the storyline ended just a bit too abruptly for me... I have to say that I found this storyline to be a fascinating one! The characters were well written, the artwork flowed smoothly, the lettering was placed well, etc. The only thing is that the storyline wrapped up a little too quickly at the very end for me. Not for sure about the placement of the end scene in relationship to the rest of the story. But other than that... This graphic novel had everything else going for it!
My rating for this comic book issue? A Near Mint (NM) 9.4 out of a possible 10.0 comic book grading scale. Thanks to Brian Phillipson for bringing this graphic novel to my attention at his booth at the 2012 Comic-Con International: San Diego!
You can find this graphic novel for sale at the Bliss On Tap Publishing web site.
And don't forget to 'Like' the Bliss On Tap Publishing Facebook Fan Page!
~ Michael
---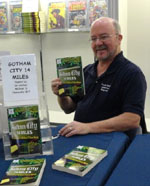 NOTE FROM Michael D Hamersky On Comics: My thanks again to all of YOU reading this blog and our archived blog posts, now at 3,691 total posts in number! I do appreciate your continued reading and support of this Blog!
BTW, You can 'follow' this blog by clicking the 'Follow' Button at this NetworkedBlogs app link! We currently have over 2,762 'Followers'! Thanks to ALL of YOU that have already clicked that button! And for those of YOU that haven't yet... I would appreciate it if YOU would!!!
Note: My online 'Loca8' Comic Book Shop (LCBS), carries many different genres of comics, magazines, graphic novels, and comic con promotional items. Possibly even copies of the item(s) that was mentioned here today...! If I have it, you'll find under the BIG TOP of Comics, at Comic Books Circus.com, including the book 'Gotham City 14 Miles' that I am shown holding to the left. I'm 1 of 14 essayists in that book! !
Web Page Note: This blog post is written per the IE Browser standards. Chrome, Safari, Netscape, Firefox and the other browsers serve the page up slightly differently, sorry about that! The screen display resolution is best seen at the setting of 1024 x 768 on your laptop or desktop computer. Note: Your computer's resoulution may be set differently, but the above resolution is the most commonly used resolution at the time of this blog post.
NOTE: All images and characters within this blog post are copyright and trademark their respective owners.
Comics Creators: If you are breaking into, or already work in the comic book industry or other pop culture productions, you are welcome to email or mail us press releases, news items, and updates that you feel would be of interest to our blog readers. Including YOUR own works! To mail printed items to us for possible review, send to: Make It So Marketing Inc., PO Box 130653, Carlsbad, CA 92013

Also, if you are a Facebook member, I would have liked you to send me a 'Friend Request'. However, I have reached the maximum limit of 5,000 Facebook Friends and Fan pages already, so I've added a New 'Facebook Fan Page' so that even more of YOU can 'Like' what I am doing, and be interactive with me and others there. Here is the link to that 'Facebook Fan Page':
Michael D Hamersky On Comics
! Please click the 'Like' button on that page!
---------------


In Addition, I started a YouTube Channel just before the 2011 Comic-Con International, where I am slowly uploading videos from conventions or other events that we attend that are also pop culture related. You are invited to 'subscribe' to that channel also! As found at
'HamerskyOnComics'
!
---
Posted by makeitsomarketing at 12:01 AM PDT
Updated: Wednesday, August 1, 2012 6:44 AM PDT