My Take On: Trek Nation Film Shown At 2012 San Diego Film Festival
Mood:
caffeinated
Topic: Other Cons
TODAY'S FEATURE IS BLOG #3726 - Last night Tina LoSasso and I attended the 2012 San Diego Film Festival, and viewed 'Trek Nation'.
We drove down to San Diego, to the Reading Theater in the Gaslamp Quarter, and took in the sights of the Festival before standing in line for the viewing.
Photos shown above are: (Top left) Michael in front of photo op banner. (Bottom left) Tina LoSasso with Trek Nation producer, Trevor Roth, and Chancelor Shay of Wright On Communications. (Top right) Photo of Reading Theater in the Gaslamp Quarter. (Middle right) Tina and Michael first in line at the lineup for the Trek Nation Film. (Bottom right) Tina LoSasso with Chairman of the Board of Directors, Dale Strack.
Before the showing of Trek Nation, there was a 15 minute short film from Roddenberry Entertainment. Which if seen in a dome sized theater would be pretty cool!
The Trek Nation's promotional info stated the following:
"Gene Roddenberry, the creator of Star Trek, also known as "The Great Bird of the Galaxy" passed away in 1991. His son Eugene "Rod" Roddenberry, Jr. was only 17 years old. Trek Nation, is a feature-length film documenting Rod's trek across America to understand who his father was through the touchstones Gene left behind: His Friends, His Family, His Work, and His Influence. Including surprising, revelatory conversations with actors, fans, NASA personnel, entertainment-industry leaders and other prominent figures, Trek Nation is a film that explores one of life's most universal stories — the discovery of a parent."
I was a little surprised to see Rod's features change during the film. It appeared that the film took several years to produce, as his appearance changed through the early minutes of the film.
There was a lot of interviews with those that worked with Gene during the Star Trek years, and I learned even more about the Star Trek Universe during the showing of this film.
Yes, the film was centered on Rod's trek across America, so there was quite a bit of Rod in the film. But it was entertaining as well as educational to view Rod's journey!
Some of those interviewed are world wide famous, while others would probably only be known to Star Trek fans. It was a good mix of interviews, along with clips of Star Trek conventions, as well as clips of Gene throughout the years.
The film didn't shy away from controversial subjects, which I thought was a good way for Rod to know his father better...
This film was pretty darn good! I'd give it a Near Mint (NM) 9.4 out of a possible 10.0 comic book grading scale.
If you weren't lucky enough to view at the San Diego Film Festival... You can purchase a copy on DVD at Roddenberry.com's Shop.
In addition, there is a Facebook Fan Page for Roddenberry.com, which currently has the Trek Nation film banner on its header.
Last, but certainly not least... There is a Facebook Fan Page for the San Diego Film Festival, which I invite you to check out and 'Like'. The Festival runs through today, September 20th of 2012, with the last of the 100 films that the Festival is screening!
(Note: Photos taken at the screening, but not used in this blog can be found at the special photo album titled: Trek Nation Film Shown At 2012 San Diego Film Festival. Plus, whatever Star Trek items I have for sale can be found in this store aisle at my online comic book shop, ComicBooksCircus.com)
~ Michael
---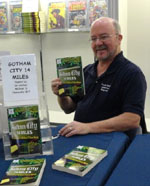 NOTE FROM Michael D Hamersky On Comics: My thanks again to all of YOU reading this blog and our archived blog posts, now at 3,726 total posts in number! I do appreciate your continued reading and support of this Blog!
BTW, You can 'follow' this blog by clicking the 'Follow' Button at this NetworkedBlogs app link! Thanks to ALL of YOU that have already clicked that button! And for those of YOU that haven't yet... I would appreciate it if YOU would!!!
Note: My online 'Local Comic Book Shop' (LCBS), carries many different genres of comics, magazines, graphic novels, and comic con promotional items. Possibly even copies of the item(s) that was mentioned here today...! If I have it, you'll find under the BIG TOP of Comics, at Comic Books Circus.com, including the book 'Gotham City 14 Miles' that I am shown holding to the left. I'm 1 of 14 essayists in that book! !
Web Page Note: This blog post is written per the IE Browser standards. Chrome, Safari, Netscape, Firefox and the other browsers serve the page up slightly differently, sorry about that! The screen display resolution is best seen at the setting of 1024 x 768 on your laptop or desktop computer. Note: Your computer's resoulution may be set differently, but the above resolution is the most commonly used resolution at the time of this blog post.
NOTE: All images and characters within this blog post are copyright and trademark their respective owners.
Comics Creators: If you are breaking into, or already work in the comic book industry or other pop culture productions, you are welcome to email or mail us press releases, news items, and updates that you feel would be of interest to our blog readers. Including YOUR own works! To mail printed items to us for possible review, send to: Make It So Marketing Inc., PO Box 130653, Carlsbad, CA 92013

Also, if you are a Facebook member, I would have liked you to send me a 'Friend Request'. However, I have reached the maximum limit of 5,000 Facebook Friends and Fan pages already, so I've added a New 'Facebook Fan Page' so that even more of YOU can 'Like' what I am doing, and be interactive with me and others there. Here is the link to that 'Facebook Fan Page':
Michael D Hamersky On Comics
! Please click the 'Like' button on that page!
---------------


In Addition, I started a YouTube Channel just before the 2011 Comic-Con International, where I am slowly uploading videos from conventions or other events that we attend that are also pop culture related. You are invited to 'subscribe' to that channel also! As found at
'HamerskyOnComics'
!
---
Posted by makeitsomarketing at 7:22 AM PDT
Updated: Sunday, September 30, 2012 8:51 AM PDT