Five Business Gift Giving Mistakes...
Mood:
caffeinated
Topic: Other Non Comics Works
Five Business Gift Giving Mistakes To Avoid This Holiday Season!

Above: Tina was a contributor to the top selling book 'Top Dog Sales Secrets' as one of the Top Experts!

To The Left: Tina LoSasso, Managing Editor at SalesDog.com, and also President of her own company at MakeItSoMarketing.com!
Since last week's "Black Friday Event" here at Make It So Marketing's Facebook Comic Con Exhibitor Table, I've been busy listing, selling, and shipping comics and graphic novels to our customers. This included listing hundreds of more items in time for 'Cyber Monday'...
That has been taking a toll on my 'free time' in blogging and contributing to the social media and comics forums that I am associated with. I haven't been able to read and reply fully to the emails and messages that have come in to me.
However, a message sent last night to me made me want to stop and re-publish a series of blog posts that my wife Tina LoSasso had guest blogged two seasons ago. Those blog posts are no longer visible, because they were in the eBay version of our Blog, which has been discontinued by eBay itself.
So when this eBayer friend of mine asked if I could re-post the blogs here I said yes. So the following are all Five of the Tips that Tina posted two seasons ago. I thought it would be timely as well as informative, because on my Facebook Network of Friends alone, there are many self-publishers that are probably wondering what to give to their business network of associates this year. Plus there are a lot of creators that are holding down day jobs until their own creations are published!
Here is a brief intro and then the 5 tips from Tina LoSasso: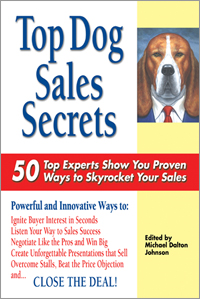 Anyone braving the shopping malls during the holiday season knows that finding the perfect gift for family or friends is not easy. Business gift giving can be even more challenging. "Choosing the right business gift actually requires more time and thoughtfulness," says Tina LoSasso, Managing Editor of SalesDog.com, in one of 80 sales lessons in the new business book, Top Dog Sales Secrets. LoSasso identifies five common business gift-giving gaffes:
1) Quality trumps quantity. "A small box of exquisite, handmade truffles will be appreciated far more than a big box of run-of-the-mill chocolates," LoSasso advises. "If the head honcho at your biggest account is a wine connoisseur, remember, it's far better to send one bottle of the very best than several ordinary bottles he'll never uncork."
2) Reject run-of-the-mill. Shun the ho hum food baskets and opt for a more memorable gift. "Check your client notes," suggests LoSasso. "What are his hobbies? Does he golf, cook or play sports? If your client, the gourmet cook, is still raving about the meals he enjoyed during his vacation in Tuscany, send him a beautifully illustrated regional cookbook. Your gift, and you, will be remembered far longer than a generic tin of cookies."
3) Don't even think of advertising. "Sending gifts with your company's logo on them make you look stingier than Scrooge," says LoSasso. "Save the logo-imprinted pens, paperweights, mouse pads and calculators for your next trade show. Instead, send a gift from your region of the country: Ghirardelli chocolate from San Francisco, smoked salmon from the Northwest, citrus from Florida or California, or barbecue sauce from Texas."
4) Beware of booze. "Alcoholic beverages are usually risky business," warns LoSasso. "The one exception is when you know someone loves a certain brand of rare Scotch, a particular wine, or a regional microbrew. Never send a bottle of champagne to that key account in Salt Lake City, or for that matter, frozen steaks to your customer who is a vegetarian. Don't laugh -- it happens."
5) The gender trap. Gender differences present their own gift-giving dangers. While it is generally acceptable for a saleswoman to send her stressed-out women clients personal items, like lotions or a spa kit, salesmen should not be so familiar. "Sorry guys," says LoSasso. "You're not in the club."
LoSasso's advice is excerpted from the bestselling book, Top Dog Sales Secrets, authored by 50 renowned sales lecturers, consultants, and corporate trainers. Top Dog Sales Secrets is available from the publisher or from Amazon and other online retailers.
That ends the 5 Tips and the introductory info about Tina's contributions at SalesDog.com. BTW, SalesDog.com features advice from America's leading sales experts. Their free weekly newsletter has over 25,000 subscribers. You are invited to sign up there for that newsletter if advice on Sales can help you bring 2009 to a satisfying close!
My thanks to Tina for allowing me to re-publish those earlier five blog posts into one Blog here today!
AND... Thanks again to all of YOU reading our current and archived blog posts! We do blog usually on a daily basis on comic book creators, comic book reviews, comic cons, and other pop culture news and events including some TV shows and theatrical films as they are shown. This current week since 'Black Friday' to 'Cyber Monday' to this morning has been kind of overwhelming, but I am Thankful (Thanksgiving Day wise) to be busy!
PLUS... Welcome to ALL of You that were reading the eBay Version of our Blog prior to eBay closing 'their eBay blogs platform' on October 31st, 2009. That version of our Blog had 1.37 MILLION page views before the closure... However, This Blog version is the same Blog that has been published at the same time the eBay version was being published. I've been publishing this version since September 2007, so it has the same 'Fun Stuff' you are used to reading on the eBay version!
Speaking of eBay... Be sure to check out our own new listings of comics, graphic novels, Comic Con exclusives and more pop culture items for sale in Our online eBay Featured Store that our blogs are based on! It's due to sales at this online store that keep us going with the ability to post blogs like the one you have read here today!
~ Michael @ ComicBookCollectorsBlog.com
"Hammering Out the Web
For You Since May 12th, 1998!"

Note: If you breaking into or already work in the comic book industry or other pop culture productions, you are welcome to email us press releases, news items, and updates that you feel would be of interest to our blog readers. Including YOUR own works!

To mail printed items to us for possible review, send to:

Make It So Marketing Inc
PO Box 130653
Carlsbad, CA 92013

If you are a Facebook member and want to join my Facebook Network, feel free to send a 'friend request' to 'Michael D Hamersky'.

RECOMMENDED GRAPHIC NOVELS AS GIFTS FEATURETTE: This blog's 'Main Feature' today was on what items to avoid giving as a holiday present to business associates.

Well, what about those business associates that you work with on a regular basis and personally know very well, and that you would like to introduce them to the reading genres that you enjoy?

I would think that giving a graphic novel could be a good idea if you have heard them talk about books and / or movies that they have recently read or seen. Here are some thoughts on graphic novels that I have reviewed this year with what audience to give as gift to.

For someone that reads HoRRoR books:

For someone that likes to read books to their children:

For someone that likes audio books in a HoRRoR vein:

For someone that likes a 'Fun Read' and enjoys old TV Shows, say like the 1960's Batman TV Show:

For someone that likes Sci-Fi with social commentary:

The above are just some of the ideas that I have, based upon my personally reading them and then reviewing them here. Again, the above are meant for business associates or business friends that YOU personally know, and are NOT currently reading graphic novels.

It would be a lot easier for me to recommend single issue 'floppy' comics, but NOT for business friends or associates. Unfortunately it is still easier to give a graphic novel that re comics in a form of a book instead of a 'comic book' itself.

Possibly in the days to come, I may list more graphic novels and comic mini-series to give as gifts for those that you know that already read this form of literature. I am leaving this blog post open to possibly come back and add more, or post a link to a continuation post, as I have run out of time here this morning.....

~Michael

WEB PAGE NOTE:

This blog post is written for the IE Browser standards. Netscape, Firefox and the others serve the page up differently. The screen display resolution is best seen at the setting of 1024 x 768.

All images and characters within this blog post are copyright and trademark their respective owners.

If you are a Facebook member and want to join my Facebook Network, feel free to send a 'friend request' to 'Michael D Hamersky'.

We also have an on-line exhibitor table at the virtual Facebook Comic Con. You can view the table by clicking this link.

If you are a Facebook member, please join our Facebook Comic Con | Make It So Marketing exhibitor table for updates, specials, and other wall posts!
Posted by makeitsomarketing at 12:01 AM PST
Updated: Wednesday, December 2, 2009 11:09 AM PST