'Gotham City 14 Miles' Can Now Be Ordered Online From Amazon!
Mood:
a-ok
Topic: TV Shows
-

-

Above Top Photo: Michael D Hamersky proudly holding his authors' copy of Gotham City 14 Miles when it first arrived in the mail! He is one of fourteen essayists featured in the book!
TODAY'S FEATURE - Blog #3526:
I'm getting ready to set up the 3rd Annual 'Black Friday' Event via my Facebook Fan Page, 'Michael D Hamersky On Comics'.
This year I'm adding the words 'Cyber Monday' to the event as well, thus extending the event's time schedule from the day after Thanksgiving, through the weekend, and into the end of Monday night, which is known as 'Cyber Monday'.
One of the items that I will be listing as a prize is a signed copy of 'Gotham City 14 Miles' that was edited by Jim Beard and included 14 different essays by 14 different essayists, including myself, which is why I am signing it!
I just wanted to mention that you don't have to wait to possibly win a copy of the book from my upcoming event... As Amazon is now stocking new copies of the book at their web site! Which is a recent development, as previously only a couple of used copies were showing up on it.
So... Here's the link to purchase the book: Gotham City 14 Miles: 14 Essays on Why the 1960s Batman TV Series Matters
!
For those of you don't know about the book yet, or what it is about... Here is a link to my Facebook Fan Page, which after you click the 'LIKE' button on the Welcome Page, you will be shown a link to download a .pdf sample of the first few pages of my own essay!
And I did mention there were 14 essaysists, right?
Well the additional essayists with the title of their essay include:
Mile Marker No. 1: "Bats in Their Belfries — The Proliferation of 'Batmania'" by Robert Greenberger. Covers the genesis of the show and the explosion of Batmania.
Mile Marker No. 2: "Batman — From Comics Page to TV Screen" by Peter Sanderson. Delves deep into "Batman's" comic book roots.
Mile Marker No. 3: "Such a Character — A Dissection and Examination of Two Sub-Species of Chiroptera homo sapiens" by Jim Beard.
Mile Marker No. 4: "Notes on Bat-Camp" by Tim Callahan. An effort to answer that age-old question: "Was 'Batman' truly camp?"
Mile Marker No. 5: "Aunt Harriet's Film Decency League" by Becky Beard.
Mile Marker No. 6: "POW! – Batman's Visual Punch" by Bill Walko. Looks into the impact of the show's vibrant visual design.
Mile Marker No. 7: "Known Super-Criminals Still at Large" by Chuck Dixon. Compares and contrasts TV versions with comic book portrayals.
Mile Marker No. 8: "May I Have This Batdance?" by Michael S. Miller.
Mile Marker No. 9: "The Best Dressed Women in Gotham City" by Jennifer K. Stuller. Presents a compelling argument for its female denizens and their place in "Batman."
Mile Marker No. 10: "Holy Contributing to the Delinquency of a Minor!" by Michael D Hamersky. Addresses the topic of youth culture as presented in "Batman."
Mile Marker No. 11: "Gotham City R&D" by Michael Johnson.
Mile Marker No. 12: "Theatre of the Absurd – 'Batman: The Movie, 1966'" by Rob Weiner. Rolls film on the 1966 feature film.
Mile Marker No. 13: "Jumping the Bat-Shark" by William Patrick Murray. Delves into the third season of "Batman."
Mile Marker No. 14: "Some Days You Just Can't Get Rid of a Bomb" by Paul Kupperberg. The legacy beyond its original broadcast.
Afterword by Jeff Rovin, co-author of Adam West's "Back to the Batcave," offers a few personal anecdotes about the show and working with West.
Episode Guide by Joe Berenato. A rundown of episodes, with airdates and fun facts.
Not just judging the book by its cover... But by the content titles listed above and well known authors... You know this has to be a book that every fan of the 1966 Batman TV Show would enjoy reading!
So it is definitely one I would include on a Holiday Season Gift Giving Season List! And now, it is even easier for you to order a copy online... At Amazon, as seen here: Gotham City 14 Miles: 14 Essays on Why the 1960s Batman TV Series Matters
!
Oh... And feel free to go ahead now, and click the 'Attending' link at my upcoming '3rd Annual Black Friday - Cyber Monday From Michael D Hamersky On Comics' event link. Doing that, and also clicking the 'LIKE' button on my Facebook Fan Page, makes you eligible to win a signed copy of this book! Sorry, just my signature will be on this copy, as I haven't seen all 14 of the essayists in one place to do an enmasse book signing yet. Now that would be something!
~Michael D Hamersky On Comics!
---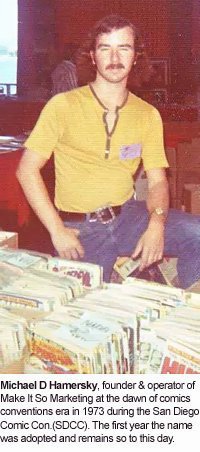 NOTE FROM THE BLOGGER:
My thanks again to all of YOU reading this blog and our archived blog posts, now at 3,526 total posts in number! I do appreciate your continued reading and support of this Blog!
BTW, You can 'follow' this blog by clicking the 'Follow' Button at this NetworkedBlogs app link! We currently have over 2,574 'Followers'! Thanks to ALL of YOU that have already clicked that button!
And for those of YOU that haven't yet... I would appreciate it if YOU would!!!
~ Michael D Hamersky
Note: My online 'Local' Comic Book Shop (LCBS), carries many different genres of comics, magazines, graphic novels, and comic con promotional items. Possibly even copies of the item(s) that was mentioned here today...!
If I have it... You can find it 'Under The Big Top Of Comics' at:
http://www.ComicBooksCircus.com/
Web Page Note: This blog post is written for the IE Browser standards. Chrome, Safari, Netscape, Firefox and the other browsers serve the page up differently, sorry about that!
The screen display resolution is best seen at the setting of 1024 x 768 on your laptop or desktop computer. Note: As of Monday, June 27th, 2011, I'll be using my new laptop, where the default resolution is 'higher', so there may be some temporary glitches until I am used to the new resolution.
NOTE: All images and characters within this blog post are copyright and trademark their respective owners.

Comics Creators: If you are breaking into, or already work in the comic book industry or other pop culture productions, you are welcome to email or mail us press releases, news items, and updates that you feel would be of interest to our blog readers. Including YOUR own works!
To mail printed items to us for possible review, send to:
Make It So Marketing Inc., PO Box 130653, Carlsbad, CA 92013

Also, if you are a Facebook member, I would have liked you to send me a 'Friend Request'. However, I have reached the maximum limit of 5,000 Facebook Friends and Fan pages already, so I've added a New 'Facebook Fan Page' so that even more of YOU can 'Like' what I am doing, and be interactive with me and others there. Here is the link to that 'Facebook Fan Page': Michael D Hamersky On Comics! Please click the 'Like' button on that page!
---
Posted by makeitsomarketing at 6:46 AM PDT
Updated: Thursday, October 13, 2011 8:43 AM PDT