My Take On: Scarlet Huntress #2 From SMComics.com!
Mood:
caffeinated
Topic: Comic Books - New
-

Top Left Photo: Sean Forney invites you to see him at the Wizard World Mid-Ohio Con running October 22-23 of 2011.

-

Above Top Photo: The Front Cover to Scarlet Huntress #2 - The Photo Cover Variant - With Grianne Jeanette as the Scarlet Huntress - Photographer - Renee Needham!
TODAY'S FEATURE - Blog #3519:
This past Saturday I blogged about the upcoming Long Beach Comic & HoRRoR Con that is running October 29th & 30th in Long Beach, California.
The con's promoters had just added the 'HoRRoR' title to the name of the con, as the con keeps occuring during the Halloween period.
So I thought to continue this week with review blogs on HoRRor / MoNSTer / Sci-Fi comic books that have been given to me or mailed in for review. Here's the third one of this week's reviews:
Scarlet Huntress #2 - Photo Cover Variant!
I've review blogged the Scarlet Huntress Preview Issue before in blog #3232 back in September of 2010. So I was looking forward to seeing how the 2nd issue of this series turned out in print...
Here's what I found when reading the comic book:
Front Cover - I received the photo cover variant to possibly review. I usually like female characters with live models on the front cover... And this photo cover variant was no exception! She came across exactly as what the creator, Sean Forney, had illustrated in the Preview issue I had review blogged earlier!
Inside Front Cover - Showed that there were three different covers to this issue #2, which I am not usually a fan of... Unless there are only two covers, with one a photo cover. There were additional credits and links shown on this inside front cover, which was used as a 'credits page'.
Splash Page - Not used as a 'splash page', but rather as page one of the story.
Interior Pages - Tells the following story: "After running away for two years due to the death of her mother, Scarlet returns hoping to move on with her life. Instead her plans change when she learns of a secret family legacy that will change her life forever. Through her grandmother Scarlet learns of a hidden world full of evil, werewolves, and huntresses. Now Scarlet must decide if she can truly complete her first kill as a Huntress."
After 24 pages of story, which are printed in black & white, there are 2 pages of color pin-ups, 3 pages of black & white pin-ups, and then a color photo page of the model as 'Scarlet Huntress', with a house ad page of the Scarlet Huntress as a 'game'.
The Inside Back Cover is a color ad...
The Back Cover is a color pin up page of the Scarlet Huntress.
So what's my take on this 2nd issue?
I found that the cover variant I received was a nice touch in having the character jump out at me when first looking at it. The model fit the image that Sean had illustrated over a year ago in the Preview issue.
The inside cover page was okay, but could have been laid out a little better for reading.
The interior pages, in black and white, were fine... UNTIL I came to the color pin up pages!
I'm not a 'color snob'... But after seeing those pages in color, this comic book could be far easier to read AND sell to a wider audience range.
What I viewed in the Scarlet Huntress Preview comic that I review blogged last year, is turning out to be a good comic book series. But seriously... The next issue should be looked at closely as printing in color...
So... I'm giving this a VERY FINE / NEAR MINT (VF/NM) 9.0 out of a possible 10.0 comic book grade, because of what I just mentioned above.
If you don't see this comic book at your LCBS... You can purchase this comic issue #2 in a digital format at Graphicly at this link. Or check out the SM Comics web site for it.
To be interactive with Sean Forney and / or his wife Stephanie Forney, who is the writer of this issue, you can 'Like' their Facebook Fan Page at: Sean Forney Illustration!
Thanks again to Sean & Stephanie Forney for bringing this issue #2 to my attention!
~Michael D Hamersky On Comics!
---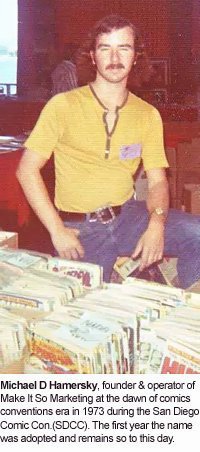 NOTE FROM THE BLOGGER:
My thanks again to all of YOU reading this blog and our archived blog posts, now at 3,519 total posts in number! I do appreciate your continued reading and support of this Blog!
BTW, You can 'follow' this blog by clicking the 'Follow' Button at this NetworkedBlogs app link! We currently have over 2,561 'Followers'! Thanks to ALL of YOU that have already clicked that button!
And for those of YOU that haven't yet... I would appreciate it if YOU would!!!
~ Michael D Hamersky
Note: My online 'Local' Comic Book Shop (LCBS), carries many different genres of comics, magazines, graphic novels, and comic con promotional items. Possibly even copies of the item(s) that was mentioned here today...!
If I have it... You can find it 'Under The Big Top Of Comics' at:
http://www.ComicBooksCircus.com/
Web Page Note: This blog post is written for the IE Browser standards. Chrome, Safari, Netscape, Firefox and the other browsers serve the page up differently, sorry about that!
The screen display resolution is best seen at the setting of 1024 x 768 on your laptop or desktop computer. Note: As of Monday, June 27th, 2011, I'll be using my new laptop, where the default resolution is 'higher', so there may be some temporary glitches until I am used to the new resolution.
NOTE: All images and characters within this blog post are copyright and trademark their respective owners.

Comics Creators: If you are breaking into, or already work in the comic book industry or other pop culture productions, you are welcome to email or mail us press releases, news items, and updates that you feel would be of interest to our blog readers. Including YOUR own works!
To mail printed items to us for possible review, send to:
Make It So Marketing Inc., PO Box 130653, Carlsbad, CA 92013

Also, if you are a Facebook member, I would have liked you to send me a 'Friend Request'. However, I have reached the maximum limit of 5,000 Facebook Friends and Fan pages already, so I've added a New 'Facebook Fan Page' so that even more of YOU can 'Like' what I am doing, and be interactive with me and others there. Here is the link to that 'Facebook Fan Page': Michael D Hamersky On Comics! Please click the 'Like' button on that page!
---
Posted by makeitsomarketing at 12:01 AM PDT
Updated: Wednesday, October 5, 2011 5:39 AM PDT