A Video Interview of Milton Caniff by Shel Dorf with Tom French
Mood:
caffeinated
Topic: Comic Book History
A Video Interview of Milton Caniff by Shel Dorf with Tom French as Cameraman

Filmed November of 1982*

*Thanks to Greg Koudoulian of THE OFFICIAL SHEL DORF FAN CLUB and ENTOURAGE for the DVD!

Top Photo this column: Courtesy of Milton Caniff Estate, Matt Lorentz, and the OSDFC and E.

Photos to the Right: Top) A photo from the DVD interview. Middle) Milton Caniff receiving his Inkpot Award from Shel Dorf at the 1982 SDCC (photo courtesy of Alan Light). Bottom) The masthead to the column in the Steve Canyon Magazine that Shel Dorf wrote!

-

-

-
TODAY'S FEATURE - Blog #3531:
This past weekend I played a few of the DVDs that Greg Koudoulian had sent me after joining his 'Shel Dorf Fan Club and Entourage' group, for my wife and youngest child to view.
The longest playing one was this interview with Milton Caniff by Shel Dorf, aided by cameraman, Tom French, who popped into view a couple of minutes during this very long interview.
I say 'very long interview' because it had at least 52 'chapters' total! It went on for a long period of time, and would be a very good interview for Milt Caniff fans to see!
When I asked Greg if this was available for sale at either the Fan Club web site or his Facebook fan page, Planet El Cortez, he said no.
When looking for pics of Shel with Milt during this 1982 period, I found that this interview had been uploaded on YouTube within multiple videos, as it is so very long in playing time! Here is the link to Mike Lynch's Cartoons blog, with the chapters broken up and then recombined into YouTube length videos.
Mike posts a bit of text with each segment, as to what the video covers. Why Mike took the time to upload and post this video interview is a question that isn't answered, but I'm glad that he did, for those of you that have never seen it before.
Here are just a few of my thoughts while watching the full length video:
The video was filmed in November of 1982. An undated Sunday morning at Milt's studio in Palm Springs, California. Milt later mentioned that he had just finished the upcoming Christmas script for his Steve Canyon comic book strip.
It was good to see Tom French pop in for a few minutes during this interview. Tom had just started growing his beard, as Milt mentioned that Tom didn't have it at the 1982 SDCC, (Milt & Shel shown at the top middle photo of this blog post). I had known Tom because he was in charge of the Dealers Room at the SDCC. As long time readers of this blog know... I first set up as a comic books dealer back in 1972 at the El Cortez Hotel where the San Diego Comic Con was then being held at.
Milt talked about his earlier comic book strip, 'Terry and the Pirates', which he did not own, but created. He also talked about George, who continued the strip for the syndicate that owned it.
Milt also mentioned many others during the time this video played. Bud Sickles had his respect, and he spent some time talking about Bud and his comic strip, 'Scorchy Smith'.
After a long time being interviewed... Milt showed how he inked, using a strip that would be dated January 16th of 1983. He is shown inking the last panel of the strip.
Additionally, Milt is shown creating a commission of the 'Dragon Lady' for Joan and Charlie Roberts. Milt mentions that he had told actress Joan Crawford that he patterned the 'Dragon Lady' after Joan.
There were at least 52 chapters in this video. It is a very long one... But for fans of Milt Caniff, this is a 'MUST SEE' video.
Again, Greg does not have copies to sell, but you can see most of it at the link that I provided above taking you to where Mike Lynch uploaded it.
My thanks to Greg for sending me this video and other clips from the Shel Dorf Collection to view.
I urge those of you reading this to go 'Like' the Facebook fan page for Planet El Cortez, which Greg is starting to build up!
~Michael D Hamersky On Comics!
---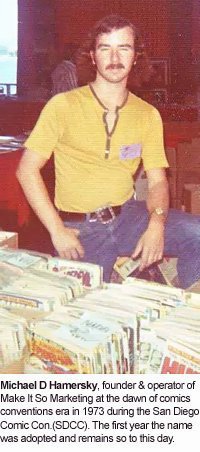 NOTE FROM THE BLOGGER:
My thanks again to all of YOU reading this blog and our archived blog posts, now at 3,531 total posts in number! I do appreciate your continued reading and support of this Blog!
BTW, You can 'follow' this blog by clicking the 'Follow' Button at this NetworkedBlogs app link! We currently have over 2,584 'Followers'! Thanks to ALL of YOU that have already clicked that button!
And for those of YOU that haven't yet... I would appreciate it if YOU would!!!
~ Michael D Hamersky
Note: My online 'Local' Comic Book Shop (LCBS), carries many different genres of comics, magazines, graphic novels, and comic con promotional items. Possibly even copies of the item(s) that was mentioned here today...!
If I have it... You can find it 'Under The Big Top Of Comics' at:
http://www.ComicBooksCircus.com/
Web Page Note: This blog post is written for the IE Browser standards. Chrome, Safari, Netscape, Firefox and the other browsers serve the page up differently, sorry about that!
The screen display resolution is best seen at the setting of 1024 x 768 on your laptop or desktop computer. Note: As of Monday, June 27th, 2011, I'll be using my new laptop, where the default resolution is 'higher', so there may be some temporary glitches until I am used to the new resolution.
NOTE: All images and characters within this blog post are copyright and trademark their respective owners.

Comics Creators: If you are breaking into, or already work in the comic book industry or other pop culture productions, you are welcome to email or mail us press releases, news items, and updates that you feel would be of interest to our blog readers. Including YOUR own works!
To mail printed items to us for possible review, send to:
Make It So Marketing Inc., PO Box 130653, Carlsbad, CA 92013

Also, if you are a Facebook member, I would have liked you to send me a 'Friend Request'. However, I have reached the maximum limit of 5,000 Facebook Friends and Fan pages already, so I've added a New 'Facebook Fan Page' so that even more of YOU can 'Like' what I am doing, and be interactive with me and others there. Here is the link to that 'Facebook Fan Page': Michael D Hamersky On Comics! Please click the 'Like' button on that page!
---
Posted by makeitsomarketing at 12:01 AM PDT
Updated: Monday, October 24, 2011 10:53 AM PDT