My Take On: The Attic #1 - From Main Enterprises!
Mood:
caffeinated
Topic: Comic Books - New
-

Top Left Photo: The Main Enterprises Logo.

-

Above Top Photo: The Front Cover to 'The Attic' Issue #1 - from Main Enterprises - The Fall of 2011 Issue!
TODAY'S FEATURE - Blog #3517:
Yesterday I blogged about the upcoming Long Beach Comic & HoRRoR Con that is running October 29th & 30th in Long Beach, California.
The con's promoters had just added the 'HoRRoR' title to the name of the con, as the con keeps occuring during the Halloween period.
So I thought to continue this week with review blogs on HoRRor / MoNSTer / Sci-Fi comic books that have been given to me or mailed in for review. Here's the first one of this week's reviews:
The Attic #1... From Main Enterprises.
Jim Main, Publisher of several comics & magazines, has decided to publish another anthology. This one is captioned at the top of the comic book as 'Tales of Horror, Fantasy, and Suspense!
Okay... What do we have here?
Front Cover: By Scott McClung... Which I like, because I do like having 'hosts' in anthology comics, which this front cover indicates this could be. The production design is also very well done.. I like the layout, the title using a 'skull' to dot the 'i' in 'Attic'. Good start...
Inside Front Cover: Pinup page by Rick Limacher... Black & White... Quite a bit different in style from the front cover, enough to make me move on next to the Table of Contents page, which is used instead of a 'splash page'.
Table of Contents (TOC) Page: Nice layout. Pages numbered for easy access... and a few panels from stories featured inside. Quality TOC.
1st Story: Intro to 'Grimsby'... 'Alistair Grimsby', humble caretaker of the Thorndyke Manor... which includes 'The Attic'! Good intro for this first story in this new anthology series. Liked this story and art by Jack Bertram and Jim Main!
2nd Story: 'The Axe of Modo' by Al Limacher with lettering by Rick Limacher... Six page story... Where the art fit the storyline.
3rd Story: 'Regret' by Robert J Sodaro and Jack Bertram... Eight Pager, where the lettering font seemed to take away just a little from the storyline.
4th Story: 'Cowbell, by Rick Limacher... Nine pager, where the storyline, the dialogue, and the art flowed together along with the lettering used.
5th Story: 'Incomplete' by Sam Gafford... A one page prose piece, like I used to see in older comic books to meet the USPS mailing requirements for mailing. Well done.
Inside Back Cover: By John Lambert... Not for sure what this what meant to be, other than it does feature 'Grimsby' at the forefront of the pinup page.
Back Cover: Ad page by the printer, ComiXpress... Which is the 'norm' for small press publishers. Almost all of the comics submitted to me for possible review are printed by either ComiXpress or Ka-Blam!
So what's my thoughts on this first issue of 'The Attic'?!
Well, I enjoy most of the publications that are published by Main Enterprises... Which is why you see so many review blogs on their comics / mags here at 'ComicBookCollectorsBlog.com'!
However, as I have also said before... Publishing 'anthology' comics has to be one of the hardest things to do...Period!
This anthology's first issue set out very well on the Front Cover, and definitely caught my interest! The setting of the Table of Contents page was well done, and showed that the Production Manager, Marc Haines, as well as the Publisher, Jim Main, wanted to produce a high quality comic.
I've got to say that the majority of the stories fit that bill. Enough for me to want to see a second issue in this comic book title series.
The concept of this comic book is one that is a good one, although it has been used before. However, the totally different artwork in almost each story presented from each other didn't help to jell this concept together in the first issue for me.
Yet I still enjoyed reading it and it is well worth the $2.99 cover price for fans of this genre of comic book. Please note that the interiors of this comic book are printed in black & white.
Again, the Editor of an anthology comic book such as this one has a hard job in compiling a presentation, let alone using a comic book host such as 'Grimsby'. The first issue is a good representation of this genre, but a little more 'tweaking' in artwork presented will make it even better.
I'm giving this a VERY FINE PLUS (VF+) 8.5 out of a possible 10.0 comic book grade, because of what I just mentioned above.
You can purchase this comic book to see for yourself at the Main Enterprises order page! While you are there... Check out the other publications that have been published to date!
If you need some help on what else to order... Here are several more review blogs I've posted on Main Enterprises publications over the years.
My thanks to Main Publications for submitting this issue for possible review! As I said above... This is a publisher with quality publications, and I'm pleased to see my reviews & re-posts by others at 441 different listings at Google at the time of writing this blog!
~Michael D Hamersky On Comics!
---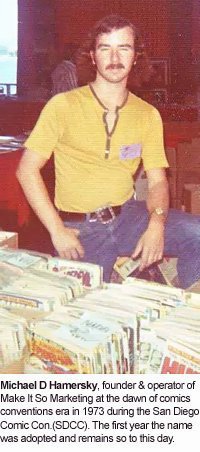 NOTE FROM THE BLOGGER:
My thanks again to all of YOU reading this blog and our archived blog posts, now at 3,517 total posts in number! I do appreciate your continued reading and support of this Blog!
BTW, You can 'follow' this blog by clicking the 'Follow' Button at this NetworkedBlogs app link! We currently have over 2,561 'Followers'! Thanks to ALL of YOU that have already clicked that button!
And for those of YOU that haven't yet... I would appreciate it if YOU would!!!
~ Michael D Hamersky
Note: My online 'Local' Comic Book Shop (LCBS), carries many different genres of comics, magazines, graphic novels, and comic con promotional items. Possibly even copies of the item(s) that was mentioned here today...!
If I have it... You can find it 'Under The Big Top Of Comics' at:
http://www.ComicBooksCircus.com/
Web Page Note: This blog post is written for the IE Browser standards. Chrome, Safari, Netscape, Firefox and the other browsers serve the page up differently, sorry about that!
The screen display resolution is best seen at the setting of 1024 x 768 on your laptop or desktop computer. Note: As of Monday, June 27th, 2011, I'll be using my new laptop, where the default resolution is 'higher', so there may be some temporary glitches until I am used to the new resolution.
NOTE: All images and characters within this blog post are copyright and trademark their respective owners.

Comics Creators: If you are breaking into, or already work in the comic book industry or other pop culture productions, you are welcome to email or mail us press releases, news items, and updates that you feel would be of interest to our blog readers. Including YOUR own works!
To mail printed items to us for possible review, send to:
Make It So Marketing Inc., PO Box 130653, Carlsbad, CA 92013

Also, if you are a Facebook member, I would have liked you to send me a 'Friend Request'. However, I have reached the maximum limit of 5,000 Facebook Friends and Fan pages already, so I've added a New 'Facebook Fan Page' so that even more of YOU can 'Like' what I am doing, and be interactive with me and others there. Here is the link to that 'Facebook Fan Page': Michael D Hamersky On Comics! Please click the 'Like' button on that page!
---
Posted by makeitsomarketing at 12:01 AM PDT
Updated: Monday, October 3, 2011 10:08 AM PDT