Vinnie's Take On: Reverence - Volume 1 - By Jeanie L.S. Galster
Mood:
caffeinated
Topic: Other Non Comics Works
Michael D Hamersky On Comics Presents...

Vinnie's Take On The:

Reverence

Volume 1

A YA Book by Jeanie L.S. Galster with Illustrations by C J Draden

-

Top Left Photo: One of the illustrations by CJ Draden that is shown in the book!

-

Above Photo: The front cover to Reverence Volume 1 - written by Jeanie LS Galster!
TODAY'S FEATURE - Blog #3525:

(Vinnie) Hello, today I am guest blogging about the young adult fiction book, "Reverence Vol. I". It is a story about a young woman who uses her newfound powers to take reverence on her parents' killers.

It is a short book, just 87 pages in length. It is the first volume... So what's it about?

[SPOILER WARNING]

It starts when the main character was a kid, and her father, one who owned the neighborhood they lived in, started going into drug dealing and drinking his sorrows away. The men later killed him and his wife, while the daughter, Allessandra, and her brother, Nico, were both in school. At the time, she was only a child, just 10 years of age, and her brother was even younger. Their grandmother took them in, and while Nico could forget about the pain and anger, Allessandra could not. She went down the same path her father did, but at a much earlier age. She hung out with the wrong crowd, doing things just to fit in. She started getting tattoos, first because it was the only thing that let her emotions and pain leak out.

Allessandra started training in martial arts, where she found her first true friend, Michi. However, his father said they must not hang out any longer, and he must take on the family business. This made her have more pain, as she not only lost her parents, but that one friend she could always count on. She was now a bit older, and started getting tattoos for a real cause. Each year on the anniversary of her parent's death, she would get a tattoo commemorating them.

She began to be more respectful to her grandmother, and took her request of this year being the last year of getting the tattoos. So she agreed, and went to her favorite inking artist, who had done her previous tattoos. His name was Skeet, a man who took pride in his work. Her final tattoo was a big project, and it spanned over several days. It was a mighty phoenix, who could be reborn from its ashes. She took it to being her own "rebirth". That night, Skeet finished it, and moments later, several thugs came bursting through the front door firing on all of the occupants in the room. Skeet was shot, and fell to the ground. Allessandra felt a stinging pain in her leg, arm, and back. The table she was laying on to get the tattoo collapsed, and she fell into a puddle of ink and blood. Then, the electrical tattoo gun fell in with a burst of combustion and bright light.

Allessandra blacked out, and woke up in a hospital bed, with Nico and her grandmother at her side. She later went home, despite her doctor's wishes. When she got home, she kept hearing a hissing sound. She also noticed her tattoos were 3D, like there was added depth to them. She thought she was going crazy when the shurikens on her arms began to spin. She cleared her eyes and she still found them spinning. She concentrated, and shot one at her wall. It was definitely real. She also noticed they were rapid reload.

She decided to use these powers to take reverence on her parent's murderers. She took off that night to find an old friend from school who was part of the dark side in the town, where parties and such happened at night. She used her to get in to one. She noticed the same men were there, their names were Vic and Lu. She kept her eyes on them, and noticed they went into a back library.

Allessandra then found a guy, Stu, who obviously didnt get any of the women, and used him to get her into the back room. He apparently knew the men well. She had to lose him, and told him to fetch her a drink. He did so, and she went in to talk to them. She asked who their boss was, but they wouldn't budge. She threatened them, and they pulled their guns out. Her cobra tattoo split out into two and wrapped around them. They finally told her that there was someone else that was closer to the boss than they were. They told her where to find him. She put a note with their signatures and their crimes and tossed them out the window into a garbage can, where a police man was waiting.

She then headed out where she found Stu again, and asked him to get her into the room where the man Vic and Lu told her he was. As he was taking her there, her feet stopped. She didn't want to continue. Yet, she had to. She continued walking forward when the man said, "Allessandra, its me, Michi. Do you remember me?" She couldn't believe it. She continuously repeated "No, it can't be you!". And that, is where the first volume ends.

[END SPOILER WARNING]

Although probably intended for older "young adults", I quite liked it. The storyline was smooth, it displayed the characters and their personalities well, and made sense overall. It showed that Allessandra had a motive to use her powers, and that was to take reverence on her parent's killers. The artwork, while in black and white, and a bit "scratchy" was giving the book another sense to show that there was sadness and drearyness.

I really enjoyed this book, and I will definitely keep a lookout for volume two, which should be released sometime in Fall of this year. Although it is NOT a graphic novel, instead it is a novel with illustrations, I give this book a "comic book grade" of Very Fine / Near Mint, (VF/NM), a 9.0 out of 10.0 grade scale. You can purchase a copy of it here: Reverence: What Will You Seek?
.

~Vinnie!

---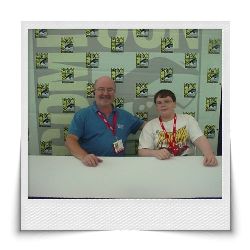 (Michael) Thanks, Vinnie!
I appreciate your reading this Young Adult (YA) book that was mailed in to me after I met the author, Jeanie L.S. Galster, who was at the 2011 Comic-Con International: San Diego!
I have gotten a little behind in reviewing items that were given to me at the most recent cons, and Vinnie always looks to see what is new that has come in the mail when he visits.
He expressed interest in reading this book, and the comic book that review blogged yesterday. I'm glad he enjoyed this book, although it is a little out of the normal 'niche' that this blog covers...!
Plus, here's the link to where you can order the book he just reviewed: Reverence: What Will You Seek?
~ Michael
---
Note: Vinnie makes it to as many conventions with me as he can. He collects the 'Amazing Spider-Man' comic book series, but is open to read other titles from publishers that print titles that are age appropriate for him. He also has been attending 'behind the scenes' events, such as the one he blogged about ht here: Vinnie's Special 'Look at The Captain Rochester Party for the Artists' at the recent 2010 Comic-Con International: San Diego! He really had fun meeting and having dinner with Sergio Aragones, Bob Burden, Scott Shaw! and others there at this exclusive after hours Comic-Con Party in San Diego!
Also...If YOU liked Vinnie's guest review blog today, you may also enjoy reading Vinnie's other reviews on: Dorothy of Oz promo comic book, Zombie Ranch #2, Yets! #2, The HTHGNP: Red Phones, The Strand Prophecy by JBB Winner, Stuff that Dreams Are Made of - The Mini-Comix, The Adventures of Faithboy #1, Mouse Guard: The Black Axe #2 of 6, Yogi Bear Film (DVD), Jim Henson's Fraggle Rock Vol 2 #1 of 3, Space Punks #2, Jim Henson's Fraggle Rock Vol 2 #2 of 3, Kleeman and Mike #1, Mortifera #3, Classics Illustrated #142 Abraham Lincoln - 8th Edition, 2011 FCBD Edition - Mouse Guard / Dark Crystal Flip Book, Fraggle Rock Volume 2 #3 of 3, Bear and Fox #2, Space Punks #1, The Daughters of Merlin #1, Sea Ghost #1, Mouse Guard: Legends of the Guard #4 (of 4), Clutch Cargo DVD, The All New Super Friends Hour Season 1 DVD, The Ultimate Underdog Collection Volume 1, Planet Hulk, Coraline, Ponyo, X-Men Origins: Wolverine, Sonic the Hedgehog TPB Vol 1, Cloudy With A Chance of Meatballs, The Possum #1 comic book, Vinnie's Take on Berona's War: Field Guide, just to name a recent few!
---
My thanks again to all of YOU reading this blog and the archived blog posts, now over 3,523 total posts in number! I do appreciate your continued reading and support of this Blog!
BTW, You can 'follow' this Blog by clicking the 'Follow' Button at this NetworkedBlogs app! We currently have over 2,567 'Followers'! Thanks to ALL of YOU that have already clicked that button! And for those of YOU that haven't yet... I would appreciate it if YOU would!!!
~ Michael D Hamersky
Note: My online 'Local' Comic Book Shop (LCBS), carries many different genres of comics, magazines, graphic novels, and comic con promotional items. Possibly even copies of the item that was reviewed here today...!
If I have it... You can find it 'Under The Big Top Of Comics' at: ComicBooksCircus.com.
If it isn't available in my online 'Local Comic Book Shop, (LCBS), then you may be able find it in my Amazon affiiate link, as seen here: Comics & Graphic Novels
at Amazon!
Web Page Note: This blog post is written for the IE Browser standards. Chrome, Safarai, Netscape, Firefox and the other browsers serve the page up differently, sorry about that!
The screen display resolution is best seen at the setting of 1024 x 768 on your laptop or desktop computer.
NOTE: All images and characters within this blog post are copyright and trademark their respective owners.

Comics Creators: If you are breaking into, or already work in the comic book industry or other pop culture productions, you are welcome to email or mail us press releases, news items, and updates that you feel would be of interest to our blog readers. Including YOUR own works!! (Note: I don't list my email address here, due to 'spambots' gathering it and 'spamming' me.
To mail printed items to us for possible review, send to:
Make It So Marketing Inc., PO Box 130653, Carlsbad, CA 92013, USA

Also, if you are a Facebook member, I would have liked you to have sent me a 'Friend Request'. However, I have reached the maximum limit of 5,000 Facebook Friends and Fan pages in my network already, so I've added a New 'Facebook Fan Page' for myself so that even more of YOU can 'Like' what I am doing, and be interactive with me and others there. Here is the link to that 'Facebook Fan Page': Michael D Hamersky On Comics! Please click the 'Like' button on that page!
---
Posted by makeitsomarketing at 12:01 AM PDT
Updated: Wednesday, October 12, 2011 5:45 AM PDT