Vinnie's Take On: Berona's War Vol 1: Field Guide - from Archaia!
Mood:
caffeinated
Topic: Comic Books - New



--------------

Above Photo: The Front Cover to the Berona's War Vol 1: Field Guide!

-

At the Top Left: Vinnie along with Anthony Coffey and Jesse Labbé at their table in the Archaia booth!

At the Bottom Left: The Logo for the Comic Con International: San Diego - a.k.a. San Diego Comic Con 2010.
TODAY'S FEATURE - Blog #3221:
Today's post is guest blogged by my youngest son, who attended all five days of the Comic-Con this year with us!
Vinnie also visited the Archaia Publishing booth, where he met the creators of Berona's War, as pictured at the above left. Vinnie has also previously blogged about the 'Preview Book' on Verona's War, as seen in this link.
Now for his blog post today, which is very timely, as today, August 25th, is when this graphic novel is available in comic book shops!
'My Take' On Berona's War Vol 1: Field Guide - by Vinnie:
These are my comments, and thoughts about the book I just read for review, Berona's War 1: Field Guide. This is the first of a series of graphic novels about these two species of creatures, the Ele-alta and Cropones, living on the island of Berona, who are fighting for land. This is just a field guide to the land of Berona, meaning it has no real storyline, but it helps you understand all these creatures and their jobs, as well as a map to see where they currently are, for when you're reading the next books to be found in this series.
According to Dictionary.com, a field guide is, "a portable illustrated book to help identify birds, plants, rocks, etc., as on a nature walk."
Quoted from the Berona's War page at Archaia.com, "The BERONA'S WAR: FIELD GUIDE provides a great introduction to the world of BERONA'S WAR, featuring maps, devious strategies, weapons, character and troop descriptions and the history of wartime events. This is the perfect primer for the upcoming BERONA'S WAR: FIGHT FOR AMITY!" Okay, so that has been the background information, and now let me tell you about the actual book, with the price / format / credits blurb first.
160 Pages - Price $19.95
ISBN: 9781932386899 - Format: hardcover with dust jacket
Jesse Labbé: Creator, Color, and Cropone Art.
Anthoney Coffey: Cover, Layout, and Ele-Alta Art.
In Comic Book Shops August 25th, and September 7th in bookstores
Dust Jacket: The front side of the Dust Jacket has a nice, glossy image, showing the two species that inhabit the land of Berona; the Ele-Alta and Cropones, in which the story takes place in. The Left Inside Flap gives background information as well as praise from people who have seen this. I believe they deserve this praise, for it is a very well put together book, complete with great illustrations with great descriptions to go along with it. The Right Inside Flap gives even more 'testimonial' like praise as well as a little 'About the Authors' informant. The back of the Dust Jacket gives, yet again, even more background information as well as more praise.
Front Cover: It has the same image and texture as the Dust Jacket, except for it doesn't have the names of the creators, Anthony Coffey and Jesse Labbé. The corners are also glossy, making it look altogether pretty neat with a nice finish. It also has a mediveal look, as well as a journal that may have gone through major wear and tear through this one hundred year war.
Inside Front Cover: It has a close-up, non-glossy view of the same image found on the cover. What I like about it is that when I first saw the front, I gave it the above review. When I saw this close-up, I noticed on the background it had a picture of the creatures holding flags. I had noticed that, but what I didn't notice was that they had their own symbols that you find more about later in the book. It was a fine little detail that I could only see then. To me it shows what good the close-up was that took the spot here.
Interior Pages: Because this is a Field Guide, it doesn't really have a 'story', persay. It does have fantastic art, in which I stated above they are praised for, and the details and script they use here to describe these great illustrations fits it well, and makes it feel complete. The whole idea behind this is very interesting, and I'm glad it came out more appropriate for children in a cartoony way, than as an actual war between humans, with a big bloody carnage.
Although the same topic, it just seems more child-friendly with cartoony characters, although some may say it's just a way to expand their age range. Each page is filled in with pictures of the types of mercenaries they have and on which team, as well as descriptions telling the tales of these creatures on their way to victory or defeat. The pages were actually made to look as though it was a journal, with pictures paperclipped to the journal pages as well as sticky notes attached onto the pages. It is even told as though someone was documenting exactly as it was seen. Although I have just said it was amazing, I have to add this one following part. I found four, what appear to be, spelling errors. It may just be because I may not have seen that word before, but they all seem familiar, but just not right. For example, they put 'Eli-Alta' instead of the way they normally spell it as, 'Ele-Alta'. It may have just been supposed to be like that, but I wouldn't have thought so. Also, I found just one of these, but it appeared as though a blotch appeared in one of the letters. I believe the word was supposed to be 'Not', but the 'T' just appeared as a dark block. It may have been a printer defect, or when the ink was drying a bubble formed making it look like that. I mean like, none of those were a big deal, nor are a lot of people going to notice that, but just thought I'd throw that in.
Inside Back Cover: It has the same close-up image as the Inside Front Cover, so not really much to say here.
Back Cover: The Back Cover has the Ele-Alta's and Cropone's symbols that showed they were part of their team in the war, and they are at the bottom left and right of the book. It also has the Archaia symbol and name, as well as a mysterious Cropone creature.
I really enjoyed reading this book, and I'm sure most others would as well, and I thank you for reading my review on Berona's War Vol 1: Field Guide.
My comic book grade for this publication is a VERY FINE / NEAR MINT (VF/NM) 9.0 on a 10.0 grading scale.
To see more on "Berona's War" series, check out this link!
If YOU are on Facebook check out their Archaia Fan Page!
---------------------------
Thanks Vinnie for guest blogging here today, and giving us your thoughts on this preview book from a tween's POV!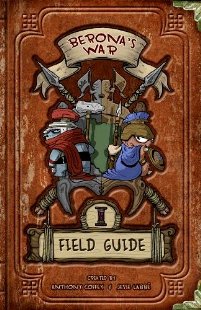 If this graphic novel is something YOU would like to read or give as a gift, here's a link to where you can purchase it online! Berona's War: Field Guide
!
Also...If YOU liked his review on this DVD, you may enjoy reading his reviews on: Clutch Cargo, The All New Super Friends Hour Season 1 DVD, The Ultimate Underdog Collection Volume 1, Planet Hulk, Coraline, Ponyo, X-Men Origins: Wolverine, Sonic the Hedgehog TPB Vol 1, Cloudy With A Chance of Meatballs, just to name a recent few!!
And my personal thanks to Anthony and Jesse who took the time during the Comic-Con to personally introduce Vinnie to their series!
PLUS: My thanks again to all of YOU reading this blog and our archived blog posts, now at 3,220 total posts in number! I do appreciate your continued reading and support of this Blog!
~ Michael D Hamersky @ ComicBookCollectorsBlog.com

Note: Our online comic book shop carries many different genres of comics, magazines, graphic novels, and comic con promotional items at the link seen below.
http://www.comicbookscircus.com/
---
"Hammering Out the Web For You Since May 12th, 1998!"

Note: If you are breaking into, or already work in the comic book industry or other pop culture productions, you are welcome to email us press releases, news items, and updates that you feel would be of interest to our blog readers. Including YOUR own works!

To mail printed items to us for possible review, send to:

Make It So Marketing Inc.
PO Box 130653
Carlsbad, CA 92013

ComicBooksCircus.com - It's Under The Big Top Of Comics! Click the Above Circus Tent to See Our Current Listings!

My thanks to those of YOU that have read today's blog post! I do appreciate that!

For those of you that didn't know me before today... I first set up as a 'dealer' at the 1972 San Diego West Coast Comic Con (SDCC) at the El Cortez Hotel. So I've been around comic conventions for a little while, LOL!

My wife Tina and I now have an on-line exhibitor (dealer) table at the first "virtual" comic con titled the "Facebook Comic Con" (FBCC)!

You can view our dealer table and interact with us there on Facebook by clicking this link, which takes you to our table named: 'Facebook Comic Con | Make It So Marketing'.

So if YOU are a Facebook member, please 'join' our Facebook Comic Con - Make It So Marketing exhibitor table for updates, specials, links to this blog, and other wall comments that we post every day!


Also, if you are a Facebook member and would like to also join my Facebook Network, feel free to send a 'friend request' to 'Michael D Hamersky'. I am reaching the maximum of 5,000 Facebook Friends soon, and I don't want YOU to be left out!

-------------------

Talking about comics: if YOU are a comics creator, (writer, penciler, inker, colorist, letterer, etc.), OR even a Comics / Magazine Publisher, feel free to contact me regarding YOUR works for a possible mention / review!

I've made a special blog post about: "How To Best Submit YOUR Publication For Possible Review!" for those creators / publishers that would like to possibly have their publications mentioned or reviewed. Just click on the link provided in this paragraph!

~Michael @ ComicBookCollectorsBlog.com

WEB PAGE NOTE: This blog post is written for the IE Browser standards. Chrome, Safarai, Netscape, Firefox and the others serve the page up differently, sorry about that!

The screen display resolution is best seen at the setting of 1024 x 768 on your laptop or desktop computer.

NOTE: All images and characters within this blog post are copyright and trademark their respective owners.
Posted by makeitsomarketing at 12:01 AM PDT
Updated: Sunday, August 29, 2010 8:45 AM PDT