Vinnie's Take On: Mortifera #3
Mood:
caffeinated
Topic: Comic Books - New
Michael D Hamersky On Comics Presents

Vinnie's Take On:

Mortifera #3




-

Above Photo: The Front Cover to Mortifera #3, where Catherine is fighting against undead knights.

Top Left Photo: Stephan Frost at the 2010 Long Beach Comic Con (LBCC)!
TODAY'S FEATURE - Blog #3366: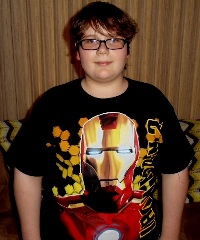 (Vinnie) This weekend, I was with my dad, and I decided I wanted to write a blog. As I was looking through the box of publications to review, the comic book "Mortifera" caught my eye. The artwork, let alone the name, seemed as though they were medieval styled. This caught my eye because I had just finished this past week, building a medieval castle with 3 classmates for a project at school. The following is my review on the comic Mortifera.

So what's this comic about, once you get past the front cover? Here's the promotional information from the publisher, which I didn't see until after reading the comic book:

"Mortifera is the story of the demon hunter Catherine Gregor, her brother Ethan and the demon Durin. The three are in pursuit of the demon Kanisus, who is slowly bringing more of his kind back to earth.

The story follows the Mortifera, an order of knights who use occult methods to combat demons. Conversing with the dead and using demonic relics are common practice for the Mortifera.

A rival group known as the Exturminata also hunt demons, but stay within the ecclesiastical guidelines of dispatching the fallen ones.

Catherine, Ethan and Durin must wage war with the damned as well as combat earthly rivals to survive. The story begins in Ireland with the death of Elias Gregor, Catherine's father and leader of the Mortifera. Kanisus has murdered his old rival Elias. In doing so he also came into the possesion of vast quantity of demon's blood, which is necessary for Demonic resurrection.

In desperation Catherine summons Durin, a demon from the Dark Ages to aide in their quest to kill off Kanisus and his followers.

Thus begins their quest for revenge and salvation of Europe from another demonic invasion."

In this comic, I really enjoyed the setting, the artwork, and the storyline. I enjoyed reading and learning about the middle ages in school recently, and this was one of the very few comics with the theme of medieval times that I have seen. The artwork was in the middle on a style between cartoon-like and realistic. It was vibrantly colored, but still maintained enough doom and gloom to hold the title of the dark ages. The storyline was interesting, and not hard to follow. It was an interesting story, and each of the main characters had started to be developed fully by the end.

What I didn't like about this comic was the ending. Right after a massive onslaught and a big confrontation between the main characters and an evil villain, it ends with "to be continued". I get that they want readers to have that suspense to buy the next comic. However, did it really have to end right after that?

Overall, I did enjoy this comic, but I just wish they ended the story with an explanation as to why it just ended at that point. I give this comic book, Mortifera, a comic book grade of Very Fine Plus (VF+), an 8.5 out of a 10.0 grading scale.

~Vinnie!
-------------------
(From Michael:) The web site for this property is Mortifera.net, where you can purchase this comic book for $4.00 plus shipping.
Here is the Facebook Fan Page for Mortifera Comics.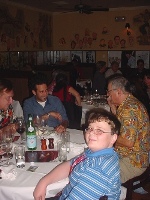 Note: Vinnie makes it to as many conventions with me as he can. He collects the 'Amazing Spider-Man' comic book series, but is open to read other titles from publishers that print titles that are age appropriate for him.
He also has been attending 'behind the scenes' events, such as the one he blogged about ht here: Vinnie's Special 'Look at The Captain Rochester Party for the Artists' at the recent 2010 Comic-Con International: San Diego! He really had fun meeting and having dinner with Sergio Aragones, Bob Burden, Scott Shaw! and others there at this exclusive after hours Comic-Con Party in San Diego!
Also...If YOU liked Vinnie's guest review blog today, you may also enjoy reading Vinnie's other reviews on: ConDor XVIII - Sci-Fi & Fantasy Convention, Kleeman and Mike #1, Jim Henson's Fraggle Rock Vol 2 #2 of 3, Fraggle Rock Vol 2 #1, Space Punks #2, Mouse Guard - The Black Axe #1 of 6, Bear and Fox #2, Space Punks #1, The Daughters of Merlin #1, Sea Ghost #1, Mouse Guard: Legends of the Guard #4 (of 4), Clutch Cargo DVD, The All New Super Friends Hour Season 1 DVD, The Ultimate Underdog Collection Volume 1, Planet Hulk, Coraline, Ponyo, X-Men Origins: Wolverine, Sonic the Hedgehog TPB Vol 1, Cloudy With A Chance of Meatballs, The Possum #1 comic book, Vinnie's Take on Berona's War: Field Guide, just to name a recent few!
Thanks Vinnie, for guest blogging here today!
~Michael D Hamersky
---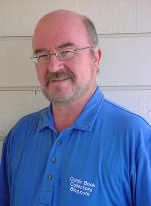 My thanks again to all of YOU reading this blog and the archived blog posts, now over 3,365 total posts in number! I do appreciate your continued reading and support of this Blog!
BTW, You can 'follow' this Blog by clicking the 'Follow' Button at this NetworkedBlogs app! We currently have over 2,295 'Followers'! Thanks to ALL of YOU that have already clicked that button! And for those of YOU that haven't yet... I would appreciate it if YOU would!!!
~ Michael D Hamersky
Note: My online 'Local' Comic Book Shop (LCBS), carries many different genres of comics, magazines, graphic novels, and comic con promotional items. Possibly even copies of the item that was reviewed here today...!
If I have it... You can find it 'Under The Big Top Of Comics' at: ComicBooksCircus.com.
If it isn't available in my online 'Local Comic Book Shop, (LCBS), then you may be able find it in my Amazon affiliate link, as seen here: Comics & Graphic Novels
at Amazon!
Web Page Note: This blog post is written for the IE Browser standards. Chrome, Safari, Netscape, Firefox and the other browsers serve the page up differently, sorry about that!
The screen display resolution is best seen at the setting of 1024 x 768 on your laptop or desktop computer.
NOTE: All images and characters within this blog post are copyright and trademark their respective owners.

Comics Creators: If you are breaking into, or already work in the comic book industry or other pop culture productions, you are welcome to email or mail us press releases, news items, and updates that you feel would be of interest to our blog readers. Including YOUR own works!! (Note: I don't list my email address here, due to 'spambots' gathering it and 'spamming' me.
To mail printed items to us for possible review, send to:
Make It So Marketing Inc., PO Box 130653, Carlsbad, CA 92013, USA

Also, if you are a Facebook member, I would have liked you to have sent me a 'Friend Request'. However, I have reached the maximum limit of 5,000 Facebook Friends and Fan pages in my network already, so I've added a New 'Facebook Fan Page' for myself so that even more of YOU can 'Like' what I am doing, and be interactive with me and others there. Here is the link to that 'Facebook Fan Page': Michael D Hamersky On Comics! Please click the 'Like' button on that page!
---
Posted by makeitsomarketing at 12:01 AM PDT
Updated: Sunday, March 13, 2011 6:36 AM PST