The 2011 Anime Conji - Part 4 - A Report on the 3rd Day!
Mood:
caffeinated
Topic: Other Cons
Vinnie's Report On:

The 2011 Anime Conji

A San Diego Anime Convention

Which Ran March 25th - 27th, 2011

Part 4 - A Report On The 3rd Day! by Vinnie & A Wrap Up by Michael!

Top Right Photo: Hector Reyes, Chair of the Con, introducing the designer of the clothes worn by the models in the back row!

Middle Right Photo: Karaoke, courtesy of Mochi Maids Cafe, which we checked out on Saturday, and came back on Sunday for the show!

Bottomr Right Photo: Dr. Sketchy's Anti-Art School of San Diego event was an activity near the end of the afternoon!




-
TODAY'S FEATURE - Blog #3377:
Please Note: Part 1 of this blog series on Anime Conji started prior to the con. Followed up by Part 2, which was on the 1st Day of the con, which Michael attended alone. Part 3 was on the 2nd Day of the con, blogged by Vinnie. Today's post is Part 4 which is a blog by Vinnie & then a 'wrap-up' by Michael.
Please Note: This was my youngest son, Vinnie, 1st time ever at a true 'anime con'. He's been to many comic cons, and a recent sci-fi / fantasy con, but not an anime con!
----------------------
My dad and I took in a small portion of the panel 'Getting Members for your Anime Club'. I found it interesting, as they discussed many ways to keep it fun and interactive for club members. I also found it prove useful for other kinds of clubs as well. I took some notes just in case they prove use for me.
We also viewed the 'Cosplaying to the Camera' panel. The host appeared to be well educated on the subject, and the information seemed to be beneficial to any cosplayer. It described several ways to take shots for posing, and included some terms to know for taking pictures.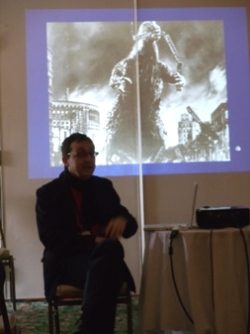 We viewed the panel 'The Destruction of Tokyo'. It discussed why the Japanese love to destroy their capital city. The host was quite humorous and greatly described answers to questions related to why they destroy Tokyo. He had a well presented PowerPoint presentation that showed snapshots of some movies that all destroyed Tokyo. It shed some light to the pieces of history that are not usually covered in modern schools.
We attended a Fashion Show from 12:15 pm to 12:45 pm. It was fun as there were many interesting outfits designed by two different people. The first set was styled in the steampunk fashion, and the second was futuristic. It varied quite differently, which made it even more fun! As we were 'Press', we were allowed to get front row seating which allowed us to get great pictures. (Note: At the top right is just one of those pics. More at my dad's Facebook Fan Page Anime Conji Photo Album in the days to follow!)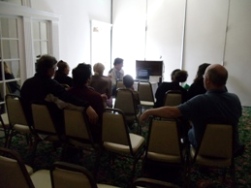 The 'Origins of Manga' panel was hosted by Edgar Vera. He showed us a PowerPoint about the history of manga and anime. He was very educated on the subject and I felt I learned quite a bit about manga and anime. As we finished early, he also discussed about his convention he runs about manga. Everyone was interested in attending which was cool, as it shows that they want to learn more and more about manga.
For our last panel of the last day, we stopped to view a performance called Team Lift which was a variety of MMA (Mixed Martial Arts), Parkour, and Freerunning. As I am interested in such subjects, and partake in a little bit of the basics of parkour and freerunning, I found it interesting for any beginners, as this was about the basics. It proved beneficial, in both showing the terms and how to execute the moves. Overall, I really enjoyed this panel, and was in fact, one of my favorites.
I know that I stated in Sunday's blog that my dad would be doing this blog, but it ended up being a co-blog. My revised grade for this Anime Conji is a Near Mint (NM), a 9.4 out of a 10.0 grade scale, after attending both the 2nd & 3rd days of the con.
~Vinnie!
--------------
Thanks Vinnie for reporting on Days 2 & 3 of the 2011 Anime Conji!
I blogged on Day 1 of this anime con, and this is my 'wrap up' section....
First, I thought that for a con that is in its 2nd year, AND moving to a larger and different location, that it was a pretty 'smooth' running con.
What went 'smooth' was the registration process, for the most part, and the logistics of being in a place that is a little 'spread out' for panels / programs / activities. Events / Panels / Activities were spread out over the hotel property so as to not have tremendous crowds concentrated in just one area.
What was a little 'bumpy', was the 46 additional minutes that it took for the Saturday Night Masquerade to start, which was for only 15 entries. However I did talk to another staffer from another con which held a similar event in the same room, and he pointed out that the room was not that conducive for having such an event. So cons that are setting up there with a main event should become aware of aware of this situation and correct for it...
I found the Anime Conji staff and volunteers to be friendly and helpful, and made my own 1st 'official' attendance at a 'true' anime con a fun one. As you can see from Parts 2 & 3, my youngest son also had a 'fun time'!
Yes, a few 'bugs' need to be ironed out, such as someone giving a panel moderator the fact that there only 10 minutes left before their panel ended... And there were a few 'no-shows / cancellations' of panels on Sunday, but for the most part the panels / programs went smoothly for a 2nd time con.
I would suggest for those of YOU in the Southern California area and interested in anime / manga to 'book' next year's Anime Conji ahead of time, and save on the 'At the Door' prices. There were 'full weekend' and 'daily' badges available.
There were some parents with younger kids at this con, but for the most part the 2011 Anime Conji 'skewed' quite a bit younger in age of attendees. A lot of 13 -17 year olds, with a smattering of older folks. Yet it was still a good 'family friendly' environment in presentations until the late evening programs, when there some '18+' activities.
Regarding 'grading' this Anime Conji... You'll notice that my youngest son raised his 'grade' for this con after attending the second day... From a Near Mint Minus (9.2) to a Near Mint (9.4) out of a 10.0 grading scale.
As for myself, I would give this con's 2nd year a VERY FINE PLUS (VF+) 8.5 out of a 10.0 comic book grading scale.
Here's the Facebook Event Page so YOU can check out the latest updates from the 2011 activities that attendees will be posting to!
Here's the Facebook Fan Page so YOU can become a 'Fan' and be interactive with others, plus get a heads up for the 2012 Anime Conji!
Here's the web site for Anime Conji for even more info!
My own Facebook Fan Page will be posting additional pics in the days to come, so that you that those of you that aren't able to attend, can see what happened!
Again, My Thanks to the 'Chair of the Con', Hector Reyes, for bringing this 2nd Annual Anime Conji to my attention, and to his making sure that my son and myself were made aware of the activities that were happening each day!
~Michael D Hamersky
---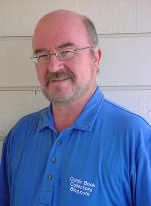 My thanks again to all of YOU reading this blog and the archived blog posts, now over 3,375 total posts in number! I do appreciate your continued reading and support of this Blog!
BTW, You can 'follow' this Blog by clicking the 'Follow' Button at this NetworkedBlogs app! We currently have over 2,340 'Followers'! Thanks to ALL of YOU that have already clicked that button! And for those of YOU that haven't yet... I would appreciate it if YOU would!!!
~ Michael D Hamersky
Note: My online 'Local' Comic Book Shop (LCBS), carries many different genres of comics, magazines, graphic novels, and comic con promotional items. Possibly even copies of the item that was reviewed here today...!
If I have it... You can find it 'Under The Big Top Of Comics' at: ComicBooksCircus.com
Web Page Note: This blog post is written for the IE Browser standards. Chrome, Safari, Netscape, Firefox and the other browsers serve the page up differently, sorry about that!
The screen display resolution is best seen at the setting of 1024 x 768 on your laptop or desktop computer.
NOTE: All images and characters within this blog post are copyright and trademark their respective owners.

Comics Creators: If you are breaking into, or already work in the comic book industry or other pop culture productions, you are welcome to email or mail us press releases, news items, and updates that you feel would be of interest to our blog readers. Including YOUR own works!! (Note: I don't list my email address here, due to 'spambots' gathering it and 'spamming' me.
To mail printed items to us for possible review, send to:
Make It So Marketing Inc., PO Box 130653, Carlsbad, CA 92013, USA

Also, if you are a Facebook member, I would have liked you to have sent me a 'Friend Request'.
However, I have reached the maximum limit of 5,000 Facebook Friends and Fan pages in my network already, so I've added a New 'Facebook Fan Page' for myself so that even more of YOU can 'Like' what I am doing, and be interactive with me and others there.
---
Posted by makeitsomarketing at 7:16 AM PDT
Updated: Monday, March 28, 2011 9:53 AM PDT