Vinnie's Take On: The Strand Prophecy by J.B.B. Winner
Mood:
a-ok
Topic: Comic Books - New
Michael D Hamersky On Comics Presents...

Vinnie's Take On:

The Strand Prophecy

A Combination of Comic Book Format & Sci-Fi Novel for the Young Adult Readership

-

-

Above Top Left photo: The Front Cover to 'The Strand Prophecy' by J.B.B. Winner. Immediately above top photo: The Winner Twins at their booth during the Wizard World 2011 Anaheim Comic Con! Below that: The Video Trailer for the Book!
TODAY'S FEATURE - Blog #3464:

(Vinnie) During the 2011 Wizard World Anaheim Comic Con, my dad met a trio of writers that go by the name of 'J.B.B. Winner'.

J.B.B. stands for the dad and twin sisters names, Jeff, Brittany, and Brianna Winner. My dad told them that he had a younger son that was interested by sci-fi, and they gave him a signed copy for me, which is why I am here today to review blog it after reading it.

The name of the amazing Sci-fi book I am reviewing is "The Strand Prophecy," which has a sci-fi, scientific, futuristic, technological, and a 'Save the Environment' theme. It has an interesting way of being presented, as it firsts starts as a comic, and then transforms into a full-blown written book, with an art gallery at the end to tie it all together.


The comic makes as a great start to the story with quite well done art, however it lacks color. It makes a great start up point as it builds up the story easier for someone to get attracted to it due to it being in pictures and words, and it leaves you wanting to continue reading the novel prose section!

The story is about a normal guy, Steve Cutter, and his niece Anna. However, while he is 'Steve' to Anna, he becomes the 'hero' by the name of 'Strand,' to everyone else. He used to be a Darwinist historian and anthropologist, but he becomes a technological genius when his brother Jack dies, leaving him as the protector of Anna. He develops many futuristic technologies which he uses when he becomes 'Strand' that are much more advanced compared to the whole world's technologies.

He puts his forces to good use when he finds that the world is experiencing major DNA changes which he calls an 'excellerated evolution cycle' where everything is advancing faster than what previous scientists have thought. He takes his research to the president of the United States, where he tries to convince him that his claims are true. They later find mysterious creatures that prove the theory of the excelerated evolution process, but many countrie's forces still won't comply to the claims. More interesting events follow, and soon they find that this evolution is a threat to humankind as creatures change appearance, and their own abilities.

Honestly, this book is just amazing. It has a strong plot, strong character roles, and a great theme for a sci-fi book. This is definitely one of the best sci-fi novels I have read, possibly even one of the best books I have read of all categories.
I enjoyed that it included multiple 'platforms' to read it on, allowing for a wider audience and a great transition. I also liked the art gallery at the back which presented what appeared to be 'concept art' for the characters, machinery, and evolved creatures. It also gives a picture to put to each person, creature, or technology, which helps to better identify it.

All in all, I would definitely recommend this book series to any hardcore sci-fi fan, or even someone just starting out, such a YA (young adult reader). If they liked science or technology, then this should definitely be mentioned as a book to read over the Summer.


I give 'The Strand Prophecy' a Near Mint (NM), a 9.4 out of a 10.0 grade scale. I honestly can't wait to get the next books!

By the way... If you are going to the upcoming 2011 Comic Con International: San Diego (SDCC), you can visit them in their own panel on Sunday from 10:30 to 11:30 AM in Room 8. You will definitely not want to miss it!

The book can be found at your regular place of shopping for books, or at the web site: StrandTheBook.com.


There is a Facebook presence for the Winner Twins, but it appears to be a 'place holder' as my Dad calls it, as it is being promoted for new fans. So I won't be linking to that at this time.


~Vinnie!
----------------------------------------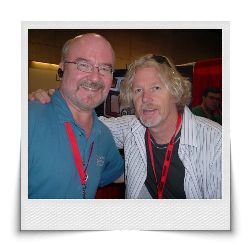 (Michael) Thanks, Vinnie!
I appreciate your reading this book that was personally autographed by the Winner Twins to you, and that you review blogged it before the start of the 2011 Comic-Con International: San Diego!
Why?
Well... The Winner Twins will next be at this Comic-Con and have a pannel on Sunday the 24th, as seen below:!
Sunday, July 2
10:30-11:30 The Winner Twins, America's Youngest Multiple Award-Winning Authors Share Their Writing Secrets— Teen authors Brittany and Brianna Winner, writers of the national bestselling "Strand" book Series, have written four science fiction novels, a screenplay and a comic book. They will share their writing process, how to overcome writers' block, and team writing skills. In addition, the twins will talk about how they had to overcome dyslexia on their journey to becoming America's youngest multiple award-winning authors. The panel will include Brittany Winner, Brianna Winner, other panelists to be announced. All in attendance will receive a free Winner Twins Writing Secrets booklet. Room 8
Since I have not yet read this book with a comic book chapter in it... I'm not going to be able to give it a 'comic book grade' at this time...
Again, my thanks to the Winner Twins for bringing their book to my attention!
I hope you have a standing room only crowd at your panel!
~ Michael
-------------------------------------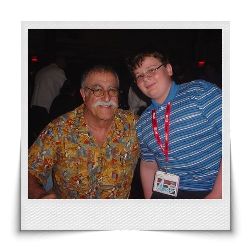 Note: Vinnie makes it to as many comic cons with me as he can. He collects the 'Amazing Spider-Man' comic book series, but is open to read other titles from publishers that print titles that are age appropriate for him. He also has been attending 'behind the scenes' events, such as the one he blogged about ht here: Vinnie's Special 'Look at The Captain Rochester Party for the Artists' at the recent 2010 Comic-Con International: San Diego! He really had fun meeting and having dinner with Sergio Aragones, Bob Burden, Scott Shaw! and others there at this exclusive after hours Comic-Con Party in San Diego!
Also...If YOU liked Vinnie's guest review blog today, you may also enjoy reading Vinnie's other reviews on: Stuff that Dreams Are Made of - The Mini-Comix, The Adventures of Faithboy #1, Mouse Guard: The Black Axe #2 of 6, Yogi Bear Film (DVD), Jim Henson's Fraggle Rock Vol 2 #1 of 3, Space Punks #2, Jim Henson's Fraggle Rock Vol 2 #2 of 3, Kleeman and Mike #1, Mortifera #3, Classics Illustrated #142 Abraham Lincoln - 8th Edition, 2011 FCBD Edition - Mouse Guard / Dark Crystal Flip Book, Fraggle Rock Volume 2 #3 of 3, Bear and Fox #2, Space Punks #1, The Daughters of Merlin #1, Sea Ghost #1, Mouse Guard: Legends of the Guard #4 (of 4), Clutch Cargo DVD, The All New Super Friends Hour Season 1 DVD, The Ultimate Underdog Collection Volume 1, Planet Hulk, Coraline, Ponyo, X-Men Origins: Wolverine, Sonic the Hedgehog TPB Vol 1, Cloudy With A Chance of Meatballs, The Possum #1 comic book, Vinnie's Take on Berona's War: Field Guide, just to name a recent few!
Thanks Vinnie, for once again guest blogging here today!
~Michael D Hamersky
---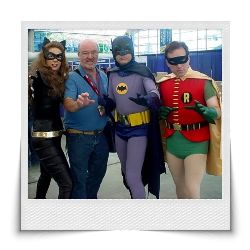 My thanks again to all of YOU reading this blog and the archived blog posts, now over 3,463 total posts in number! I do appreciate your continued reading and support of this Blog!
BTW, You can 'follow' this Blog by clicking the 'Follow' Button at this NetworkedBlogs app! We currently have over 2,489 'Followers'! Thanks to ALL of YOU that have already clicked that button! And for those of YOU that haven't yet... I would appreciate it if YOU would!!!
~ Michael D Hamersky
Note: My online 'Local' Comic Book Shop (LCBS), carries many different genres of comics, magazines, graphic novels, and comic con promotional items. Possibly even copies of the item that was reviewed here today...!
If I have it... You can find it 'Under The Big Top Of Comics' at: ComicBooksCircus.com.
If it isn't available in my online 'Local Comic Book Shop, (LCBS), then you may be able find it in my Amazon affiiate link, as seen here: Comics & Graphic Novels
at Amazon!
Web Page Note: This blog post is written for the IE Browser standards. Chrome, Safarai, Netscape, Firefox and the other browsers serve the page up differently, sorry about that!
The screen display resolution is best seen at the setting of 1024 x 768 on your laptop or desktop computer.
NOTE: All images and characters within this blog post are copyright and trademark their respective owners.

Comics Creators: If you are breaking into, or already work in the comic book industry or other pop culture productions, you are welcome to email or mail us press releases, news items, and updates that you feel would be of interest to our blog readers. Including YOUR own works!! (Note: I don't list my email address here, due to 'spambots' gathering it and 'spamming' me.
To mail printed items to us for possible review, send to:
Make It So Marketing Inc., PO Box 130653, Carlsbad, CA 92013, USA

Also, if you are a Facebook member, I would have liked you to have sent me a 'Friend Request'. However, I have reached the maximum limit of 5,000 Facebook Friends and Fan pages in my network already, so I've added a New 'Facebook Fan Page' for myself so that even more of YOU can 'Like' what I am doing, and be interactive with me and others there. Here is the link to that 'Facebook Fan Page': Michael D Hamersky On Comics! Please click the 'Like' button on that page!
---
Posted by makeitsomarketing at 12:01 AM PDT
Updated: Tuesday, July 19, 2011 5:27 AM PDT