My Take On: Paper & Ink - Issue One By Steve Shipley
Mood:
a-ok
Topic: Comic Book History
-

Top Left Photo: A recent photo of Steve Shipley, Chairman of the UFO (United Fanzine Organization)!

-

Above Top Photo: The front cover to the premiere issue of 'Paper & Ink' by Steve Shipley!
TODAY'S FEATURE - Blog #3532:
I recently received an envelope in the mail from Facebook Friend Steve Shipley.
When I opened the envelope, I found that there was a twelve page fanzine enclosed in it. The title was 'Paper & Ink', Issue One for $1.00. With a blurb on the cover stating 'News & Reviews Of Small Press Comics'.
I didn't remember sending for this fanzine, but it had the UFO (United Fanzine Organization) logo at the bottom right of the front cover, which I am well aware of.
Since my interest in recent years has been mainly on 'small press comics', I immediately turned the cover page and started reading!
The inside front cover had a feature titled 'Notes From The Chief Bottle Washer...'. It was a 'welcome' piece from Steve stating why I, among others, was receiving this premiere issue.
You see, Steve, (like myself), is mainly interested in what is more and more being called 'hard copies' in this new digital age! He goes on to say that although he has "...nothing against 'digital comics' or as they are sometimes called, 'web-comics'. They have their place and they have the entire internet to blossom and grow. The purpose of this publication is to give center stage to those who still sell hard copy comics".
Steve goes on to explain further the purpose of his new fanzine, which reminds me of what I have been doing for a while via this blog you are reading, and at my own Facebook group and fan pages.
So with his stated purpose in mind... I continued to read on, going to page page three.
That page was a feature on 'The Comics of Larry Blake', a one page feature by Steve Shipley. There I found out more about Larry, who has been drawing and publishing comics since the 1960s! However, the odds are you haven't seen his stuff since they are not on the web! Which is why Steve used one page of this twelve page fanzine to feature Larry. Steve goes to give Larry's mailing address and suggest you send $5 for a sample of his comics and prepare to be entertained.
Page four started a six page feature titled 'Small Press Comics Listings And Reviews', where Steve reviews small press publications, and then gives a rating between 0 and 5.
Some of the items that Steve reviews are also ones that I have review blogged on. Others are publications that I know of the person(s) that are behind the creation of the publication, but haven't read the issue yet. I found that Steve reviewed the publications fairly, and also gave the reader the mailing address to purchase the item from, if not found on a web site for sale. Yes, even though this fanzine doesn't cover webcomics, selling the actual hard copy via an online web site presence is perfectly fine.
On the bottom half of pages six & seven, was a 'Spotlight On Matt Levin', a similar feature to what I have been doing here for several years.
Page ten was titled: "Important Stuff!", where Steve invited comics creators to send in their printed comics only for review. He does not review webcomics or PDF comics. There was also a 'house ad' at the bottom of the page for Steve's own comic book, 'The Peacemakers', which is a sci-fi series, now on its twelth issue!
Page eleven was 'The UFO Checklist', which is included to show you the reader, what else is available in small press publications by those publishers that are members of the UFO.
What is the UFO? Here's what I found on one of their web sites:
The UFO is one of the longest-running co-ops (publishing clubs) on the small press scene, existing in one form or another since the 1960s! Like most small press co-ops, our mission is simple: members trade their comics or 'zines via the mail, and help to promote one another's books by including the UFO Checklist in each book they print, all in the interest of creating greater "buzz" for the hobby of small press comics. In addition, the club publishes a bi-monthly newsletter called Tetragrammaton Fragments, where the entire membership contributes reviews, editorials, and artwork. Once a year, the UFO releases its famed All-Comics Annual, a massive collection of new and classic material by everyone in the group.
The back cover was a color page, with another house ad by Steve; this one on his newest comic: 'Boondoggle!'. Plus at the bottom was an UFO ad. Steve is the current Chairman of this group. Although I've found a few other websites for the UFO group... Steve shows the 'Official UFO' web site to be at this link.
Plus, the group has a Facebook Group Page at: United Fanzine Organization.
There is also a 'community page' at Facebook, that takes the Wikipedia entry for the group and puts it online via Facebook. Interesting reading on how the UFO came to be!
My comic book grade for this premiere issue of Steve's "Paper & Ink" is a NEAR MINT (NM) 9.4 out of a possible 10.0 comic book grading scale. Steve presents the info in this publication in a 'hard copy' format, charges a very reasonable amount for it, $1.00 postpaid, and it contains reviews on the topic of small press publications. It definitely 'hits' the mark it sets out for itself on the 'welcome' inside cover page.
Here is where YOU can purchase a copy from Steve:
Suscriptions are $2.00 for 4 issues!
Steve Shipley
1825 Eastgate Rd.
Toledo, OH 43614
My thanks to Steve for sending me the premiere issue!
~Michael D Hamersky On Comics!
Oh... And don't forget to make yourself eligible to win one of several prizes being given away at my 3rd Annual Black Friday / Cyber Monday Event! See this link to do so. It just takes two clicks... Click the 'Attending' link for this VIRTUAL ONLY event, and then click 'LIKE' on my Facebook Fan Page. That's all there is to become eligible. No Purchase Necessary!
---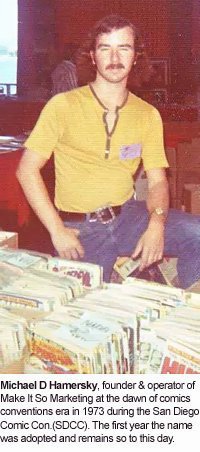 NOTE FROM THE BLOGGER:
My thanks again to all of YOU reading this blog and our archived blog posts, now at 3,531 total posts in number! I do appreciate your continued reading and support of this Blog!
BTW, You can 'follow' this blog by clicking the 'Follow' Button at this NetworkedBlogs app link! We currently have over 2,587 'Followers'! Thanks to ALL of YOU that have already clicked that button!
And for those of YOU that haven't yet... I would appreciate it if YOU would!!!
~ Michael D Hamersky
Note: My online 'Local' Comic Book Shop (LCBS), carries many different genres of comics, magazines, graphic novels, and comic con promotional items. Possibly even copies of the item(s) that was mentioned here today...!
If I have it... You can find it 'Under The Big Top Of Comics' at:
http://www.ComicBooksCircus.com/
Web Page Note: This blog post is written for the IE Browser standards. Chrome, Safari, Netscape, Firefox and the other browsers serve the page up differently, sorry about that!
The screen display resolution is best seen at the setting of 1024 x 768 on your laptop or desktop computer.
NOTE: All images and characters within this blog post are copyright and trademark their respective owners.
Comics Creators: If you are breaking into, or already work in the comic book industry or other pop culture productions, you are welcome to email or mail us press releases, news items, and updates that you feel would be of interest to our blog readers. Including YOUR own works!
To mail printed items to us for possible review, send to:
Make It So Marketing Inc., PO Box 130653, Carlsbad, CA 92013

Also, if you are a Facebook member, I would have liked you to send me a 'Friend Request'. However, I have reached the maximum limit of 5,000 Facebook Friends and Fan pages already, so I've added a New 'Facebook Fan Page' so that even more of YOU can 'Like' what I am doing, and be interactive with me and others there. Here is the link to that 'Facebook Fan Page': Michael D Hamersky On Comics! Please click the 'Like' button on that page!
---
Posted by makeitsomarketing at 7:40 AM PDT
Updated: Wednesday, October 26, 2011 7:16 AM PDT