Spotlight On... Tammy Locke!
Mood:
caffeinated
Topic: Comic Book History
Top Photo left column: The Front Cover to 'The Monroes #1' Dell Comics Comic Book from 1967. Tammy is shown as the little girl in the middle of the front row!

-

Photo at top of this column: Tammy Locke as seen at the 2011 ComiKaze Expo at the Los Angeles Convention Center!
TODAY'S FEATURE - Blog #3547:
Today's Spotlight On... series entry is a Spotlight On... Tammy Locke, who I met at the recent ComiKaze Expo at the Los Angeles Convention Center.
Tammy was with a couple of other actors at their table, of whom I may also do a blog on in the near future.
However, today is the Spotlight On... Tammy!
First, I'm posting this blog because Tammy Locke was an actress on The Monroes TV Show, which also had a one-shot comic book published by Dell Comics in 1967, which is shown at the top left of this blog post.
This is the cast as shown on the cover of The Monroes issue #1 as shown on the photo cover: Kathy Monroe (as played by Barbara Hershey); Clayt Monroe (as played by Michael Anderson, Jr.); Fennimore Monroe (as played by Kevin Schultz); Amy Monroe (as played by Tammy Locke); Jefferson Monroe (as played by Kevin Schultz). There were two 16 page stories in this comic book, with pencils & inks thought to be illustrated by Jack Sparling.
Tammy has seen gone on to movies, other TV shows & commerials, as well as a former singing headliner. Tammy has also been a former Roller Derby Queen(!), as well as a former radio show host.
Here is the link to her IMDb page for additional background info, on the above.
Here is the link to her own web site, where she goes into her own experiences, and I'm just going to post an excerpt here on her time on The Monroes TV Show: "Just after that I was truly blessed by being chosen for the role of "Amy Monroe" in a great series called "The Monroes" There were 26 episodes filmed and it was truly the greatest time of my young life in the movie business! Wow! What a list of great stars! The lead starring roles were Barbara Hershey, Michael Anderson Jr, Keith and Kevin Schultz, Ron Soble, Liam Sullivan and Ben Johnson and of course myself. Other great actors that appeared on my show was Robert Middleton, James Westmoreland, James Brolin, Noah Beery Jr., Buck Taylor, Tim O'Kelly, Rance Howard, Ron Howard, Clint Howard, Dub Taylor, Robert Lansing, Kay Lenz, Richard Kiel, Michael Dunn and many many other great great actors! ".
So you can see that there is a lot about Tammy that you can read about at both sites.
Plus on her own site she has photos of her career in many of the above roles for sale.
Including one that I didn't remember her being on, which I wanted to share here, as I was one of the authors (essayists) in the Gotham City 14 Miles book from Sequart Research and Literacy Organization.
And for those of you that didn't get an opportunity to meet Tammy at the recent ComiKaze Expo during November 5th & 6th, Tammy will be at the upcoming 'The Hollywood Show Vegas', that will be at theHarrah's Hotel & Casino on 3475 Las Vegas Blvd. South, Las Vegas, NV 89109 during the period of November 18-19, 2011.
You can also 'follow' Tammy at her Twitter account to see hear where she will be appearing after that!
Thanks to Tammy Locke for taking the time to say hello, and pose for photos at the recent ComiKaze Expo!

~Michael D Hamersky On Comics!
---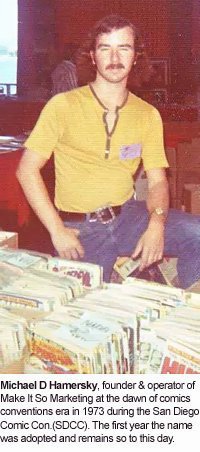 NOTE FROM THE BLOGGER:
My thanks again to all of YOU reading this blog and our archived blog posts, now at 3,547 total posts in number! I do appreciate your continued reading and support of this Blog!
BTW, You can 'follow' this blog by clicking the 'Follow' Button at this NetworkedBlogs app link! We currently have over 2,612 'Followers'! Thanks to ALL of YOU that have already clicked that button!
And for those of YOU that haven't yet... I would appreciate it if YOU would!!!
~ Michael D Hamersky
Note: My online 'Local' Comic Book Shop (LCBS), carries many different genres of comics, magazines, graphic novels, and comic con promotional items. Possibly even copies of the item(s) that was mentioned here today...!
If I have it... You can find it 'Under The Big Top Of Comics' at:
http://www.ComicBooksCircus.com/
Web Page Note: This blog post is written for the IE Browser standards. Chrome, Safari, Netscape, Firefox and the other browsers serve the page up differently, sorry about that!
The screen display resolution is best seen at the setting of 1024 x 768 on your laptop or desktop computer. Note: Your computer's resoulution may be set differently, but the above resolution is the most commonly used resolution at the time of this blog post.
NOTE: All images and characters within this blog post are copyright and trademark their respective owners.

Comics Creators: If you are breaking into, or already work in the comic book industry or other pop culture productions, you are welcome to email or mail us press releases, news items, and updates that you feel would be of interest to our blog readers. Including YOUR own works!
To mail printed items to us for possible review, send to:
Make It So Marketing Inc., PO Box 130653, Carlsbad, CA 92013

Also, if you are a Facebook member, I would have liked you to send me a 'Friend Request'. However, I have reached the maximum limit of 5,000 Facebook Friends and Fan pages already, so I've added a New 'Facebook Fan Page' so that even more of YOU can 'Like' what I am doing, and be interactive with me and others there. Here is the link to that 'Facebook Fan Page': Michael D Hamersky On Comics! Please click the 'Like' button on that page!
---
Posted by makeitsomarketing at 12:01 AM PST
Updated: Monday, November 14, 2011 6:36 AM PST