The Tenth Anniversary...
Mood:
celebratory
Topic: Comic Book History
The 10th Anniversary

Of the Wedding of Tina Lo Sasso & Michael D Hamersky that was held November 10th of 2001 at Morgan Run Resort in Rancho Santa Fe, California... AND... Special Weddings In Marvel Comic Books Over The Years!

-

Above Top Photos: Henry Pym & Janet Van Dyne 1969 Avengers #60

-

Namor McKenzie & Lady Dorma (actually Llrya) 1971 Sub-Mariner #37

-

Jonathan Storm & Alicia Masters (actually Lyja) 1987 - Fantastic Four #300

-

Right Column Photos:

Michael D Hamersky & Tina Lo Sasso 2001

-

Reed Richards & Susan Storm 1965 Fantastic Four Annual #3

-

Peter Parker & Mary Jane Watson 1987 Amazing Spider-Man Annual #21

-

-

-
TODAY'S FEATURE - Blog #3544:
I woke up this morning and decided to share our 10th Anniversary with our blog readers and Facebook friends!
It's been ten years since Tina Lo Sasso and I were married at the Morgan Run Resort in Rancho Santa Fe, California.
Looking over the wedding photo album to see what photo I wanted to use for this blog, I was both remembering the great day and the fact that a few of our wedding guests have sadly passed on since then...
So I was kind of distracted as to my original intent for this blog.
Add to that, that when I went in to get comic book covers of weddings over the years in Marvel Comics... I once again noticed that weddings are few and far between in that Marvel Comics Universe.
The ones that I really remembered, and I go back to the 1965 wedding of Reed Richards & Susan Storm in the Fantastic Four Annual #3, are being pictured here. Of course, the first and the best cover / interior pages issue in my mind was that issue by Stan & Jack, which is why it is directly underneath the photo of Tina & myself. Yeah, weddings weren't considered so 'hot' as to portray on the front cover... but the wedding crashers were something else, LOL!
I'm also adding the one where Namor the Sub-Mariner was married to Lady Dorma (actually Llyra in disguise!), as he is Tina's favorite Marvel Comics character!
Other weddings over the years (in the Marvel Comics Universe only) included:
1960s
■ Reed Richards and Susan Storm (1965, October)
■ Henry Pym and Janet van Dyne (1969, January)
1970s
■ Namor McKenzie and Dorma (actually Llyra) (1971, April)
■ Pietro Maximoff and Crystalia Amaquelin (1974, September)
■ Jacques Duquesne and Mantis (1975, June)
■ Vision and Wanda Maximoff (1975, June)
■ Edward Leeds and Elizabeth Brant (1976, May)
1980s
■ Scott Summers and Madelyne Pryor (1983, November)
■ J. Jonah Jameson Jr. and Marla Madison (1984, December)
■ Robert Bruce Banner and Elizabeth Ross (1986, May)
■ Namor McKenzie and Marrina Smallwood (1986, November)
■ Jonathan Lowell Spencer Storm and Lyja (1987, March)
■ Peter Benjamin Parker and Mary Jane Watson (1987, October)
1990s
■ Sean Cassidy and Maeve Rourke (1994, February) (Only in flashback)
■ Scott Summers and Jean Grey (1994, March)
■ Richard Milhouse Jones and Marlo Chandler (1994, June)
■ Carl Creel and Mary MacPherran (1996, April)
■ James Howlett and Ophelia Sarkissian (1998, July)
■ Brian Braddock and Meggan Puceanu (1998, October)
2000s
■ Robert Reynolds and Lindy Lee (2000, October)
■ Luke Cage and Jessica Jones (2006, June)
■ John Jameson and Jennifer Walters (2006, August)
■ T'Challa and Ororo Munroe (2006, September)
■ Gabriel Summers and Cal´syee Neramani (2007, June)
■ Crystalia Amaquelin and Ronan (2009, May)
■ J. Jonah Jameson Sr. and May Reily (2009, September)

I stopped reading most of the Marvel Comics titles after the company started doing their reboots in issue numberings. So most of the 2000s weddings don't hold any nostalgic memories for me, as I haven't read them...
However, the 1960s and 1970s weddings sure do to this day!
The wedding of Reed & Sue was the first major wedding that turned out to be 'real', not an 'Imaginary Story', like over at the DC Comics Universe... Which is why I was a 'True Believer', a 'Marvelmaniac' during my early comics collecting days!
Viewing the wedding comic book covers of the ones in the 2000s, which are not shown here, I see that more of the wedding ceremony scenes are shown on the covers, so that in itself makes these individual issues more memorable for others that would have read them.
Looking back at our own ten years together, I find myself pleased to have found Tina and enjoy our decade of married life with one another.
Yes, she is a 'trooper' to attend so many comic cons & pop culture cons with me, but she did see my 10' x 10' mini-warehouse storage unit full of them before she married me, LOL!
Tina Marie... Thank YOU for your love, your understanding, your friendship, and your patience with me these past ten years. I love YOU... Happy 10th Anniversary!
...And I am looking forward to our Anniversary Dinner at our Special Restaurant later this evening!
~Michael D Hamersky On Comics!
---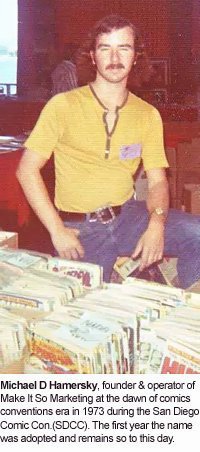 NOTE FROM THE BLOGGER:
My thanks again to all of YOU reading this blog and our archived blog posts, now at 3,544 total posts in number! I do appreciate your continued reading and support of this Blog!
BTW, You can 'follow' this blog by clicking the 'Follow' Button at this NetworkedBlogs app link! We currently have over 2,609 'Followers'! Thanks to ALL of YOU that have already clicked that button!
And for those of YOU that haven't yet... I would appreciate it if YOU would!!!
~ Michael D Hamersky
Note: My online 'Local' Comic Book Shop (LCBS), carries many different genres of comics, magazines, graphic novels, and comic con promotional items. Possibly even copies of the item(s) that was mentioned here today...!
If I have it... You can find it 'Under The Big Top Of Comics' at:
http://www.ComicBooksCircus.com/
Web Page Note: This blog post is written for the IE Browser standards. Chrome, Safari, Netscape, Firefox and the other browsers serve the page up differently, sorry about that!
The screen display resolution is best seen at the setting of 1024 x 768 on your laptop or desktop computer. Every effort has been made for this blog post to show properly on your computer, but the different standards that the browsers serve this blog up in have minor tweaks that could need to be adjusted to...
NOTE: All images and characters within this blog post are copyright and trademark their respective owners.

Comics Creators: If you are breaking into, or already work in the comic book industry or other pop culture productions, you are welcome to email or mail us press releases, news items, and updates that you feel would be of interest to our blog readers. Including YOUR own works!
To mail printed items to us for possible review, send to:
Make It So Marketing Inc., PO Box 130653, Carlsbad, CA 92013

Also, if you are a Facebook member, I would have liked you to send me a 'Friend Request'. However, I have reached the maximum limit of 5,000 Facebook Friends and Fan pages already, so I've added a New 'Facebook Fan Page' so that even more of YOU can 'Like' what I am doing, and be interactive with me and others there. Here is the link to that 'Facebook Fan Page': Michael D Hamersky On Comics! Please click the 'Like' button on that page!
---
Posted by makeitsomarketing at 5:36 AM PST
Updated: Thursday, November 10, 2011 7:20 AM PST