My Take On: Flesh And Blood - Graphic Novel Book One - From Monsterverse!
Mood:
caffeinated
Topic: Comic Books - New
-

Top Photo left column: The Front Cover to 'Flesh And Blood' Book One!

-

Photo at top of this column: After the 'Monsterverse Comics Rips Open Flesh And Blood!' panel at the 2011 Long Beach Comic & Horror Con, (L-R) Robert Tinnell, Michael D Hamersky, & Sam F Park!
TODAY'S FEATURE - Blog #3538:
This past weekend Tina and I attended the 3rd Annual Long Beach Comic & Horror Con in Long Beach, California.
Before we finished walking through the Artists Alley of the exhibit floor there, we both attended two panels, one of which was the 'Monsterverse Comics Rips Open Flesh And Blood!'.
There I met again, Kerry Gammill and Sam F Park of Monsterverse. I had already review blogged their earlier publication, "Bela Lugosi's Tales From The Grave #1' and indeed proclaimed it 'The Best Anthology Comic Book of 2010 earlier this year!'.
So yes, I was very interested in seeing their newest title, 'Flesh And Blood', at this panel, as I hadn't yet been at their table in Artist Alley.
Kerry Gammill and Robert Tinnell were already there at the room when Tina and I arrived. When Sam walked in with more attendees that were sitting in the audience, the panel started.
What I saw on the screen for both 'Flesh And Blood', and 'Bela Lugosai's Tales From The Grave', reinforced the thought I had earlier that this Monsterverse company is one to watch! (And no, it is NOT a client of mine or Tina's.)
After the panel I met Robert Tinnell for the first time, who is the author of the main feature in this graphic novel, and the scripter of the second feature, which I'll mention in this review. (Neil Vokes, the artist of the first feature, wasn't attending this comic con.)
So what's this graphic novel about? Here's what the publisher has as a promo:
"From acclaimed writer and artist team Robert Tinnell and Neil Vokes (THE BLACK FOREST, THE WICKED WEST) comes a sensuous horror epic in the spirit of European horror cinema of the 1960s and '70s. The death of Carmilla, the seductive vampire, sets in motion events that lead to a monumental struggle between the forces of darkness and a brave band of mortals. Its members include a reluctant young Abraham Van Helsing and a mysterious monster hunter struggling to keep his own inner monster at bay. When Baron Frankenstein is recruited to add his scientific genius to the group's arsenal, Dracula and his undead kingdom face the possibility of total annihilation. Cover art by Dan Brereton."
So... What's 'My Take' on this graphic novel?
First up was the front cover. As stated above, it was illustrated / presented by Dan Brereton. The artwork on the cover was enticing enough to make me place this graphic novel on the top of my 'To Read / Possibly Review' stack, which grew even taller after walking the exhibit floor of the 2011 Long Beach Comic & Horror Con!
The Inside Front Cover - was the list of credits for this series, showing that once again, many hands were involved in bringing this project to fruition.
The Introduction - by Tim Lucas was next. It built up the backstory behind this series. Plus it presented that... "What Flesh And Blood is, in some respects, is the wish fulfillment of Hammer's fan base". (Referring to the Hammer Films company.)
The graphic novel story, chapter 1, started next. I was impressed by the colors right away on the first page. (Colors are by Matt Webb.) Then the following page's lettering, (by Mike Anderson and Rick Lebo), came into play. Nice addition to the mix!
Turning the page I found that this series is NOT intended for younger audiences, (NOT mentioned on the front or back covers!).
The writer, Robert Tinnell, immediately brings the reader into the story with Laura's encounter with Carmilla!
The introduction to the rest of the cast of characters flowed nicely by the writer, and the sequential illutrations by Neil combined to make this a fine intro to the series of graphic novels.
By Chapter 4, I am totally into this series! It is however the end of this main feature in Book One!
There is a three page text piece with illustrations next, titled 'Flesh... And Blood... And Fantasy' by Bruce G Hallenbeck, with more background history of Frankenstein, Carmilla Karnstein, and Count Dracula, with a tie-in to Hammer Films.
Then the reader is treated to a second feature titled 'Operation Satan' with cript by Robert Tinnell and art by Bob Hall, (Yes, THAT Bob Hall!), with tones by Kerry Gammill and letters by Rick Lebo. It is a five page feature, and yes... to be continued as well.
What follows that was a feature called 'Art of Flesh And Blood' with illustrations by others known in the comics field.
Then there was the Neil Vokes Flesh And Blood Sketch Gallery, a four page feature showing character sketches for characters used in the main feature.
The interior pages ended with 'The Creators' credits on Robert Tinnell, Neil Vokes, Bob Hall, and Matt Webb.
The inside back cover is dedicated to Ingrid Pitt, and the back cover had a one word review by Guillermo del Toro that wraps up Book One!
Whew! That's quite a presentation to what is basically is Book One of Four in this graphic novel series!
I enjoyed the back stories presented in the Intro, the section by Hallenbeck, and The Creators credits page. The art galleries were a nice touch also.
I'm not for sure why the story 'Operation Satan' is in this graphic novel series, but the artwork by Bob Hall with tones by Kerry Gammill is beautiful! Perhaps the Editor or the Publisher will explain why this second feature is in this graphic novel series in a future book of the series?
My comic book grade for this first book in a four book series is a NEAR MINT MINUS (NM-) 9.2 out of a possible 10.0 comic book grading scale.
You can find this graphic novel online for purchase at this link: Flesh and Blood (Book 1)
.
Here is the publishing info in case you wish to use another resource to purchase this at:
Paperback: 104 pages
Publisher: Monsterverse; 1ST edition (2011)
Language: English
ISBN-10: 0983640505
ISBN-13: 978-0983640509
Product Dimensions: 10.2 x 6.6 x 0.2 inches
Shipping Weight: 8.2 ounces
My thanks to Sam F Park, Robert Tinnell, and Kerry Gammill for bringing this graphic novel series to my attention!
BTW, if YOU are in the Los Angeles Metro Area THIS upcoming weekend... Monsterverse will have a booth at the upcoming ComiKaze Expo, which I have blogged about at this link!
Again... You can find this graphic novel online for purchase at this link: Flesh and Blood (Book 1)
.
~Michael D Hamersky On Comics!
---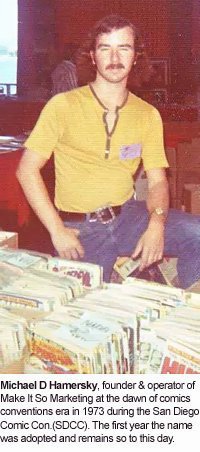 NOTE FROM THE BLOGGER:
My thanks again to all of YOU reading this blog and our archived blog posts, now at 3,538 total posts in number! I do appreciate your continued reading and support of this Blog!
BTW, You can 'follow' this blog by clicking the 'Follow' Button at this NetworkedBlogs app link! We currently have over 2,598 'Followers'! Thanks to ALL of YOU that have already clicked that button!
And for those of YOU that haven't yet... I would appreciate it if YOU would!!!
~ Michael D Hamersky
Note: My online 'Local' Comic Book Shop (LCBS), carries many different genres of comics, magazines, graphic novels, and comic con promotional items. Possibly even copies of the item(s) that was mentioned here today...!
If I have it... You can find it 'Under The Big Top Of Comics' at:
http://www.ComicBooksCircus.com/
Web Page Note: This blog post is written for the IE Browser standards. Chrome, Safari, Netscape, Firefox and the other browsers serve the page up differently, sorry about that!
The screen display resolution is best seen at the setting of 1024 x 768 on your laptop or desktop computer. Note: As of Monday, June 27th, 2011, I'll be using my new laptop, where the default resolution is 'higher', so there may be some temporary glitches until I am used to the new resolution.
NOTE: All images and characters within this blog post are copyright and trademark their respective owners.

Comics Creators: If you are breaking into, or already work in the comic book industry or other pop culture productions, you are welcome to email or mail us press releases, news items, and updates that you feel would be of interest to our blog readers. Including YOUR own works!
To mail printed items to us for possible review, send to:
Make It So Marketing Inc., PO Box 130653, Carlsbad, CA 92013

Also, if you are a Facebook member, I would have liked you to send me a 'Friend Request'. However, I have reached the maximum limit of 5,000 Facebook Friends and Fan pages already, so I've added a New 'Facebook Fan Page' so that even more of YOU can 'Like' what I am doing, and be interactive with me and others there. Here is the link to that 'Facebook Fan Page': Michael D Hamersky On Comics! Please click the 'Like' button on that page!
---
Posted by makeitsomarketing at 12:01 AM PDT
Updated: Tuesday, November 1, 2011 1:15 PM PDT