LOST: Season 6 Premiere!
Mood:
caffeinated
Topic: TV Shows
LOST: Season 6 Premiere...

Above: LOST: The Final Season - The Final Goodbye at the SDCC!

To the Right: One of the Posters for the FINAL Season!

Below: Just one of many panel shots taken at the 2009 SDCC!
TODAY'S 'MAIN FEATURE':
Today's Guest Blog is by Tina LoSasso...
Here is what she sent to me about her thoughts on the Season 6 Premiere: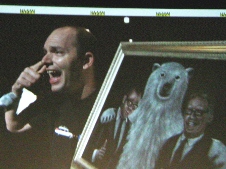 Not much was clear in Tuesday night's premiere except that the creative team doesn't give a polar bear's chance in hell (or against Sawyer) that any new viewers join the show for its final season.
Let's be candid with ourselves, LOSTIES – did you actually enjoy the show? Or were you simply confused, baffled and more than slightly annoyed for two hours? Granted, I'm not to going to give up now. I've got several years and brain power devoted to this series, but I can't say Tuesday night's beginning of the end was "fun."
What was wonderful: how the Alternative Reality scenes mirrored the sweetness, mystery and character-driven story that made us fall in love with LOST in Season One.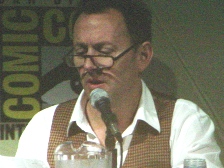 What was annoying: The Temple, another whole mess of Others, the Smoke Monster transformed into a quick-acting killing machine (silly), and seeing Ben as weak – Ben's just not weak – or is he in his own Alternative Reality!
It was cool to see:
The Man in Black morph into old Smokey. I called that one a few seconds before it happened and got a high-five from Michael.
Sawyer scoping out the lottery winner, eyeing Kate on the plane and enabling her escape from LAX.
Boone meeting Locke in the alternate reality… and being free of Shannon.
Jack handing Locke his business card; nothing is irreversible; in this Alternative Universe you just know Dr. Jack Shepard gonna work his magic on Locke's broken back.
Bernard coming back from the airplane restroom…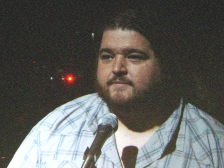 Hurley as the luckiest person in the world!
Next week's episode is called "What Kate Does." We know what Kate does. She annoys the heck out of most us by vacillating between Jack and Sawyer.
If the premiere is any indication (tending to Sawyer's head injury-yuck!), we're in for another frustrating hour! Stay tuned.

My thanks to Tina for the above guest blog!
PLUS My thanks again to all of YOU reading this blog and our earler archived blog posts. We usually blog on a daily basis during the 'work week'. Those blogs consist of posts on comic book creators, comic book revidws, comic cons, book signings, and other pop culture new and events, such as the one blogged about here today!
Join us again soon, as we publish another 'Main Feature'. And don't forget to check out the 'Featurette' shown below this article!
~ Michael D Hamersky @ ComicBookCollectorsBlog.com

Note: Comic books / graphic novels like the ones mentioned above can be found at our own web site: http://www.ComicBooksCircus.com
"Hammering Out the Web For You Since May 12th, 1998!"

Note: If you are breaking into or already work in the comic book industry or other pop culture productions, you are welcome to email us press releases, news items, and updates that you feel would be of interest to our blog readers. Including YOUR own works!

To mail printed items to us for possible review, send to:

Make It So Marketing
PO Box 130653
Carlsbad, CA 92013

We also have an on-line exhibitor table at the virtual Facebook Comic Con. You can view the table by clicking this link.

If you are a Facebook member, please join our Facebook Comic Con | Make It So Marketing exhibitor table for updates, specials, and other wall posts!




If you are a Facebook member and would like to join my Facebook Network, feel free to send a 'friend request' to 'Michael D Hamersky'.

TODAY'S FEATURETTE:

MCBA SpringCon Comic Book Celebration sent me an invite to join their Facebook Event Page and attend the May Con!

So, since we can't attend this comic con as it is out of our area to attend... I thought I'd at least mention it and their later in the year comic con show here in my Blog today!

Here is the info found at their Facebook Event Page for the first show:

Start Time: Saturday, May 15, 2010 at 10:00am

End Time: Sunday, May 16, 2010 at 10:00am

Location: Minnesota State Fairgrounds - Grandstand

Street: 1265 Snelling Avenue North
City/Town: Saint Paul, MN


Here are just a few things that are going on there:

"The Midwest Comic Book Association respectfully requests the pleasure of your attendance & company at the 2010 MCBA SpringCon Comic Book Celebration on May 15 & 16, 2010 at the Minnesota State Fairgrounds in the Grandstand (1265 Snelling Ave, Saint Paul, Minnesota 55108) and will be open to the general public both days from 10AM to 4PM.

Sponsored by the all volunteer, not-for-profit, Midwest Comic Book Association, SpringCon Continues the tradition of being one of the most unique and fastest growing old school comic book events in America. All 80,000 square feet of FallCon is exclusively dedicated to building our comic book Community and moving toward a new standard for comic book mayhem & pandemonium! FallCon celebrates the ever evolving, expanding and diverse world of comic books and all things comic book related, all of the time!

Something for Everyone & Everyone Welcome!

Goings on this year will include the usual bits of zaniness and lots of new comic book action. Our foremost agenda is to provide a venue where local, regional & national comic book creators and fans can interact, build and celebrate our unique and growing community. In addition there will be dealers from all over the USA and much more.

The MCBA has always been dedicated to promoting the wonderful world of comic books, comic book creators and developing a sense of pride, growth and community in the world that we all love.

We sincerely hope that you will be able to attend and join us in our ongoing adventures at the 2010 MCBA SpringCon!"

Please Note: I have NOT been to this con before... However, I like to mention cons out of our area for our Blog readers to attend. Below is a copy of the poster for this event and a preview of their later one in October:

---------------------------

Talking about comics and comic shows: if YOU are a comics creator, (writer, penciler, inker, colorist, letterer, etc.), OR even a Comics / Magazine Publisher, feel free to contact me regarding YOUR works for a possible mention / review in this Blog!

I've made a special blog post about: "How To Best Submit YOUR Publication For Possible Review!" for those creators / publishers that would like to possibly have their publications mentioned or reviewed, which could either be published in the 'Main Feature' or 'Featurette' sections.


~Michael @ ComicBookCollectorsBlog.com

WEB PAGE NOTE:

This blog post is written for the IE Browser standards. Netscape, Firefox and the others serve the page up differently. The screen display resolution is best seen at the setting of 1024 x 768.

All images and characters within this blog post are copyright and trademark their respective owners.
Posted by makeitsomarketing at 12:01 AM PST
Updated: Thursday, February 4, 2010 6:28 AM PST