GAG! What's That?!!!
Mood:
caffeinated
Topic: Comic Books - New
Michael D Hamersky On Comics - Reviews:

GAG!

#1 (Both of them!)

-

Above Photo: It was great running into Barry Dutter at the 2011 Wizard World Anaheim Comic Con! My older boys were fans of his work on Ren & Stimpy several years, when he wrote those for Marvel Comics. I hadn't met Barry before in person, and when I expressed interest in the GAG! magazines that he had published back in 2004 & 2007, we got to talking about them, and this blog is a review blog on those mags!
TODAY'S FEATURE - Blog #3413:
Walking through Hall 'A' of the 2011 Wizard World Anaheim Comic Con, I found it easier to navigate than the previous year, when it was first set up at this Anaheim Convention Center in Anaheim, California.
The sections for Artists Alley & Celebrity Row were more 'defined' in boundaries, and I found it easier going to cover 'all' of it during our weekend there.
Of course I found comics to read and possibly review blog, as well as meeting celebrities from TV and Film, which I've been posting about over at my own Facebook Fan Pag, 'Michael D Hamersky On Comics', as well as in this blog.
One person I wasn't aware I'd be seeing was Barry Dutter, pictured at the top right of this blog, holding two copies of his 'GAG!' magazine, both numbered #1?!! Yes... That's because he published them a few years apart, in September of 2004 and Summer of 2007.
I also wasn't aware that Barry had been the Edtior at 'Cracked', nor that he had written a few articles for 'Mad'. So this venture into publishing his own magazine of this genre was a perfect progression to follow in his career.
Before I go any further, here's a link to a list of works that Barry Dutter has to his credits over at the Grand Data Base, (GCD), which number over 490 at this time. Barry was an editor at Marvel Comics in the early 90's, however I do remember his works best in Ren & Stimpy back in 1994 & 1995 when my older boys would buy those at comic cons.
What caught my eyes on the magazine was of course Halle Berry as a Catwoman painted illustration on the cover of the first #1 from 2004. I've put my wife through some long minutes of having to hear the Catwoman film as I am channel surfing and come across it by accident, and then re-watching it for a while longer, LOL!
I found that both of the magazine issues are aimed for a slightly older readership, as the 'girls' in the first issue and even more so in the second #1 issue are for an older male readership than say, a 'Mad' magazine, unless they've changed since the last SDCC when I picked up an issue there at the DC booth.
However, both the writing and the art in the issues are superb! I can't believe I've never seen these at any comic cons or back issue boxes of the LCBS I have been at before. Indeed, I had never heard of this magazine until seeing them on Barry's table in Artists Alley!
Contributors to the 2004 #1 included Barry Dutter, Chuck Senties, Dave Berns, Rich Hedden, Dave Hoover, Ray Morelli, Chris Sanders, Mike Kazaleh, Ed Piskor, Gary Fields, Steve Kurth, and Scooter Tidwell among others.
Plus there were special features, such as 'A Tale of Two Kittens' - Halle Berry vs. Julie Newmar, 'Spider-Man, Too', and 'Schwarzenegger's BIG Changes For California', among others. Even though a little 'dated' now on some topics, this issue was and is still funny!
Contributors to the 2007 #1 included Barry Dutter, Stephen Fishwick, Jimmy J Agoff, Rich Hedden, Scott Gosar, Dave Berns, John Bailey, Dan Handleman, Randy Martinez, Brady Blane, Mike Kazaleh, and Monty Fine among others.
Plus there were special features, such as 'Jolie Good Show' (Angelina Jolie), 'The 100 Worst Things from the Past Century', 'Star Flaws - Episode III -Revenge of the Nerd', and a comparison piece on 'The Batman Movies'.
Both of these magazines showed me that this publication had what it took to take on the 'big boys' of this genre of magazine. Unfortunately, I just became of aware of it, so was not able to blog about it until this time.
So, I'm going to make this short and sweet today. If you have enjoyed Cracked, Sick, Crazy, or Mad magazine in the past, you gotta give these two #1 issues a try!
Where? I'm checking on that with the publisher now...., as I understood that he had brought them to his table in Artists Alley just for that convention.
My rating for both of these mags is a NEAR MINT (NM) 9.4 out of a possible 10.0 comic book grading scale.
While I'm waiting to hear back for sure on availability, I've noticed that Barry has started a new Facebook 'Fan Page' titled 'Buy My Comics'. So there is a possibility that he may list them there if asked....
Addendum: I just heard from Barry, (8:54 AM Friday), and he will be listing these magazines first at his eBay page, as seen under his eBay Seller ID, 'funky25202'.
My thanks again to Barry for taking the time at the Wizard World Anaheim Comic Con to bring these magazines issues of his to my attention. And it was Great to meet you in person, Barry!
---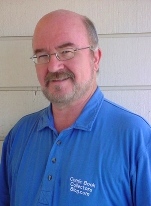 My thanks again to all of YOU reading this blog and our archived blog posts, now at 3,413 total posts in number! I do appreciate your continued reading and support of this Blog!
BTW, You can 'follow' this Blog by clicking the 'Follow' Button at this NetworkedBlogs app! We currently have over 2,422 'Followers'! Thanks to ALL of YOU that have already clicked that button!
And for those of YOU that haven't yet... I would appreciate it if YOU would!!!
~ Michael D Hamersky
Note: My online 'Local' Comic Book Shop (LCBS), carries many different genres of comics, magazines, graphic novels, and comic con promotional items. Possibly even copies of the item that was reviewed here today...!
If I have it... You can find it 'Under The Big Top Of Comics' at:
http://www.ComicBooksCircus.com/
Web Page Note: This blog post is written for the IE Browser standards. Chrome, Safari, Netscape, Firefox and the other browsers serve the page up differently, sorry about that!
The screen display resolution is best seen at the setting of 1024 x 768 on your laptop or desktop computer.
NOTE: All images and characters within this blog post are copyright and trademark their respective owners.

Comics Creators: If you are breaking into, or already work in the comic book industry or other pop culture productions, you are welcome to email or mail us press releases, news items, and updates that you feel would be of interest to our blog readers. Including YOUR own works!
To mail printed items to us for possible review, send to:
Make It So Marketing Inc., PO Box 130653, Carlsbad, CA 92013

Also, if you are a Facebook member, I would have liked you to send me a 'Friend Request'. However, I have reached the maximum limit of 5,000 Facebook Friends and Fan pages already, so I've added a New 'Facebook Fan Page' so that even more of YOU can 'Like' what I am doing, and be interactive with me and others there. Here is the link to that 'Facebook Fan Page': Michael D Hamersky On Comics! Please click the 'Like' button on that page!
---
Posted by makeitsomarketing at 12:01 AM PDT
Updated: Friday, May 13, 2011 9:06 AM PDT