Tina's Take On: The 2011 THOR Film - From A Woman's POV
Mood:
caffeinated
Topic: Comic Book Movies
Tina's Review On:

The 2011 Marvel Film 'Thor'!

Which Opened On Friday, May 6th, 2011 At A Local Theater Near YOU In the USA!

Today's blog is 'guest blogged' by Tina LoSasso, 'Agent of S.H.I.E.L.D.'!

As is customary with both Tina and I viewing comic book movies on the Big Screen... We usually have our own separate blogs about our 'takes' on the film!

I already have posted mine on Friday evening, after we caught a mid-afternoon matinee, which you can see here in blog #3407.

Of course, my POV is from an 'old school' comic book fan, who read the stories of the Mighty Thor starting in 1962 when he was the main feature in 'Journey Into Mystery'. I no longer regularly read the titles that Marvel publishes, after the company decided to reboot the title with a new #1 issue, in an attempt to 'capture' speculators / 'collectors' into buying multiple copies of new #1 issues. Thor was one of the titles I immediately dropped at that time, although others like Fantastic Four I kept up with until relatively recently...

Plus, although her brother and her cousin had a few comics during their childhood, Tina didn't get "re-introduced" to the 'comic book world' until 2001, when she and I were engaged to be married, and I took her to her first 'comic con', that of the Comic-Con International: San Diego, which, (IMO), 'spoiled' her. She compares all comic cons, and comic shows that we attend now, to that one in San Diego, and there is no comparison!


Of course, she realizes that Comic-Con International is too darn big to navigate, even in the four days + preview night' that we attend each year! For the first time ever at the 2010 SDCC even I gave up trying to see every aisle, and the adjcacent locations at the Hilton, and the Marriott!

Before I present Tina's "guest blog" below... If you don't know what the THOR film is all about... For more general info on the film, (SPOILER ALERT!), You can check the Wikipedia entry for Thor via this link. There is probably TOO much info there prior to seeing the film itself, thus the SPOILER ALERT!

Also... Just for fun, you can also check out the Journey Into Mystery comic book covers starting with Thor at this link from the Grand Comics Database starting at issue #83

,

and there is no spoiler alert for this, just some good clean fun of seeing how 'Thor' has evolved over the years since 1962, almost 50 years ago... 50 Year Ago? Sheesh!

-

ONE OF THE THOR FILM POSTERS! This film poster seems to best represent Tina's POV of the 'Mighty Thor' film in this blog, so it is being shown here. Of course there are others, including the one I shared with you in blog #3407, the international film release poster!

-

-

CAPTAIN AMERICA & THOR FREE COMIC BOOK DAY (FCBD) COMIC - PUBLISHER: MARVEL COMICS - To capitalize on this brand new Thor Film, and the upcoming Captain America Film... Here is the FCBD comic book just in time for both during the FCBD event: (W) Roger Langridge (A) Chris Samnee - From the fan-favorite creative team of Thor: The Mighty Avenger comes a time-twisting tale of Camelot-craziness. When mischievous Loki's machinations throw Thor and a World War II-era Steve Rogers into King Arthur's court, it's an adventure neither noble Avenger will ever forget! - Addendum by Michael: I did pick up a few extra copies of this at yesterday's FCBD, and will be listing them soon at my online LCBS, ComicBooksCircus.com for those of you that missed out on it!

-

-

Sub-Mariner #59 - Guest-Starring The Mighty Thor - PUBLISHER: Marvel Comics - 1973 - Just to emphasize that Tina truly is a 'mainstream film viewer' of Thor. She has not read any of the 'Journey Into Mystery' comics starring Thor (Issues #83 - 125), and none of the comic book series Thor titles. Now if I, (Michael) had kept my run of Sub-Mariner, she would have seen Thor in issue #59, as Subby is her favorite Marvel Comics character!

-

-

PHOTO TAKE AFTER SEEING THE THOR FILM - REGULAR VERSION (NOT 3D) - You can see by the photo above that somebody really liked it... What with Michael giving it a 'two thumbs up' gesture, further discussed in blog #3407, but what's with Tina's 'one thumb up' gesture? Continue reading below to find out!
TODAY'S FEATURE - Blog #3408:
As noted in the previous blog from Friday night, blog #3407, Tina and I viewed the 'Thor' film on the Big Screen at a local theater during an afternoon matinee run. I posted my own blog of the film, from a long time comic book fan's POV after viewing the film and having dinner.
Yesterday, (Saturday), while my youngest son and I drove to ten different LCBS for FCBD, (as reviewed by us in tomorrow's blog), Tina wrote out her own blog for the Weekend Edition of this Blog. This review is by a woman who was re-introduced to the comic book world in 2001, but does not read 'mainstream comics'. But she has attended almost every comic book movie that has come out since 2001 with me.
Plus, for some darn reason... Her review blogs on comic book movies seem to get more 'hits / views' than mine do! Which she loves to point out to me after I mention this blog's stats to her... LOL! So without further ado, (or introduction).... Here's Tina's 'Take' on the film:
First it's time for the SPOILER ALERT!
DON'T READ BELOW THIS ROW, UNTIL YOU SEE THE RED FONT FOR 'END OF SPOILER ALTERT' UNLESS YOU WANT TO BE INFORMED OF THE FILM BEFORE GOING - 'NUFF SAID!
Tina's Movie Review: Thor
A Thunderously Good Time!
Thor is the stuff of Shakespeare: aging King, deceitful scheming siblings aching to take over, grand battles, banishment, and redemption. Is it any wonder Kenneth Branagh (Hamlet, Henry V, As You Like It) wanted to direct?
To my mind, Branagh is exactly what makes the movie work - besides the charming and well cut - I mean, well cast Chris Hemsworth as our God of Thunder, Thor.
Yes, fan boys - that stuffy Shakespearian guy makes your comic book Thor work on the big screen. Probably because Branagh not only understands how to tell a mythological story, but he grew up in Belfast reading Thor! Who knew?
What I found most fascinating about the movie - besides the scene where Thor takes his putting his shirt on - is how the story cuts swiftly between the two worlds - Earth and Asgard.
I was pleasantly surprised by how much I enjoyed the drama on Asgard. In fact, as drama goes, Asgard rules. There's much more at stake in Asgard: devious Loki is engineering a coup with the help of the Asgardians' mortal enemies, the Frost Giants. Will Odin ever awaken? Will Loki's henchmen kill him first? What will happen to Thor's band of warriors? Our viewing audience seemed enthralled. During some of the more emotional scenes, you could hear a pin drop.
Yes, there's crazy amounts of CGI in Asgard, but it is a beautiful, glimmering golden vision - and there's Anthony Hopkins (at least until he turns into an old man version of Sleeping Beauty) and some really cool gold furniture. Kind of like if Liberace and Donald Trump decided to move in together.
While the drama's on Asgard, the humor is firmly planted on Earth as Thor plays a Viking fish out of water in desert of New Mexico. The movie trailers are full of it and fortunately, there's even more in the movie. Loved it. The play between Natalie Portman (Jane Foster) and Chris Hemsworth is terrific - lively and funny. Who knew Padma had such a funny bone?
However, the chemistry between the two is more fun than romantic. When Jane's colleague and father figure, played by the under used Stellan Skarsgard, remarks that he sees how Jane looks at Thor, I had no idea what he was talking about. While the final kiss is good, the romance was lacking and, for me, weakened the story and any subsequent sequel. You just don't get that these two have fallen in love.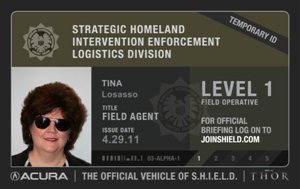 Speaking of love, as a newly minted Agent of S.H.I.E.L.D, I loved seeing so many of my colleagues in the movie - and especially all the screen time for Agent Coulson. I didn't see enough of him in the Iron Man movies, but in Thor we're treated to Coulson interrogating Thor who's been caught trying to steal his own hammer. Coulson can't decide if Thor is a terrorist or a mercenary.
Every comic book hero must have its sidekick. In Thor's case, he has four best described by a S.H.I.E.L.D as Xena, Jackie Chan, and Robin Hood. Luckily for the audience, Jane Foster also gets a wise-cracking sidekick, Darcy who has probably some of the best lines in the movie. My fav: (snapping a quick pic of newly arrived Thor) You're going on Facebook!
END OF SPOILER WARNING!
END OF SPOILER WARNING!
Michael has asked me to include two other items in my review:
1.) Who would enjoy this movie most? Comic book fans (d'oh), action movie fans, women (see comments about Chris Hemsworth 'nuff said), kids - there is not much in the way of violence, so for once, this is a comic book action movie you don't need to fear taking the younger members of the family.
2.) My Comic Book Rating: 8.5 - Very Fine Plus on a comic book grading scale.
Now, in the words of Thor, "I will end this!".
~Tina LoSasso
---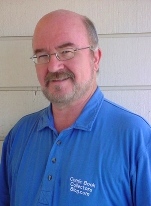 My thanks again to all of YOU reading this blog and our archived blog posts, now at 3,408 total posts in number! I do appreciate your continued reading and support of this Blog!
BTW, You can 'follow' this Blog by clicking the 'Follow' Button at this NetworkedBlogs app! We currently have over 2,413 'Followers'! Thanks to ALL of YOU that have already clicked that button!
And for those of YOU that haven't yet... I would appreciate it if YOU would!!!
~ Michael D Hamersky
Note: My online 'Local' Comic Book Shop (LCBS), carries many different genres of comics, magazines, graphic novels, and comic con promotional items. Possibly even copies of the item that was reviewed here today...!
If I have it... You can find it 'Under The Big Top Of Comics' at:
http://www.ComicBooksCircus.com/
Web Page Note: This blog post is written for the IE Browser standards. Chrome, Safari, Netscape, Firefox and the other browsers serve the page up differently, sorry about that!
The screen display resolution is best seen at the setting of 1024 x 768 on your laptop or desktop computer.
NOTE: All images and characters within this blog post are copyright and trademark their respective owners.

Comics Creators: If you are breaking into, or already work in the comic book industry or other pop culture productions, you are welcome to email or mail us press releases, news items, and updates that you feel would be of interest to our blog readers. Including YOUR own works!
To mail printed items to us for possible review, send to:
Make It So Marketing Inc., PO Box 130653, Carlsbad, CA 92013

Also, if you are a Facebook member, I would have liked you to send me a 'Friend Request'. However, I have reached the maximum limit of 5,000 Facebook Friends and Fan pages already, so I've added a New 'Facebook Fan Page' so that even more of YOU can 'Like' what I am doing, and be interactive with me and others there. Here is the link to that 'Facebook Fan Page': Michael D Hamersky On Comics! Please click the 'Like' button on that page!
---
Posted by makeitsomarketing at 6:13 AM PDT
Updated: Sunday, May 8, 2011 7:22 AM PDT