Saturday - December 3rd - 2011 - Take Your Child To A Bookstore Day!
Mood:
a-ok
Topic: Other Cons
Photo this column: The 2nd Annual Take Your Child To A Bookstore Poster!

-

Top Photo left column: A 'Take Your Child To A Bookstore Pin' For Publicity Purposes!
TODAY'S FEATURE - Blog #3557:
Thanks to my wife, Tina LoSasso, for posting news of this upcoming event yesterday at her own Facebook Fan Page for her business, Make It So Marketing Inc.! Tina conducts online book launches for authors, as well as other promotions, including social media campaigns, so she is more aware of what is happening in the 'book world' than I am.
Quite honestly, I wasn't aware of this 'Day', even though I'm made aware of several special 'Days' each year by Facebook Friends and other industry members in comics!
So, this is going to be a short blog today, so that you can read more about this event on the Day's own web site, and see their own Facebook group page.
First, what's this all about? Here's what the web site has:
"Bookstores hold a place in the hearts and times of our community. They are places to discover an author, a story, a life. Nothing affords the conversation and interaction among books and book lovers that a bookstore does. In the future, whether you download your story or pluck a volume off a shelf, a bookstore will be able to accommodate. But in order for bookstores to flourish and thrive, we must expose future generations to the unique pleasures they offer. On December 3rd, 2011, take the child in your life to a bookstore. Watch his face light up as you give him free access, not just to a new book, but to tomorrow." —Jenny Milchman
Sounds like fun! So, Tina and I will be taking my youngest child to a bookstore in our area. On the world map with the names & addresses of the bookstores that are participating, as seen here, there are three stores in our immediate area that are celebrating this 2nd Annual celebration. They are Mysterious Galaxy in San Diego, Warwick's in La Jolla, and The Book Works in Del Mar. Hopefully there is one in your area to attend?!
The web site for the 'Take Your Child To A Bookstore' is seen here.
Plus there is a Facebook group page, that you can read what is going on. There are currently 149 members in this 'open group'. I'm not for sure of the criteria to be accepted into the group as of this blog posting. I just sent in my request for acceptance.
Plus, the founder of this special day, Jenny Milchman, has her own web site, as seen here, that you can check out further.
I believe I've covered the links that will transport you to this relatively new event day. Feel free to let me know what you found near your city should you decide to participate, at my own Facebook Fan Page, 'Michael D Hamersky On Comics', where I also cover books about comics, graphic novels, and TPBs (trade paperbacks), as well as comic books!
~Michael D Hamersky On Comics!
---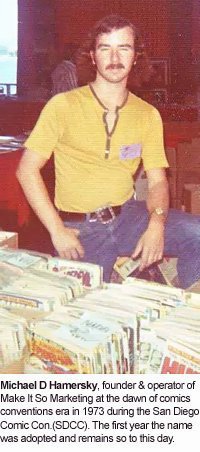 NOTE FROM THE BLOGGER:
My thanks again to all of YOU reading this blog and our archived blog posts, now at 3,557 total posts in number! I do appreciate your continued reading and support of this Blog!
BTW, You can 'follow' this blog by clicking the 'Follow' Button at this NetworkedBlogs app link! We currently have over 2,630 'Followers'! Thanks to ALL of YOU that have already clicked that button!
And for those of YOU that haven't yet... I would appreciate it if YOU would!!!
~ Michael D Hamersky
Note: My online 'Local' Comic Book Shop (LCBS), carries many different genres of comics, magazines, graphic novels, and comic con promotional items. Possibly even copies of the item(s) that was mentioned here today...!
If I have it... You can find it 'Under The Big Top Of Comics' at:
http://www.ComicBooksCircus.com/
Web Page Note: This blog post is written for the IE Browser standards. Chrome, Safari, Netscape, Firefox and the other browsers serve the page up differently, sorry about that!
The screen display resolution is best seen at the setting of 1024 x 768 on your laptop or desktop computer. Note: Your computer's resoulution may be set differently, but the above resolution is the most commonly used resolution at the time of this blog post.
NOTE: All images and characters within this blog post are copyright and trademark their respective owners.

Comics Creators: If you are breaking into, or already work in the comic book industry or other pop culture productions, you are welcome to email or mail us press releases, news items, and updates that you feel would be of interest to our blog readers. Including YOUR own works!
To mail printed items to us for possible review, send to:
Make It So Marketing Inc., PO Box 130653, Carlsbad, CA 92013

Also, if you are a Facebook member, I would have liked you to send me a 'Friend Request'. However, I have reached the maximum limit of 5,000 Facebook Friends and Fan pages already, so I've added a New 'Facebook Fan Page' so that even more of YOU can 'Like' what I am doing, and be interactive with me and others there. Here is the link to that 'Facebook Fan Page': Michael D Hamersky On Comics! Please click the 'Like' button on that page!
---
Posted by makeitsomarketing at 5:30 AM PST
Updated: Friday, December 2, 2011 5:54 AM PST