My Take On: oMGcow by Shekia Lugtu
Mood:
caffeinated
Topic: Comic Books - New
-

Photo this column: Sheika Lugtu at her table during the recnet 2011 Long Beach Comic Con! A good comic con in the Los Angeles Metro Area to meet new comic book creators!

-

Top Photo left column: A copy of the oMGcow comic in print that Sheika Lugtu signed to this blogger!
TODAY'S FEATURE - Blog #3562:
Tina LoSasso and I met Sheika Lugtu at a previous comic convention, and made a few suggestions as to her table's presentation to get her creations seen by more passersby. As always with new comics creators breaking into the con circuit, there are a lot persons who would like her works, if they only knew about them! But how to get those passersby to stop long enough to find out?!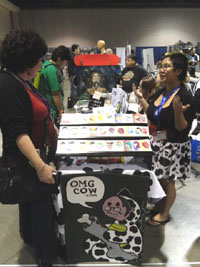 So Tina and I were both pleased to once again see Sheika at the recent 2011 Long Beach Comic Con (LBCC). Sheika had taken our advice to heart and rennovated her table into a great Point Of Sale (POS) presentation! Both Tina and I loved the presentation, and there were other passersby that stopped while we were talking with Sheika!
Sheika was kind enough to pose for new photos, and gave me a copy of her web comic's hard copy comic book, that you see her holding in the top right of this blog post. She was kind enough to autograph a copy for me, as seen at the top left of this post. Thanks for that, Sheika!
The comic book itself was a self published comic, in black & white, with 28 interior pages. In a 5 & 1/2" by 8 & 1/2" size format. The comic published selected comics from the web comic site from January - March of 2011.
I had told Sheika at the earlier con, that I no longer reviewed online comics or .pdf copies of comics, as I had been flooded with those requests and stopped doing so as of March / May of 2010. I strictly stay with hard copy format reading for possible review blog purposes.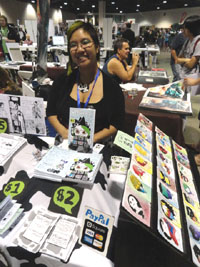 Additionally I had told her that when at a comic con, that a hard copy would be the best lasting 'impression' that a con goer would leave with. She had followed up with that by self publishing a good representation of her works during that 1st quarter of 2011.
What is oMGcow? It is an auto-biographical series of comics and short stories by Sheika Lugtu. The comic began on August 2009, detailing Sheika's move to Long Beach and the strart of a pursuit in art.
Along the way, she makes new friends, struggles with her inner demons and gets a kitten!
The comic is ongoing (in color! online only), at oMGcow.com!
I believe that this first hard copy issue is a step in the right direction for Sheika to promote her webseries, and has done a fine job in selecting and publishing it.
I would give it a VERY FINE / NEAR MINT (VF/NM) 9.0 out of a possible 10.0 possible comic book grading scale, for a promotional comic book. Again, due to its size format, and non-color comic book cover, it isn't a standard comic book issue, that you would find printed by ComiXpress or Ka-Blamm. It does serve its purpose though, for a promotional comic book, to introduce the buyer to read it, like it, and follow it to the web comic which is updated more frequently.
You can find it, and her web comic at the oMGcow.com web site.
I'm not for sure about Sheika's upcoming convention appearances, but she does have a blog as well that I'm sure she will mention those possible appearances at.
Also, for those of you interested in her past works, here is what she has done so far since the start of her pursuit in art starting in 2009:
- Fight Comic by Christopher Downes (2010)
- Sadness Anthology edited by Hazel Newlevant. (2011)
- Guest Comic: ACES (2011)
- Illustration work for Kung Pow Chicken (2011)
- A 3-page comic for "Darkest Day: Comics for Christchurch" anthology by Funtime Comics (2011)
- An illustration for "What Use is a Book without Pictures?" project to illustrate Alice in Wonderland. Organized by Notld Reanimated. (2011)
Thanks again to Sheika Lugtu for bringing her updates to our attention at the 2011 Long Beach Comic Con. Great job in rennovating your con circuit presence, Sheika!
Looking forward to seeing what you have the next time at a con. See you in 2012!
~Michael D Hamersky On Comics!
---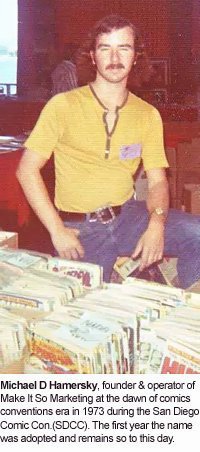 NOTE FROM THE BLOGGER:
My thanks again to all of YOU reading this blog and our archived blog posts, now at 3,562 total posts in number! I do appreciate your continued reading and support of this Blog!
BTW, You can 'follow' this blog by clicking the 'Follow' Button at this NetworkedBlogs app link! We currently have over 2,643 'Followers'! Thanks to ALL of YOU that have already clicked that button!
And for those of YOU that haven't yet... I would appreciate it if YOU would!!!
~ Michael D Hamersky
Note: My online 'Local' Comic Book Shop (LCBS), carries many different genres of comics, magazines, graphic novels, and comic con promotional items. Possibly even copies of the item(s) that was mentioned here today...!
If I have it... You can find it 'Under The Big Top Of Comics' at:
http://www.ComicBooksCircus.com/
Web Page Note: This blog post is written for the IE Browser standards. Chrome, Safari, Netscape, Firefox and the other browsers serve the page up differently, sorry about that!
The screen display resolution is best seen at the setting of 1024 x 768 on your laptop or desktop computer. Note: Your computer's resoulution may be set differently, but the above resolution is the most commonly used resolution at the time of this blog post.
NOTE: All images and characters within this blog post are copyright and trademark their respective owners.

Comics Creators: If you are breaking into, or already work in the comic book industry or other pop culture productions, you are welcome to email or mail us press releases, news items, and updates that you feel would be of interest to our blog readers. Including YOUR own works!
To mail printed items to us for possible review, send to:
Make It So Marketing Inc., PO Box 130653, Carlsbad, CA 92013

Also, if you are a Facebook member, I would have liked you to send me a 'Friend Request'. However, I have reached the maximum limit of 5,000 Facebook Friends and Fan pages already, so I've added a New 'Facebook Fan Page' so that even more of YOU can 'Like' what I am doing, and be interactive with me and others there. Here is the link to that 'Facebook Fan Page': Michael D Hamersky On Comics! Please click the 'Like' button on that page!
---
Posted by makeitsomarketing at 6:22 AM PST
Updated: Tuesday, December 13, 2011 6:58 AM PST