Chanukkah & Comic Books...
Mood:
caffeinated
Topic: Comic Book History
-

Photo this column: Al and Rita Wiesner at the 2010 Comic-Con International: San Diego (aka San Diego Comic Con). See the comic book in Al's left hand...?

-

Top Photo Left Column: A Close Up of The Front Cover To that same comic book that Al is holding. One of the few comic books printed to date that even have a reference to Chanukkah / Hanukkah!
TODAY'S FEATURE - Blog #3567:
I was driving back last night from Los Angeles Metro Area, after making sure that my Great Uncle Howard was transferred in okay to the rehab center after his two recent surgeries...
On the way back I heard on the radio that today,Tuesday December 20th of 2011, would be the 1st day of Chanukkah, which reminded me that I wanted to post a special blog on Chanukkah and Comics this year.
For those of you that are not aware of the dates of Chanukkah this year, Hanukkah begins in the evening of Tuesday, December 20, 2011, and ends in the evening of Wednesday, December 28, 2011. (Note: I will be using both spellings of Chanukkah / Hanukkah in this blog post.)
I have spent two hours this morning researching the topic of Chanukkah and Comics. I was amazed at the lack of comic books that even have a story titled Chanukkah / Hanukkah in them, let alone a mention on a comic book cover!
Especially after knowing how many Jewish-Americans were a major part at the start of the comic book format in the 1930s! Totally shocking to me as to the lack of stories. I did find references to 'The Thing', my favorite Marvel superhero as being Jewish... but even the 'holiday specials' printed by Marvel Comics have just a mention of Hanukkah in them, but no title / cover that I could find.
I finally ended up thinking about 'Shaloman', created by Al Wiesner. I met him and his wife at the 2010 SDCC, as shown in the top right photo of this blog post. I figured at least he had to have a story title with Hanukkah in it, if not a comic book cover on his Shaloman comics... And he did! So Al gets the featured photo and the inset photo for this blog post!
Again, the lack of Hanukkah stories / comic book cover is rather sad, considering the history of those that first started comic books. I'm hoping that other comic books published in the future at least use the name in a comic bood title. The only one that shows up in the Grand Comics Database, (GCD) is a story in the holiday Tick 1997 comic book... as seen here.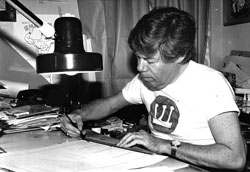 My thanks to Al Wiesner for showing me this issue at the 2010 San Diego Comic Con. Here is the background history of his Shaloman Comics. He has been at this quest for several years. Pictured to the left is Al during the mid 1990s.
You can see more of his comics at the GCD in this link. Plus you can purchase back issues at several Jewish bookstores in person, or online via those bookstores websites.
You could also check out Al Wiesner's Mark I Comics via mail order, as there is no web site. The address is: Mark I Comics, PO Box 5097, Philadelphia, PA 19111.
That's it for now... This took me quite a while longer to research / blog than I thought it would, for sure!
Happy Chanukkah & Happy Holidays to You!
~Michael D Hamersky On Comics!
---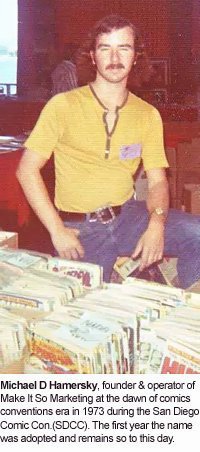 NOTE FROM THE BLOGGER:
My thanks again to all of YOU reading this blog and our archived blog posts, now at 3,567 total posts in number! I do appreciate your continued reading and support of this Blog!
BTW, You can 'follow' this blog by clicking the 'Follow' Button at this NetworkedBlogs app link! We currently have over 2,648 'Followers'! Thanks to ALL of YOU that have already clicked that button!
And for those of YOU that haven't yet... I would appreciate it if YOU would!!!
~ Michael D Hamersky
Note: My online 'Local' Comic Book Shop (LCBS), carries many different genres of comics, magazines, graphic novels, and comic con promotional items. Possibly even copies of the item(s) that was mentioned here today...!
If I have it... You can find it 'Under The Big Top Of Comics' at:
http://www.ComicBooksCircus.com/
Web Page Note: This blog post is written for the IE Browser standards. Chrome, Safari, Netscape, Firefox and the other browsers serve the page up differently, sorry about that!
The screen display resolution is best seen at the setting of 1024 x 768 on your laptop or desktop computer. Note: Your computer's resoulution may be set differently, but the above resolution is the most commonly used resolution at the time of this blog post.
NOTE: All images and characters within this blog post are copyright and trademark their respective owners.

Comics Creators: If you are breaking into, or already work in the comic book industry or other pop culture productions, you are welcome to email or mail us press releases, news items, and updates that you feel would be of interest to our blog readers. Including YOUR own works!
To mail printed items to us for possible review, send to:
Make It So Marketing Inc., PO Box 130653, Carlsbad, CA 92013

Also, if you are a Facebook member, I would have liked you to send me a 'Friend Request'. However, I have reached the maximum limit of 5,000 Facebook Friends and Fan pages already, so I've added a New 'Facebook Fan Page' so that even more of YOU can 'Like' what I am doing, and be interactive with me and others there. Here is the link to that 'Facebook Fan Page': Michael D Hamersky On Comics! Please click the 'Like' button on that page!
---
Posted by makeitsomarketing at 8:48 AM PST
Updated: Tuesday, December 20, 2011 8:55 AM PST