Thanks To eBay... Year End Clearance Sale Going On At ComicBooksCircus.com!
Mood:
chillin'
Topic: eBay Info
-

Pics this column: The logo for ComicBooksCircus.com - The Big Top of Comics! - and The Circus Train Is Coming to Town - Plus A Half Dozen Elephants are here to help move the comics / magazines / DVDs / toys / books / out for the 2011 Year End Clearance Sale!

-

Top Photo Left Column: Michael D Hamersky & Tina LoSasso at the eBay Live 2005 event in San Jose!

-
TODAY'S FEATURE - Blog #3573: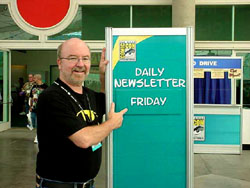 I was going to post this tomorrow in my blog, which is the reason for using the 'Friday Newsletter' photo to the left... But I just couldn't wait to give my blog readers a special heads up that...
ComicBooksCircus.com is taking advantage of the three day listing sale for auction listings that eBay is running December 27th - 28th - 29th!
How? By listing auction listings starting at only 99 cents on up for auction listings that are ending three to seven days after they are listed in the eBay Store that ComicBooksCircus.com's domain name is re-directed to!
So from December 30th (tomorrow!) through January 5th, YOU can take advantage of this listing sale!
Of course you can preview the auction listings right now, as they are 'live' at ComicBooksCircus.com!
Please note: There is a 'shipping special' for raw unslabbed comic books! $3.95 S&H is all that I ask for shipping 1 to 100 comics to USA addresses. I repeat: $3.95 S&H for raw unslabbed comic books only!
No CGCd slabbed comics for this shipping special. Also, if you 'mix' comics with graphic novels, books, toys, DVDs, etc., I can still combine shipping, but the S&H charge would be more, as they are odd shaped with different page counts. The total weight is usually heavier, and I have to use odd sized shipping boxes or envelopes to ship them. Please message me through eBay's message program for S&H costs!
Also, due to a fraudulent claim with PayPal earlier this year, I no longer ship outside of the USA anymore, UNLESS the potential buyer pays for a shipping format that has tracking. That form of shipping unfortunately is very expensive, so shipping inexpensive comics out of the country just isn't cost effective normally for the buyer. I only ship via USPS, and the most current rates are shown at a special note page within my Facebook Fan Page for 'Michael D Hamersky On Comics'. Again, my apologies for the higher shipping charges shown there, but I can no longer afford to ship using PayPal as payment without abiding by PayPal's policy on chargebacks, after that major fradulent claim from a buyer in Argentina.
However, for those of YOU that are in the USA, or are in Canada or Mexico with access to a USA shipping destination, now is the time to purchase those items you are missing from your collection, or didn't buy when they first came out to read!
Again, this is the link to ComicBooksCircus.com, where I invite you to shop our Year End Clearance Sale that is happening right now, thanks to eBay!
I hope you are enjoying the holiday season... Soon it will be 2012!
~Michael D Hamersky On Comics!
---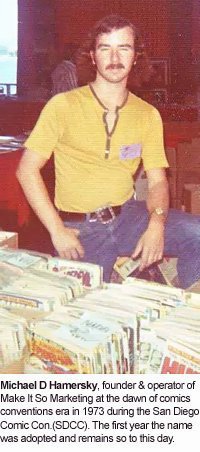 NOTE FROM THE BLOGGER:
My thanks again to all of YOU reading this blog and our archived blog posts, now at 3,573 total posts in number! I do appreciate your continued reading and support of this Blog!
BTW, You can 'follow' this blog by clicking the 'Follow' Button at this NetworkedBlogs app link! We currently have over 2,654 'Followers'! Thanks to ALL of YOU that have already clicked that button!
And for those of YOU that haven't yet... I would appreciate it if YOU would!!!
~ Michael D Hamersky
Note: My online 'Local' Comic Book Shop (LCBS), carries many different genres of comics, magazines, graphic novels, and comic con promotional items. Possibly even copies of the item(s) that was mentioned here today...!
If I have it... You can find it 'Under The Big Top Of Comics' at:
http://www.ComicBooksCircus.com/
Web Page Note: This blog post is written for the IE Browser standards. Chrome, Safari, Netscape, Firefox and the other browsers serve the page up differently, sorry about that!
The screen display resolution is best seen at the setting of 1024 x 768 on your laptop or desktop computer. Note: Your computer's resoulution may be set differently, but the above resolution is the most commonly used resolution at the time of this blog post.
NOTE: All images and characters within this blog post are copyright and trademark their respective owners.

Comics Creators: If you are breaking into, or already work in the comic book industry or other pop culture productions, you are welcome to email or mail us press releases, news items, and updates that you feel would be of interest to our blog readers. Including YOUR own works!
To mail printed items to us for possible review, send to:
Make It So Marketing Inc., PO Box 130653, Carlsbad, CA 92013

Also, if you are a Facebook member, I would have liked you to send me a 'Friend Request'. However, I have reached the maximum limit of 5,000 Facebook Friends and Fan pages already, so I've added a New 'Facebook Fan Page' so that even more of YOU can 'Like' what I am doing, and be interactive with me and others there. Here is the link to that 'Facebook Fan Page': Michael D Hamersky On Comics! Please click the 'Like' button on that page!
---
Posted by makeitsomarketing at 6:49 AM PST
Updated: Thursday, December 29, 2011 7:37 AM PST