Jerome 'Jerry' Leiber... 1933-2011
Mood:
sad
Topic: Other Movie Genres
-

Top Left Photo: The front cover to the autobiography "Hound Dog" by Jerry Leiber & Mike Stoller & David Ritz Copyright © 2009 by Jerry Leiber and Mike Stoller.

-

Above Top Photo: The front cover to the UK Elvis Presley record... 'Elvis Presley Sings Leiber & Stoller' from 1980, one of the LPs released after Elvis' death. The photo on the cover was taken in 1957 at the MGM Studio!
TODAY'S FEATURE - Blog #3491:
Jerome 'Jerry' Leiber passed away yesterday...
I heard this at 1:48 PM on the Sirius Satellite Radio station's Elvis Presley Radio channel as I was driving on an errand, which I found ironic, as Jerry Leiber with his partner, Mike Stoller, had co-written many of my favorite songs that Elvis had recorded...
Jerry was born April 25th of 1933, so he was 78 years old.
Jerry started writing music together with Mike in Los Angeles in 1950, so he was pretty darn young at the time. Mike was the composer, and Jerry the lyricist. You can find at lot more details about the duo at this Wikipedia link.
For you younger readers, who didn't grow up with the duo's songs being sung by the likes of The Coasters, The Drifters, Jay and the Americans, The Exciters, and Peggy Lee, Jerry & Mike were serious song makers for many years, before going into the production side. Their last major hit was for Stealer's Wheel in 1972, with 'Stuck In The Middle With You'.
However, it was the songs that they wrote and were recorded by Elvis Presley, or ones they wrote specifically for Elvis Presley's films, that were my favorites. Basically because I was a long time Elvis Presley fan & collector. (See this blog #3319 for that info.)
The UK LP shown at the top right of this blog has what the producers thought were the best of Leiber & Stoller songs to present on that collection. I would have to agree on that as the LP contains:
1. Hound Dog
2. Love Me
3. Loving You
4. Hot Dog
5. I Want To Be Free
6. Jailhouse Rock
7. Treat Me Nice
8. Baby I Don't Care
9. Santa Claus Is Back In Town
10. Don't
11. Trouble
12. King Creole
13. Steadfast, Loyal & True
14. Dirty Dirty Feeling
15. Just Tell Her Jim Said Hello
16. Girls Girls Girls
17. Bossa Nova Baby
18. Little Egypt
19. Fools Fall In Love
20. Saved
So yeah, I would have to agree with those selections.
As for Leiber and Stoller's works... They do continue on in pop culture. One of the more recent episodes of the TV show 'American Idol' had a 'Leiber and Stoller' Night on May 11th of 2011.
It's taken several years for the duo to receive their 'due'. Awards started being presented to them back in 1969, but the big ones were only presented afterwards, such as:
1985 – Induction into the Songwriters Hall of Fame
1987 – Induction into the Rock & Roll Hall of Fame
1988 – Elvis Presley's recording of "Hound Dog" placed in the Grammy Hall of Fame
1991 – ASCAP Founders' Award
1994 – A star placed on the Hollywood Walk of Fame in front of 7083 Hollywood Blvd.
1996 – National Academy of Songwriters Lifetime Achievement Award

But as Paul Shaffer said..."Leiber and Stoller? There would be no 'Rock and Roll' without them!".
Note: There haven't been any comic books that were based on this duo's songs that I am aware of. However there have been several Elvis Presely comics and a couple of graphic novels printed. Should there have been any printed on Leiber and Stoller songs I'll do an addendum to this blog.
I never met either of this duo in 'real life', but enjoyed many of their songs in 'reel life' on the screen in Elvis movies. My thanks to both of them for years of enjoyment.
...And my condolences to Jerry's family and friends.
---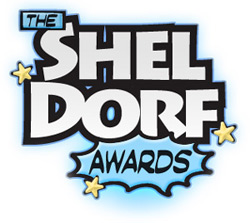 ~Michael D Hamersky - who is asking you for your vote in the current voting going on over at The Shel Dorf Awards web site. I was nominated for 'Comic Blogger of the Year' on Monday, August 8th!
While being honored to be nominated, I'd also like to win! The competition has some other good nominees for the same category I was nominated for, so I'm asking for your help on this! Voting ends on September 4th!
If you have enjoyed this blog or any of the others in the now over 3,482 blogs in this series of mine, I'd appreciate your vote!
Here is a direct link to the voting page. 'Comic Blogger of the Year' is the category, and 'Michael Hamersky On Comics' is the name I'm listed as to vote for.
Here is a link to blog #3481, where I went more into depth on this topic.
My thanks to any of you that take the time to vote for me!
---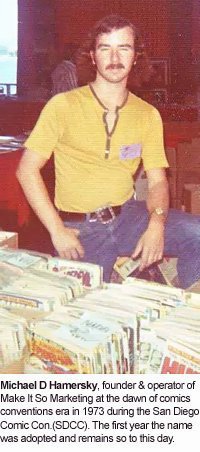 NOTE FROM THE BLOGGER:
My thanks again to all of YOU reading this blog and our archived blog posts, now at 3,491 total posts in number! I do appreciate your continued reading and support of this Blog!
BTW, You can 'follow' this blog by clicking the 'Follow' Button at this NetworkedBlogs app link! We currently have over 2,529 'Followers'! Thanks to ALL of YOU that have already clicked that button!
And for those of YOU that haven't yet... I would appreciate it if YOU would!!!
~ Michael D Hamersky
Note: My online 'Local' Comic Book Shop (LCBS), carries many different genres of comics, magazines, graphic novels, and comic con promotional items. Possibly even copies of the item(s) that was mentioned here today...!
If I have it... You can find it 'Under The Big Top Of Comics' at:
http://www.ComicBooksCircus.com/
Web Page Note: This blog post is written for the IE Browser standards. Chrome, Safari, Netscape, Firefox and the other browsers serve the page up differently, sorry about that!
The screen display resolution is best seen at the setting of 1024 x 768 on your laptop or desktop computer. Note: As of Monday, June 27th, 2011, I'll be using my new laptop, where the default resolution is 'higher', so there may be some temporary glitches until I am used to the new resolution.
NOTE: All images and characters within this blog post are copyright and trademark their respective owners.

Comics Creators: If you are breaking into, or already work in the comic book industry or other pop culture productions, you are welcome to email or mail us press releases, news items, and updates that you feel would be of interest to our blog readers. Including YOUR own works!
To mail printed items to us for possible review, send to:
Make It So Marketing Inc., PO Box 130653, Carlsbad, CA 92013

Also, if you are a Facebook member, I would have liked you to send me a 'Friend Request'. However, I have reached the maximum limit of 5,000 Facebook Friends and Fan pages already, so I've added a New 'Facebook Fan Page' so that even more of YOU can 'Like' what I am doing, and be interactive with me and others there. Here is the link to that 'Facebook Fan Page': Michael D Hamersky On Comics! Please click the 'Like' button on that page!
---
Posted by makeitsomarketing at 6:48 AM PDT
Updated: Tuesday, August 23, 2011 6:58 AM PDT