My Take On: Royden Lepp's Rust: Visitor In The Field
Mood:
caffeinated
Topic: Comic Books - New
TODAY'S FEATURE - Blog #3482:
I spent some time during different days at the Archaia Entertainment booth during the 2011 Comic-Con International: San Diego, (aka San Diego Comic Con), as it was very close to the Indy Press Section. I would go by it enroute to the other booths I had not yet seen in Indy Press.
What Archaia did this year was similiar to previous years, in that they had different comics / graphic novel creators stationed at tables within one end of the Archaia booth for signings. I didn't try to stop by at certain times for signings, as that is too hard to navigate at such a large convention!
So my running into Royden Lepp when he was signing on Friday, July 22nd was just luck on my part. Why? He presented me with a copy of his new graphic novel after posing with it, (seen at the top right of this blog), after finding out about this #1 followed blog of mine on Facebook.
My wife Tina, says that Royden did tell her and myself that it was one of a series at that time, but I had forgotten that until Tina reminded me about it last night when I told her what my blog topic for today was. (She is reading another Archaia book for an upcoming blog to be posted.)
She told me that Royden had mentioned it was a first book in a series, but nowhere on the book or inside did I see it was a volume one of a series before reading it. Nor did I know at the time that 20th Century Fox had acquired the screen rights. And that "Simon Kinsberg (X-Men: First Class) is producing the Rocketeer-esque adventure flick". That I found this morning!
So what is this graphic novel, 'Rust: Visitor In The Field' about? Per the promotional info:
Written by Royden Lepp
Illustrated by Royden Lepp
Cover by Royden Lepp
Format: Hardcover (paper over board), sepia-toned
Trim Size: 6″ x 9″
Page Count: 192
ISBN-13: 978-1-936393-27-5
U.S. Price: $24.95
Rating: All Ages
Rust is a high-octane adventure set in the prairie lands of an unknown time. Life on the Taylor family farm was difficult enough before Jet Jones crashes into the barn, chased by a giant decommissioned war robot! Oldest son Roman Taylor struggles to keep his family's small farm afloat as the area heals from a devastating world war. While the rest of his family may not trust the mysterious boy with the jetpack, Roman believes the secrets of Jet's past may be the key to their survival.
Rust is Archaia's next great All Ages book.
Available September 2011 wherever books are sold.
Okay... That is a lot to live up, being... "Archaia's next great All Ages book".
What's my take on this graphic novel?
First the front cover: The graphic on the front cover definitely caught my eyes! A robot, a flying kid, and a farmer, along with a 'rust' / 'sepia' colored background and silver type colored font. Very fetching, like I was holding something from another time period!
The back cover: Very tasteful promo, with enough of what the story would be about to arouse my interest in reading this!
Inside front cover & what would be a 'splash page' in a comic book: The sepia toned photos / illustrations evoked memories within me that this was somehow familiar... Since I already posted above that 20th Century Fox is calling it a Rocketeer-esque adventure flick, I'm safe to say that that thought crossed my mind here, especially after seeing the front cover...
Flipping to the first page... The storyline immediately starts with a dedication page, and the opposite page is first page of the story.
The sepica tone is kept throughout the book, and I'm drawn into the storyline immediately! I'm watching a battle take place in the woods. It appears to be of World War I, but maybe I'm assuming too much, as there are machines that come in... Robot like machines... Then flying kids?! By the end of this first scene on page 29, I'm definitely drawn into this whole storyline, even if I don't know where or when it is / was!
Pages 30 & 31, a two page spread, brings me into a different time. The present? The story progresses, yet references the past, which is what the first 29 pages were about.
Several pages have illustrations only, no dialogue. It is good that the writer is also the artist!
Page 184 comes all too soon... But wait... What's this?! It's called the 'End'?! The story isn't finished?!
Instead there is a section titled: Rust - Secrets of the Cell. "An exclusive preview of the next volume of Royden Lepp's Rust. With six pages from the next volume. I didn't bargain for this! Another volume? Nowhere on the book's front or back covers or the spine is there any mention that this is a first volume! I'm disappointed in that the story wasn't finished, and I had no inkling that it would be continued. But then again, I'm also interested in reading a volume two, after seeing the preview pages. If this was a marketing error... Okay, but there should be a mention somewhere... But then again, my copy didn't come with a slipcover for the book which may have stated this. But I don't see it mentioned as such on Archaia's web site either...
After the preview, there is an 'About the Author' page with a 'Special Thanks' box. On the next page is Archaia's credits page. The last two pages are another sepia toned photo similiar to the front inside two pages, starting with the inside front cover.
Okay... I read this graphic novel with great interest, and had a minor let down at the very end, because I found I was reading the first of a series; a series that is supposed to be comprised of four volumes, after reading an article elsewhere while researching just now for this blog before it is posted!
So what is my comic book grade for this first volume in the series?!
I'm giving it a NEAR MINT MINUS (NM-) 9.2 out of a possible 10.0 comic book grade, because of the minor letdown at the very end that it was a continued story. This has nothing to do with the graphic novel itself, as far I can ascertain, so I'm assuming it is from the marketing / production end. I'm still thinking this was a fine book, and I can see why a company like 20th Century Fox would pick up the screen rights to it already! This could make a great franchise! I'm not going to let a marketing situation marr my enjoyment of what I just read, so am knocking the final grade only half a grade!
My thanks again to Royden Lepp for bringing this graphic novel to my attention at the Comic-Con International! And congrats on the upcoming film!
Here are a few links to follow up on:
Archaia Entertainment's Facebook Fan Page
Royden Lepp's Creator Page at Archaia.com
~Michael D Hamersky - who is asking you for your vote in the current voting going on over at The Shel Dorf Awards web site. I was nominated for 'Comic Blogger of the Year' on Monday! While being honored to be nominated, I'd also like to win! The competition has some other good nominees for the same category I was nominated for, so I'm asking for your help on this!
If you have enjoyed this blog or any of the others in the now 3,482 blog in this series of mine, I'd appreciate your vote!
Here is a direct link to the voting page. 'Comic Blogger of the Year' is the category, and 'Michael Hamersky On Comics' is the name.
Here is a link to yesterday's blog #3481, where I went more into depth on this topic.
My thanks to any of you that take the time to vote for me!
---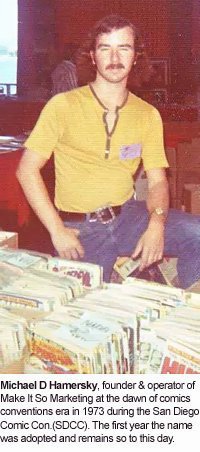 NOTE FROM THE BLOGGER:
My thanks again to all of YOU reading this blog and our archived blog posts, now at 3,482 total posts in number! I do appreciate your continued reading and support of this Blog!
BTW, You can 'follow' this blog by clicking the 'Follow' Button at this NetworkedBlogs app link! We currently have over 2,518 'Followers'! Thanks to ALL of YOU that have already clicked that button!
And for those of YOU that haven't yet... I would appreciate it if YOU would!!!
~ Michael D Hamersky
Note: My online 'Local' Comic Book Shop (LCBS), carries many different genres of comics, magazines, graphic novels, and comic con promotional items. Possibly even copies of the item(s) that was mentioned here today...!
If I have it... You can find it 'Under The Big Top Of Comics' at:
http://www.ComicBooksCircus.com/
Web Page Note: This blog post is written for the IE Browser standards. Chrome, Safari, Netscape, Firefox and the other browsers serve the page up differently, sorry about that!
The screen display resolution is best seen at the setting of 1024 x 768 on your laptop or desktop computer. Note: As of Monday, June 27th, 2011, I'll be using my new laptop, where the default resolution is 'higher', so there may be some temporary glitches until I am used to the new resolution.
NOTE: All images and characters within this blog post are copyright and trademark their respective owners.

Comics Creators: If you are breaking into, or already work in the comic book industry or other pop culture productions, you are welcome to email or mail us press releases, news items, and updates that you feel would be of interest to our blog readers. Including YOUR own works!
To mail printed items to us for possible review, send to:
Make It So Marketing Inc., PO Box 130653, Carlsbad, CA 92013

Also, if you are a Facebook member, I would have liked you to send me a 'Friend Request'. However, I have reached the maximum limit of 5,000 Facebook Friends and Fan pages already, so I've added a New 'Facebook Fan Page' so that even more of YOU can 'Like' what I am doing, and be interactive with me and others there. Here is the link to that 'Facebook Fan Page': Michael D Hamersky On Comics! Please click the 'Like' button on that page!
---
Posted by makeitsomarketing at 5:28 AM PDT
Updated: Thursday, August 11, 2011 10:52 AM PDT