Remembering Jack Kirby... On Sunday, August 28th
Mood:
celebratory
Topic: Comic Book History
-

Far Top Left Photo: Jack Kirby and Joe Sinnott back in 1972!

-

Above Photo: CGC graded copy of Fantastic Four #48 with Jack Kirby cover pencils & Joe Sinnott inks. Comic cover dated March of 1966!
TODAY'S FEATURE - Blog #3494:
Yesterday I blogged about being 'invited' by LCBS owner Randy Myers, to attend the 'Read A Comic In Public Day' event at Collectors Corner in Baltimore, Maryland, via the Facebook event page for that event. (As seen here!)
Of course I had to decline as I am on the West Coast, and wondered if there were any of these 'Read A Comic In Public Day' events closer to me in the San Diego Metro Area...
I found that there actually was one, at this Facebook event page, '2nd Annual Read Comics In Public Day - San Diego' sponsored by Chriss Cornish. It is being held on Sunday, August 28th from 11:00am - 3:00pm at the Starbucks on the corner of Balboa and Genesse (4227 Genesee Ave) in San Diego.
What does this have to do with the 'Remembering Jack Kirby' topic here today?
Well, I knew that I would be blogging about Sunday going to be what would have been Jack's 94th Birthday, and then realized that with the So Cal Comic Con that I've got a dealer's table at on Saturday, and then attending the 'Read Comics In Public Day' at the event in San Diego, that I would be probably a little too busy to actually blog on Sunday...
So what better way would there to be this morning than to suggest to 'Remember Jack Kirby' on his birthday except by reading one of his comic books in public on Sunday!
So not as an addendum to yesterday's blog, but as an additional thought to combine the two events together, (as the originators of the event did on purpose),... I'm going to be reading at least one Jack Kirby Comic in public on Sunday! And I encourage you to do the same!
Which one(s)?
Well according to this incomplete listing (I'm sure), at the Grand ComicsDatabase, Jack has over 10,120 credits to his name at this database! So I'm sure you should be able to come up with something to read!
And no, I don't mean to ask you to break open your CGC graded comics, like the Fantastic Four #48 that once was in my personal collection as shown at the top right of this blog, but any original comic book, or TPB or omnibus with Jack's works would do!
For those of you new to this blog and / or comics in general, and Jack Kirby to be specific, here is a link to the Wikipedia entry on Jack as a preliminary introduction. There are many compilations of Jack Kirby's works, books on him, and even a magazine series, (The Jack Kirby Collector), that I could recommend for additional reading!
So I'm suggesting that you read a comic in public on Sunday and if possible a Jack Kirby one... To help promote comic books in general and remember what Jack Kirby did for the comics industry. That's definitely a good way of 'Remembering Jack Kirby'!
---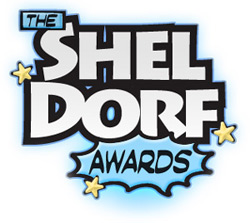 ~Michael D Hamersky - who is asking you for your vote in the current voting going on over at The Shel Dorf Awards web site. I was nominated for 'Comic Blogger of the Year' on Monday, August 8th!
While being honored to be nominated, I'd also like to win! The competition has some other good nominees for the same category I was nominated for, so I'm asking for your help on this! Voting ends on September 4th!
If you have enjoyed this blog or any of the others in the now over 3,493 blogs in this series of mine, I'd appreciate your vote!
Here is a direct link to the voting page. 'Comic Blogger of the Year' is the category, and 'Michael Hamersky On Comics' is the name I'm listed as to vote for.
Here is a link to blog #3481, where I went more into depth on this topic.
My thanks to any of you that take the time to vote for me!
---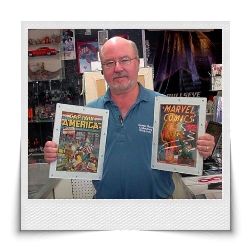 NOTE FROM THE BLOGGER:
My thanks again to all of YOU reading this blog and our archived blog posts, now at 3,494 total posts in number! I do appreciate your continued reading and support of this Blog!
BTW, You can 'follow' this blog by clicking the 'Follow' Button at this NetworkedBlogs app link! We currently have over 2,530 'Followers'! Thanks to ALL of YOU that have already clicked that button!
And for those of YOU that haven't yet... I would appreciate it if YOU would!!!
~ Michael D Hamersky
Note: My online 'Local' Comic Book Shop (LCBS), carries many different genres of comics, magazines, graphic novels, and comic con promotional items. Possibly even copies of the item(s) that was mentioned here today...!
If I have it... You can find it 'Under The Big Top Of Comics' at:
http://www.ComicBooksCircus.com/
Web Page Note: This blog post is written for the IE Browser standards. Chrome, Safari, Netscape, Firefox and the other browsers serve the page up differently, sorry about that!
The screen display resolution is best seen at the setting of 1024 x 768 on your laptop or desktop computer. Note: As of Monday, June 27th, 2011, I'll be using my new laptop, where the default resolution is 'higher', so there may be some temporary glitches until I am used to the new resolution.
NOTE: All images and characters within this blog post are copyright and trademark their respective owners.

Comics Creators: If you are breaking into, or already work in the comic book industry or other pop culture productions, you are welcome to email or mail us press releases, news items, and updates that you feel would be of interest to our blog readers. Including YOUR own works!
To mail printed items to us for possible review, send to:
Make It So Marketing Inc., PO Box 130653, Carlsbad, CA 92013

Also, if you are a Facebook member, I would have liked you to send me a 'Friend Request'. However, I have reached the maximum limit of 5,000 Facebook Friends and Fan pages already, so I've added a New 'Facebook Fan Page' so that even more of YOU can 'Like' what I am doing, and be interactive with me and others there. Here is the link to that 'Facebook Fan Page': Michael D Hamersky On Comics! Please click the 'Like' button on that page!
---
Posted by makeitsomarketing at 12:01 AM PDT
Updated: Friday, August 26, 2011 6:56 AM PDT