Comic-Con and... Cupcake Wars?!
Mood:
caffeinated
Topic: TV Shows
-

-

Top Two Photos: Cupcake Wars TV Show As Seen On The 'Food Network' On Tuesday Nights 8PM EST & PST. With (L-R) Season 3 judges: Florian Bellanger and Candace Nelson. And host: Justin Willman! (Guest judge David Glanzer not pictured at the web site as this blog went to print!)
TODAY'S FEATURE - Blog #3487:
I have to admit... I thought this was a just a little out of the ordinary when I saw it mentioned on the Comic-Con International Facebook Fan Page by Jackie Estrada!
Sure, both Tina & I enjoy attending Comic-Con International each year, (10 straight years for Tina, and 21 straight for me!), and we both enjoy several food related TV shows, (Top Chef on Bravo being our #1 foodie show!), but mixing 'Cupcake Wars' with Comic-Con? This we both had to see last night at 8PM PST!
Yeah, it seemed a little corny, looking at the TV Show listing on our Droids, but still... It was Comic-Con & pop culture mixed together for a 'mainstream' viewing audience.
So what did the 'Food Network' show for a listing on this Season 3 - Episode 10? Here's what they listed: "Four talented bakers will have to use their super powers if they want a chance to have their delicious display take center stage at Comic-Con's exclusive Masquerade Party".
Okay, so besides being a little 'corny', they were probably going to be a little 'campy' also. Which for me... Isn't necessarily a bad thing! Oh, and I wondered if the writer of the above promo had ever been to Comic-Con? As the Masquerade Party is definitely not 'exclusive', as any of the 125,000+ attendees could attend... Of course getting a membership to be one of those 125,000+ is getting harder to obtain every year!
Okay... I'm not going to give last night's episode totally away... As it will be airing again on the Food Network, and there are a few online websites that appear to be also showing it for a charge.
Suffice to say that the premise was that there were four cupcake bakers that were invited to participate in this episode of 'Cupcake Wars', and that the winner would be chosen after three elimination challenges, thus taking up a full hour of network TV!
Of course the bakers had to work with 'super-powered ingredients'! And some of those ingredients were pretty exotic!
The first commercial after the initial setup of the episode was on the upcoming 'Spy Kids in 4-D / All the Time In The World' on August 19th, which shows you the target market for this TV series, and this episode in particular!
The nice touch of this episode was that the 'guest judge' for this episode was David Glanzer, the Comic-Con Director of Marketing and Publicity. Which made the total number of judges being three. Tina was wondering about this, as only two judges were first introduced...
The first challenge was quick, a 45 minute challenge. The film used for airing seemed to be a little 'speeded up', not super-powered or anything, but really speeded up / spliced to cut to the elimination of the first of the four bakers.
Not going to 'spoil' it for you here... As to who was eliminated. Plus the fact I can't find any photos online this morning as to the participants of this episode!
The second challenge was the 'sequel', (the host thinking he was using a comic book term), which was going to be based on 'taste & presentation' a 50/50 graded challenge.
Each of the three remaining bakers had to come up with three different cupcakes for this challenge. Included were 'strawberry shortcake cupake', 'chocolate banana cupcake', 'vanilla bean cupcake', buttermilk chocolate cupcake', 'lime margarita cupcake', and 'red velvet cayenne cupcake'.
Those cupcakes were to represent super-villains, heroes, etc. Keeping with the 'Comic-Con' theme of course!
Very interesting cupcakes were presented. Tina & I enjoyed the judges reactions and comments. Tina did notice that the guest judge's comments appeared to be cut off, probably due to the time limitations. This show seems to 'run faster' than 'Top Chef' on Bravo Network does... There's a lot of replaying the previous scene just before commercial break on 'Top Chef'.
Challenge #3 was the 'display presentation', where 1,000 cupcakes were to be displayed, and the winning presentation would be the centerpiece of the upcoming Comic-Con International's Masquerade Party. As both Tina and I have attended a few of those in the past, and seen the hordes of con-goers scarfing down any and all food presented... We both looked at each other at the beginning of this challenge. The displays would have to be built pretty sturdy to withstand the crush of con-goers is what we both voiced out loud!
So far, in Challenges 1 & 2, it had been just the four bakers, with an assistant brought in from their bakery.
For Challenge #3, the two remaining bakers & their one assistant each were helped by a craftsman, who would build the display based on the baker's idea, and four additional assistants to bake the 1,000 cupcakes! Now that was going to be a 'super-heroic' feat in itself, as the time limit for this was only two hours!
So far I had been 'amused' by all the usage of the generic 'comic book' terms that had been used in this episode. Of course with the four bakers being 'mainstream', they only knew comic books as 'POW!', 'BIFF!', 'ZAP!', and other cartoony expressions, plus outlandish color schemes representing super hero costumes. Which they had used on their cupcake decorations.
The final two bakers had totally different ideas on what the displays should look like. However, one of them had a display that wouldn't be so functional on the floor of the San Diego Convention Center, in the 'Under the Sails Pavilion', where the food would be displayed... The other baker had a good idea, but the colors weren't so 'comic-book' friendly in presentation...
Who won? Tune in during the next airing of this 'Cupcake Wars' episode to find out if you didn't last night! Now that's a comic book expression for sure, LOL!
And yeah, I was a little disappointed that the winning display of cupcakes only ran onscreen showing appreciative con-goers eating the cupcakes at Comic-Con for approx 1-2 minutes at the closing credits. Not enough time to showcase those that were there participating in this display at the Comic-Con's Masquerade Party area!
But... Both Tina & myself are going to check out the next episode of 'Cupcake Wars'... And that is what this special episode was all about... Bringing cupcakes & the 'Cupcake Wars' TV Show to even more viewers!
You can catch this episode next during one of these airings on the 'Food Network':
Aug 20, 2011 - 8:00 PM ET/PT
Aug 21, 2011 - 3:00 AM ET/PT
Aug 21, 2011 - 5:00 PM ET/PT
Here is the link to the Food Network Facebook Fan Page.
Here is the link to the Cupcake Wars Facebook 'Community' Page.
And here is the link to the Comic-Con International Facebook Fan Page!
Thanks again to Jackie Estrada for bringing this to our attention on the Comic-Con International Facebook Fan Page yesterday afternoon!
---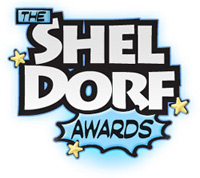 ~Michael D Hamersky - who is asking you for your vote in the current voting going on over at The Shel Dorf Awards web site. I was nominated for 'Comic Blogger of the Year' on Monday, August 8th! While being honored to be nominated, I'd also like to win! The competition has some other good nominees for the same category I was nominated for, so I'm asking for your help on this!
If you have enjoyed this blog or any of the others in the now over 3,482 blogs in this series of mine, I'd appreciate your vote!
Here is a direct link to the voting page. 'Comic Blogger of the Year' is the category, and 'Michael Hamersky On Comics' is the name I'm listed as to vote for.
Here is a link to blog #3481, where I went more into depth on this topic.
My thanks to any of you that take the time to vote for me!
---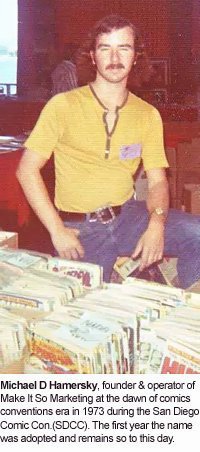 NOTE FROM THE BLOGGER:
My thanks again to all of YOU reading this blog and our archived blog posts, now at 3,487 total posts in number! I do appreciate your continued reading and support of this Blog!
BTW, You can 'follow' this blog by clicking the 'Follow' Button at this NetworkedBlogs app link! We currently have over 2,525 'Followers'! Thanks to ALL of YOU that have already clicked that button!
And for those of YOU that haven't yet... I would appreciate it if YOU would!!!
~ Michael D Hamersky
Note: My online 'Local' Comic Book Shop (LCBS), carries many different genres of comics, magazines, graphic novels, and comic con promotional items. Possibly even copies of the item(s) that was mentioned here today...!
If I have it... You can find it 'Under The Big Top Of Comics' at:
http://www.ComicBooksCircus.com/
Web Page Note: This blog post is written for the IE Browser standards. Chrome, Safari, Netscape, Firefox and the other browsers serve the page up differently, sorry about that!
The screen display resolution is best seen at the setting of 1024 x 768 on your laptop or desktop computer. Note: As of Monday, June 27th, 2011, I'll be using my new laptop, where the default resolution is 'higher', so there may be some temporary glitches until I am used to the new resolution.
NOTE: All images and characters within this blog post are copyright and trademark their respective owners.

Comics Creators: If you are breaking into, or already work in the comic book industry or other pop culture productions, you are welcome to email or mail us press releases, news items, and updates that you feel would be of interest to our blog readers. Including YOUR own works!
To mail printed items to us for possible review, send to:
Make It So Marketing Inc., PO Box 130653, Carlsbad, CA 92013

Also, if you are a Facebook member, I would have liked you to send me a 'Friend Request'. However, I have reached the maximum limit of 5,000 Facebook Friends and Fan pages already, so I've added a New 'Facebook Fan Page' so that even more of YOU can 'Like' what I am doing, and be interactive with me and others there. Here is the link to that 'Facebook Fan Page': Michael D Hamersky On Comics! Please click the 'Like' button on that page!
---
Posted by makeitsomarketing at 5:33 AM PDT
Updated: Wednesday, August 17, 2011 7:22 AM PDT