My Take On: The Vault #1 of 3 - Sam Sarkar & Garrie Gastonny
Mood:
caffeinated
Topic: Comic Books - New
-

-

Top Photo: Sam Sarkar holding 'The Vault" #1 at the 2011 Comic-Con International: San Diego, (aka SDCC).

-

Bottom Photo: A two page interior spread showcasing the art by Garrie Gastonny in the first issue of 'The Vault'.
TODAY'S FEATURE - Blog #3480:
At the 2011 Comic-Con International: San Diego, (aka San Diego Comic Con), I ran into Sam Sarkar at the Image Comics booth, as shown at the top right of this blog post.
It has been a while since I've reviewed an Image Comic Book here in my Blog, so why this one?
First let me post what this comic is supposed to be about:
"A small team of treasure hunters struggles to excavate a dangerous and legendary treasure pit before a massive storm hits Sable Island, the "Graveyard of the North Atlantic".Equipped with all the latest technology, the scientists believe they are prepared against all of nature's fury, but nothing can prepare them for what they are about to unleash from The Vault."
Okay... That sounds pretty good for a storyline.
So what's 'My Take' on the first issue?
The front cover is an eye catcher, but it is illustrated by Bagus Hutomo, who is not the interior art illustrator.
The inside front cover presents the credits, as well as the synopsis of what is going to happen in the first issue. Good job presenting this!
The splash page... Well, it does start off kind of strange... And then you flip the page to see a two page spread on pages 2 - 3. Okay...
Page 4 actually starts the story in modern times... So we'll have to wait to see why the first 3 pages were presented!
The rest of the storyline goes well, keeping me wanting to read more. The dialogue, placement of the word balloons, and the colors mesh well with the illustrations.
There isn't any wasted space, and there is only one more two page spread, the one shown at the top right below Sarkar's photo, and the story stops... Leaving me to want to read more! Which is also good for a 1st issue in a 3 part mini-series!
I already mentioned that the cover artist is not the interior pages artist... I found that Garrie Gastonny did a fine job in using the right amount of panels to tell the story. With only two 2-page spreads inside, which emphasized those scenes. Nice job!
What follows after the initial story is a one page "Don't Miss The Next Issue' page, with pictures of other Image Comics on sale now...
The following page is the 'House Ad' for Image Comics... With the Inside Back Cover being used for 'Image Comics' Monthly Q&A Session.
The Back Cover is a one page ad for Samurai's Blood, another Image Comics series.
I felt that this issue, being an introductory issue for a three issue story arc, "was done right"! Period! Which I don't see that often any more...
The only thing holding me back giving it a higher comic book grade was how the first three pages of the first issue fit or didn't fit as well into the opening storyline, which I'm sure will be explained in more detail in the second issue... We did have a 'teaser' as to how the first three pages will possibly fit into the storyline in the very last panel, but I won't give that away in this review blog!
Also, keeping it from being graded higher... I'm used to reading 'Indy Comics' without all the 'House Ads', which is the second reason behind the comic book grade I'm giving it. But I do understand that those pages are necessary from companies like Image Comics... At least all the add pages were kept at the back of the comic book, instead of being interspersed throughout the issue!
So what is my comic book grade for this first issue of the three issue series?!
I'm giving it a NEAR MINT MINUS (NM-) 9.2 out of a possible 10.0 comic book grade, because it "Was Done Right", IMO! I'm looking forward to reading the second issue of the series!
BTW, as I was preparing to write this blog this morning, I came across the following article that tells that "GK Films has picked up film rights to The Vault, an Image comic book written by Sam Sarkar, an executive at Johnny Depp's Infinitum Nihil production shingle. Depp and Nihil's president Christi Dembrowski will produce the movie adaptation along with GK's Graham King and Tim Headington."
You can read the rest of this article at this link!
Also, here's a little bit more on Sam Sarkar, from another resource:
"Born in Halifax, Nova Scotia, Sam Sarkar is a 23-year veteran of the entertainment industry. He began his career as an actor and was one of the leads on the long-running, syndicated television series Neon Rider. Following the series, Sam decided to pursue writing and worked for the hit television series Beverly Hills 90210. Stemming from his work on the show, he also co-wrote a television pilot for Spelling Entertainment under the direct guidance of TV legend Aaron Spelling. Deciding then to embark on feature films, Sam took some chances, following a varied path of writing screenplays and working as a sound technician. In 2004, after working on several films with actor Johnny Depp, Sam was asked to help run Depp's production company, Infinitum Nihil, headed by Christi Dembrowski. As Senior VP at the company, he continues to serve the varied needs of Hollywood as an executive, producer and writer."

You can also check out more on this series, and the upcoming film production at the Facebook Fan Page titled: The Vault - Comic Book
For ordering info:
Diamond Order Code: JUN110501
story SAM SARKAR
art GARRIE GASTONNY
color SAKTI YUWONO
cover BAGUS HUTOMO
32 pages, $3.50, July 27th, 2011
My thanks again to Sam Sarkar for bringing this comic book series to my attention at the Comic-Con International!
~Michael D Hamersky
---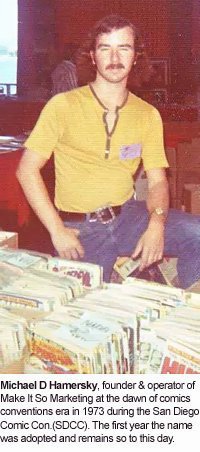 NOTE FROM THE BLOGGER:
My thanks again to all of YOU reading this blog and our archived blog posts, now at 3,480 total posts in number! I do appreciate your continued reading and support of this Blog!
BTW, You can 'follow' this blog by clicking the 'Follow' Button at this NetworkedBlogs app link! We currently have over 2,513 'Followers'! Thanks to ALL of YOU that have already clicked that button!
And for those of YOU that haven't yet... I would appreciate it if YOU would!!!
~ Michael D Hamersky
Note: My online 'Local' Comic Book Shop (LCBS), carries many different genres of comics, magazines, graphic novels, and comic con promotional items. Possibly even copies of the item(s) that was mentioned here today...!
If I have it... You can find it 'Under The Big Top Of Comics' at:
http://www.ComicBooksCircus.com/
Web Page Note: This blog post is written for the IE Browser standards. Chrome, Safari, Netscape, Firefox and the other browsers serve the page up differently, sorry about that!
The screen display resolution is best seen at the setting of 1024 x 768 on your laptop or desktop computer. Note: As of Monday, June 27th, 2011, I'll be using my new laptop, where the default resolution is 'higher', so there may be some temporary glitches until I am used to the new resolution.
NOTE: All images and characters within this blog post are copyright and trademark their respective owners.

Comics Creators: If you are breaking into, or already work in the comic book industry or other pop culture productions, you are welcome to email or mail us press releases, news items, and updates that you feel would be of interest to our blog readers. Including YOUR own works!
To mail printed items to us for possible review, send to:
Make It So Marketing Inc., PO Box 130653, Carlsbad, CA 92013

Also, if you are a Facebook member, I would have liked you to send me a 'Friend Request'. However, I have reached the maximum limit of 5,000 Facebook Friends and Fan pages already, so I've added a New 'Facebook Fan Page' so that even more of YOU can 'Like' what I am doing, and be interactive with me and others there. Here is the link to that 'Facebook Fan Page': Michael D Hamersky On Comics! Please click the 'Like' button on that page!
---
Posted by makeitsomarketing at 6:53 AM PDT
Updated: Tuesday, August 9, 2011 7:59 AM PDT